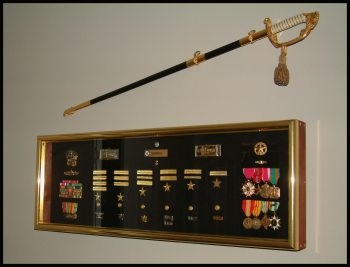 Following graduation from the University of Illinois College of Agriculture in 1963, Don was drafted into the army. Electing instead to serve the Navy, Don was subsequently commissioned at the Navy's Officer Candidate School in Newport, Rhode Island. He then commenced a 26-year career, retiring in January 1989 with the rank of Captain. Sea assignments included eleven different ships, two of which he commanded. Highlighting Don's shore duty was a tour in the Pentagon as Director, Amphibious Warfare Branch in the Office of the Chief of Naval Operations. While attending the Naval War College, he concurrently attained Master's degrees in management and strategic planning. Military decorations include the Bronze Star with Combat Insignia, Legion of Merit, and the Meritorious Service Medal.
From August 1994 until November 1996, Don served the University of Illinois in the position of Cooperative Extension Unit Director for Lee County and was responsible for planning and implementing educational programs for all residents. Concurrently, he authored six Internet websites as well as taught numerous internet and computer technology courses. From August 1997 until September 2000, Don was Director of Operations and Customer Support for ProDoc, Inc., a legal document assembly software company near San Antonio, Texas. He built and led a team of ten in achieving a superior level of customer technical support, customer training, software testing, production and shipping, supplies procurement, facilities management, and administrative support. Don then served the Western Kentucky Educational Cooperative as Coordinator, Adult Education Programs for Calloway County, Kentucky.
Don's hobbies include physical fitness, amateur radio, vintage radio restoration, computers, RC Model Airplane flying, cooking, baking, public speaking, graphic arts, audio experimentation, fish pond management, and landscape horticulture. He is also a designated Illinois Master Gardener. For several years he refinished furniture and operated a highly profitable antique business from Conover Village Antiques in Oregon, Illinois. Don considers himself to be a life-long learner. He recently attended college-level courses offered by Murry State University and the University of Southern Mississippi. He and Pat have become politically active every since Trump was elected.
Don and his wife Pat relocated from Covington, GA to Montgomery, AL in July 2021. Their one son, Mark deceased in 2021. His family continues to reside near Ashville, NC.
Resume:
Employment objective:
A position where my organizational skills, educational program development expertise, leadership abilities, project management abilities, and information technology knowledge will directly contribute toward the achievement of established organizational goals.
Professional military experience:

United States Navy, 1963 - 1989
Twenty-seven years experience in challenging and highly responsible executive-level positions in various diverse organizations within the Navy Department retiring as a Captain. Extensive involvement in all facets of human resource management, executive-level problem solving, and decision-making. Demonstrated a keen ability to effectively interact with superiors and subordinates alike to achieve consistently outstanding results. Served twice as Commanding Officer and three times as Executive Officer for shipboard organizations employing as many as 3,800 personnel. Extensive leadership in planning, recruitment, and training. Each organization received top-level recognition for extraordinary achievement of superior levels of operational readiness. As program manager for total Navy amphibious warfighting requirements in the Pentagon, he advised the Chief of Naval Operations on all program aspects including ship and aircraft building programs. Sponsored numerous readiness improvement initiatives designed to improve overall capabilities. Received the Navy's fifth highest personal decoration.

Public sector assignments:
The University of Illinois Extension, 1994 - 1996
Over two years as Extension Service Unit Director responsible for planning and implementing educational program outreach for the residents of Lee County, Illinois. Directed the efforts of four professionals and three clerical staff in carrying out the mission of Extension, "Helping People Put Knowledge to Work". Responsible for administering a $215,000 yearly budget. Consistently achieved superb results especially through initiatives designed to help people effectively adapt to technological change. Possessed a bias for action especially in recognizing emerging educational needs of citizens and developing effective training programs. Author of a website for Lee and Ogle Counties with a focus on area economic development. Received a personal award of excellence and recommended for promotion four years ahead of contemporaries. As a recognized expert on computer technology, taught numerous related courses including computer basics, introduction to the Internet, and publishing on the web.
Calloway County Adult Education, August 2001 - May 2002
Director of a team of seven professional adult educators in providing an educational system that enables all citizens to acquire essential skills that promote economic vitality and improve the quality of life. Educational programs include Adult Basic Education (ABE), GED preparation, Literacy, Workplace Essential Skills, and English as a Second Language.
Private sector achievements:
ProDoc, Inc. August 1997 - September 2000
Director of Operations and Technical Support for ProDoc, Inc., a legal document assembly software company near San Antonio, Texas. Built and led a team of ten in achieving a superior level of customer technical support, customer training, software testing, production and shipping, supplies procurement, facilities management, and administrative support. Conceived, planned, and implemented a series of business strategies, including an aggressive customer on-site training initiative, which profoundly affected company profits.
JoomlaPatterns Web Design - June, 200 - present
President of the company. JoomlaPatterns Web Design is a freelance studio specializing in building websites or assisting those who prefer to build their own engaging sites.
Education:
University of Illinois College of Agriculture, Urbana, Illinois - 1963
Bachelor of Science in Agriculture with minor in Extension Education
Salve Regina College, Newport, Rhode Island - 1986
Master of Science, Management
U.S. Naval War College, Newport, Rhode Island - 1986
Master of Arts, National Security, and Strategic Studies
Murray State University - 2016
Pursuing a Master of Science, Mass Communications