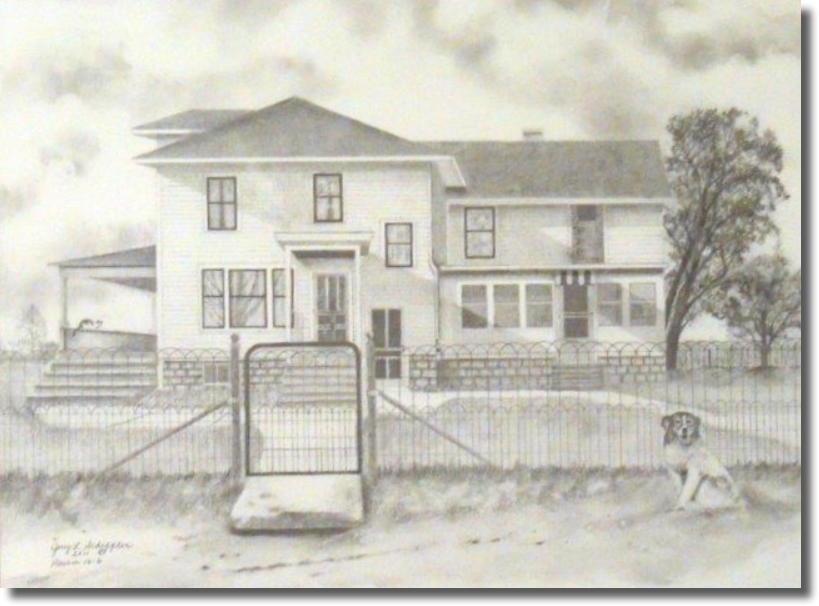 Jerry Scheffler's artist's pencil drawing rendition of the farmhouse where Don and his sister Nancy grew up. That's our first dog "Shep" in the right foreground.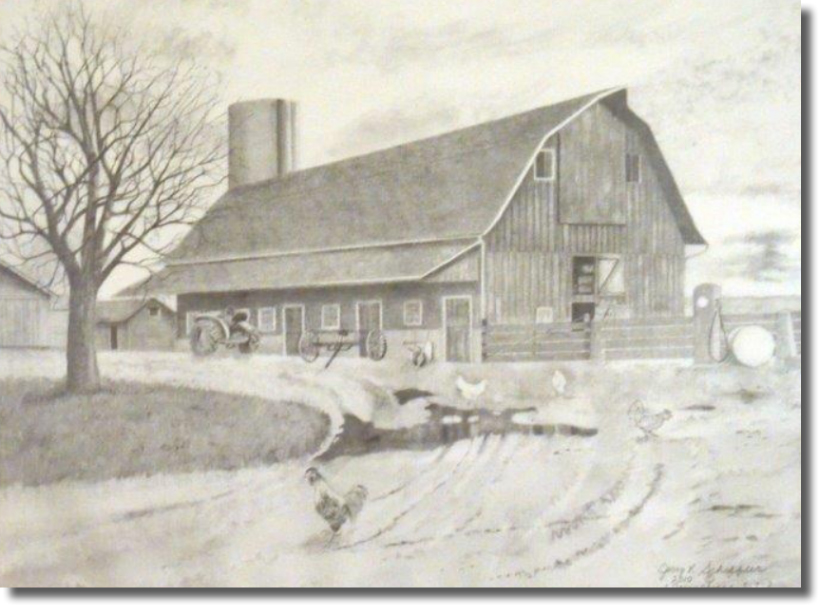 Jerry Scheffler's artist's pencil drawing rendition of the barn where Don and his sister Nancy worked and played in while growing up. Those chickens in the foreground were always underfoot.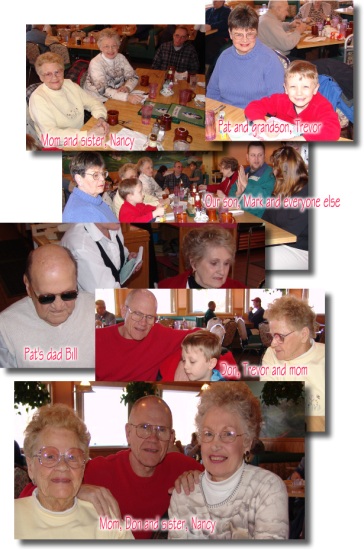 The above photo montage shows Don, Pat and other members of our family. Not shown is our newest grandson, Trevor. Pat's mom and dad are now deceased.

Don, Pat and grandson Trevor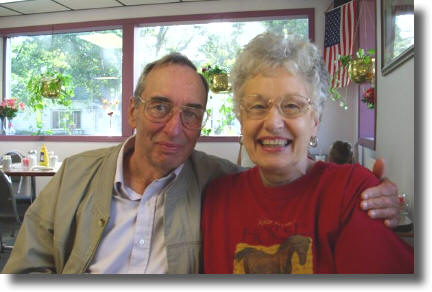 Don's sister Nancy and her now-deceased husband Don. Nancy continues to tend to her massive model horse collection.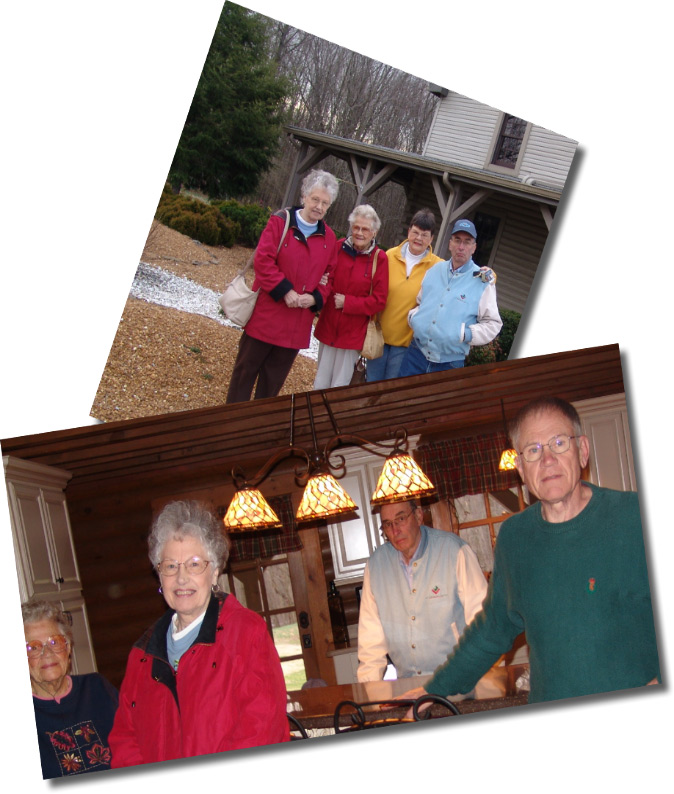 Don's mom (left), his sister Nancy (red coat), and husband Don (blue and white jacket) came for a weekend visit in the spring of 2008. Don's mom and Sister's husband are deceased.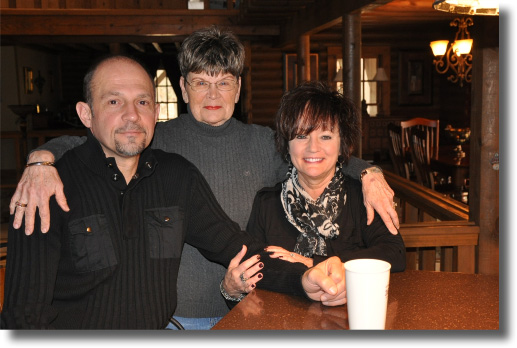 Don's nephew Joe and his wife Debbie visited us in February 2011.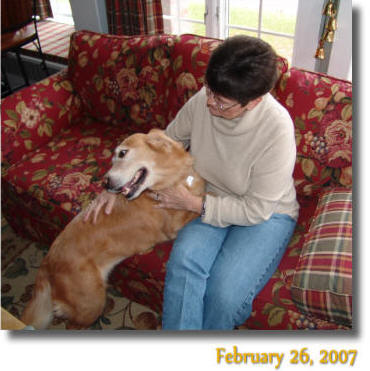 Our Golden Retriever "Pfeil". She was the fifth senior dog that we have adopted. She was simply the best and is now deceased.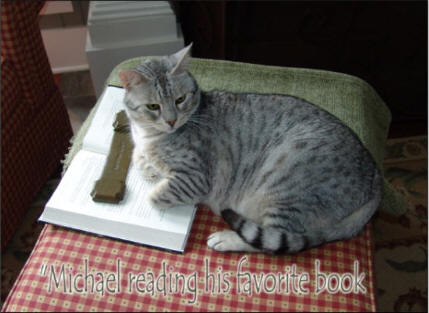 "Michael" was our exotic breed Bengal Snow Leopard cat. In our family, Michael was the one who was truly in charge! He is now deceased.
Note: Regrettably, Michael and Pfeil died in 2013 and 2014. We miss them both so very much.

Our companion Springer Spaniel "Leah." She was a retired nine years old show dog and daughter of the 2007 Westminster "Best in Show". She was the 7th older dog that we have adopted over the years. We are so very thankful to Karen Carrico for trusting us into the care of Leah for the rest of her days. She is now deceased.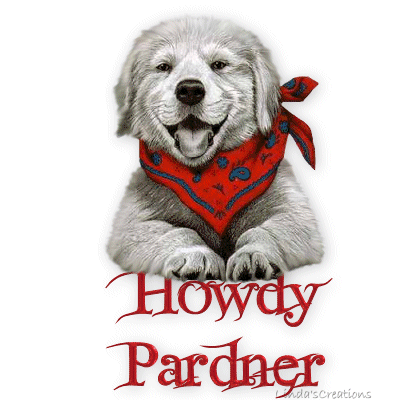 A PET'S
TEN
COMMANDMENTS.........

1. My life is likely to
last 10-15 years. Any separation from you is
likely to be painful.
2.. Give
me time to understand what you want of me
3. Place your trust in
me. It is crucial for my well-being.
4. Don't be angry with me for
long and don't lock me up as punishment.
You have your work, your friends, your
entertainment, but I have only you.
5. Talk to me. Even if I don't
understand your words, I do understand
your voice when speaking to me.
6. Be aware that however
you treat me, I will never forget it.
7. Before you hit me, before
you strike me, remember that I could hurt
you, and yet, I choose not to bite
you..
8. Before you scold me
for being lazy or uncooperative, ask
yourself if something might be bothering
me. Perhaps I'm not getting the right
food, I have been in the sun too long, or
my heart might be getting old or weak.
9. Please take care of me when
I grow old. You too, will grow old.
10. On the ultimate difficult
journey, go with me please. Never say you
can't bear to watch. Don't make me face this
alone. Everything is easier for me if you
are there, because I love you so.
~Take a moment today to
thank God for your pets.. Enjoy and take good
care of them.
Life would be a
much duller, less joyful experience
without God's critters.
Mark, son Trevor, wife Stephanie and the newest addition to our family, Evan (March 2009). Mark is now deceased.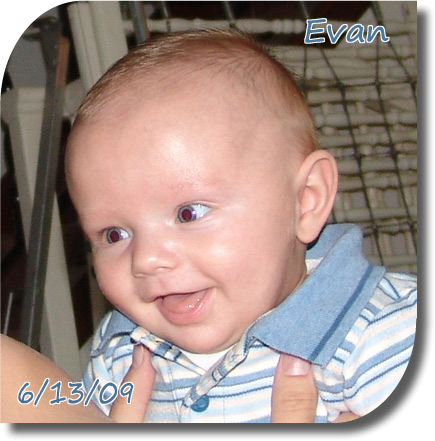 "Chicks dig me" Our newest grandson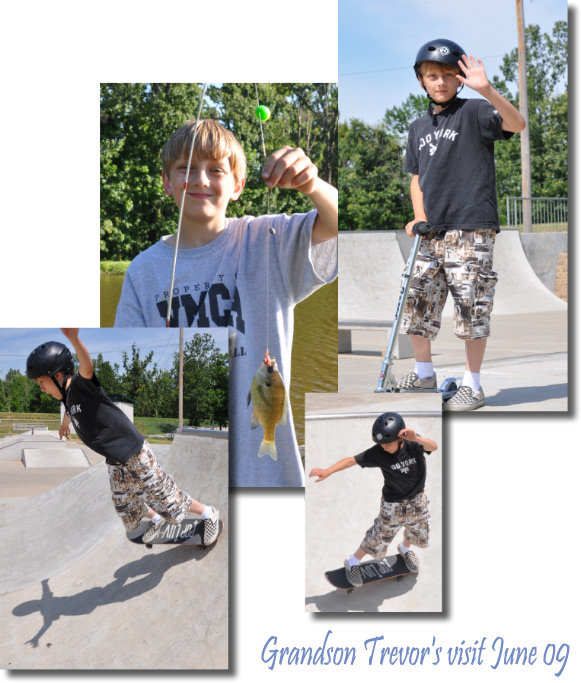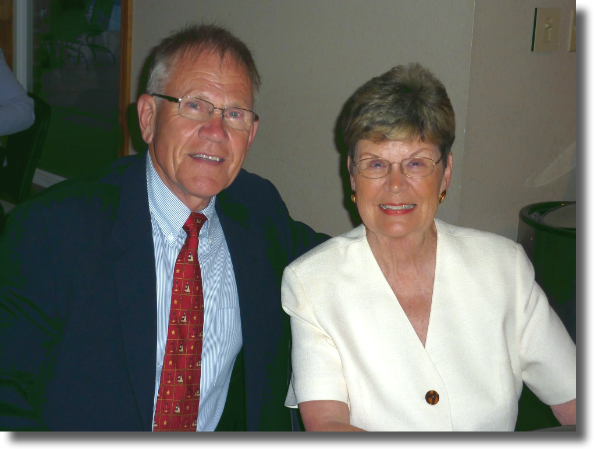 Fall, 2010 photo of Don and Pat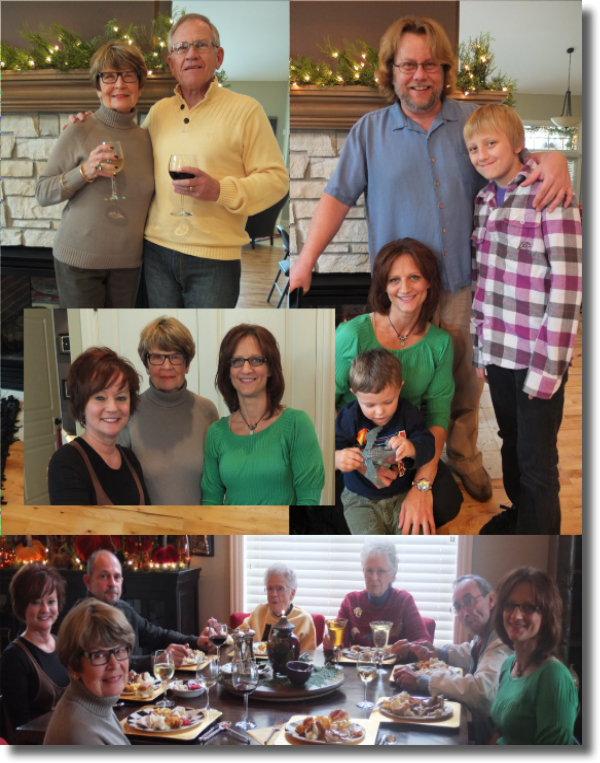 Thanksgiving 2011 at Joe and Debbie's home in Rockford, IL.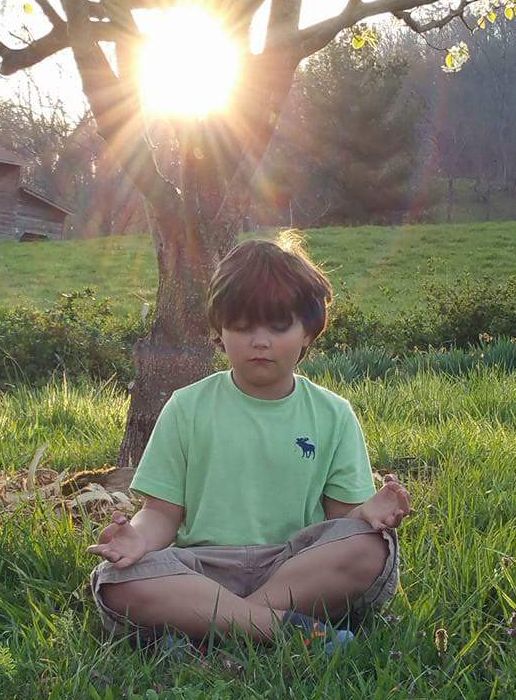 Grandson Evan doing a yoga pose.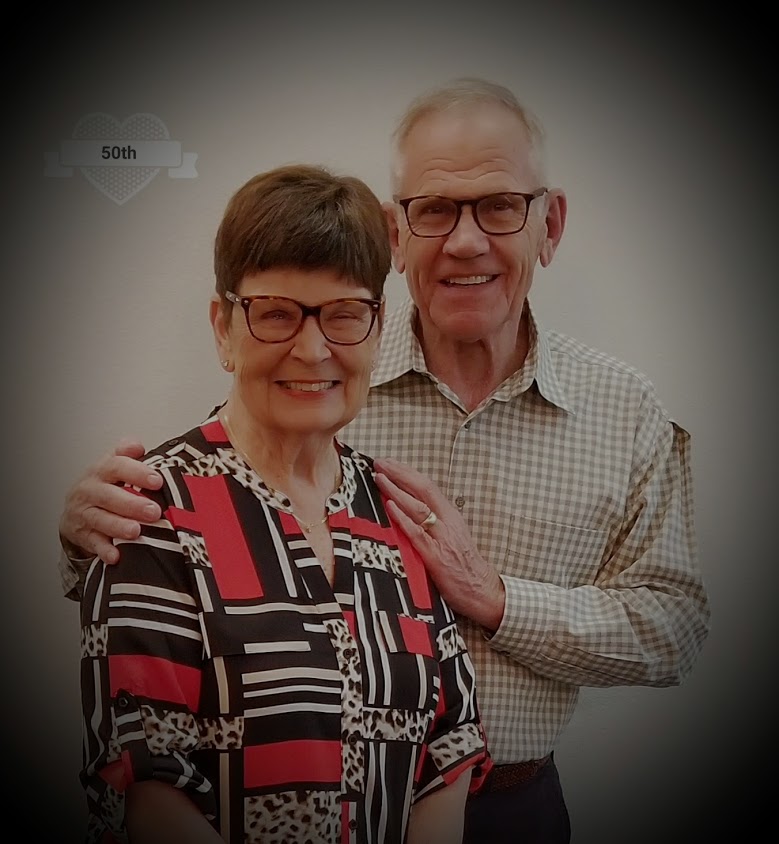 Our 50th wedding anniversary photo.
More photos from much earlier days: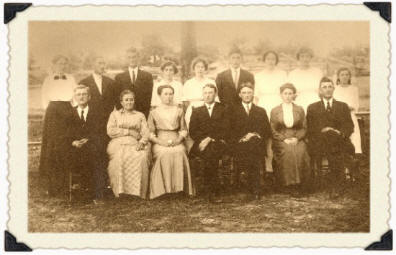 Early picture of Don's Grandpa Carl Snodgrass (bottom row, 5th from left) and his many brothers and sisters.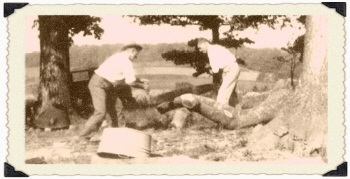 Grandpa Carl Snodgrass and his brother Walter Snodgrass on a bucksaw in Eastern Tennessee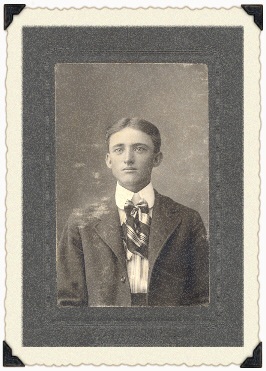 Early portrait of Grandpa Carl Snodgrass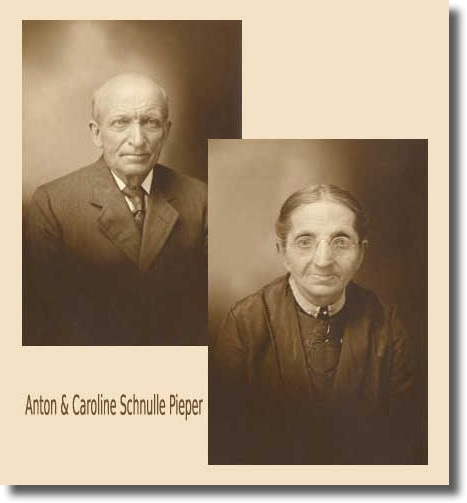 Early portraits of Grandma Snodgrass's mother and father.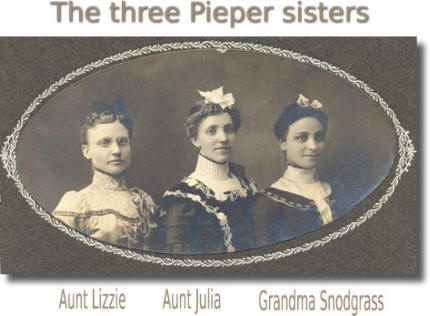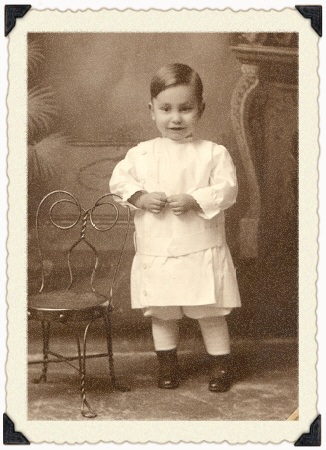 Don's father, William Snodgrass, as a young boy

Don's father as a young man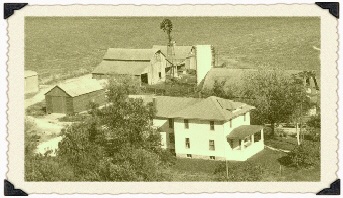 Snodgrass farm West of Mount Morris, Illinois where Don, his mom, dad, sister, grandpa, and grandma lived. (the farm was sold in the early 1960s)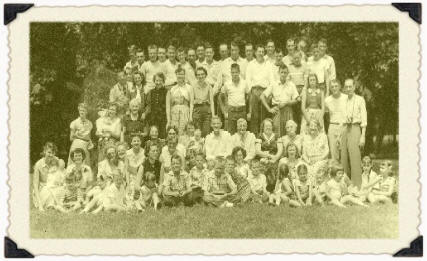 Snodgrass family reunion group photo was taken in the early 1950s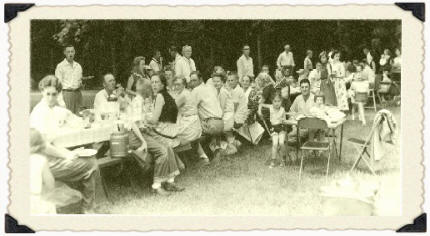 Another photo from the same reunion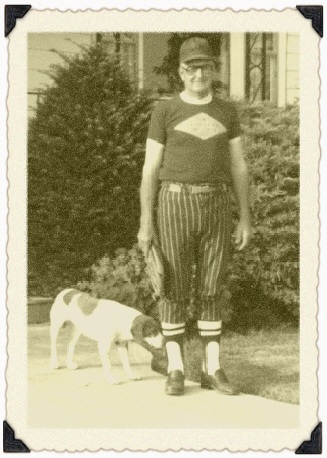 Don's favorite cousin, Merle Snodgrass (son of Thomas Snodgrass) in baseball (favorite pastime) attire. Note: Merle once rescued Don from a farming accident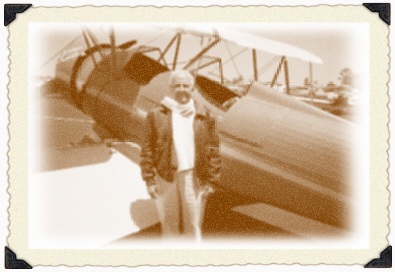 Another cousin, Russell Snodgrass (son of Walter Snodgrass)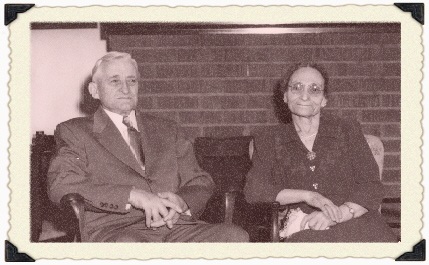 Grandpa Carl Snodgrass and Grandma Snodgrass (taken shortly after he retired from farming in the early 1950s).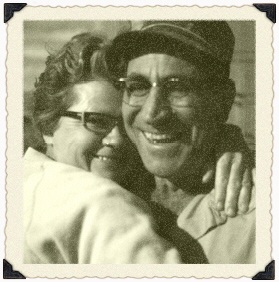 Early photo of Don's mom, Lucille and dad, William Snodgrass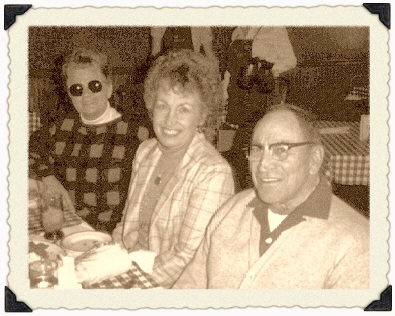 Don's dad, sister (Nancy Falzone) and mom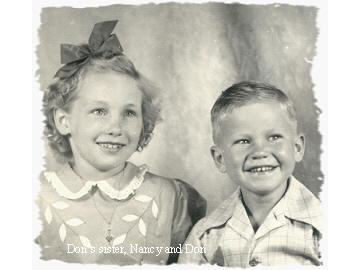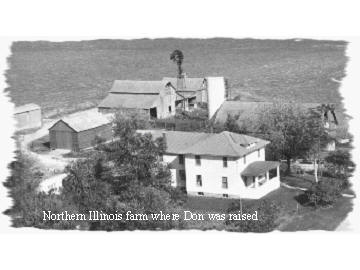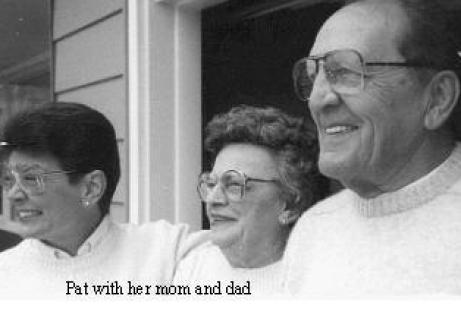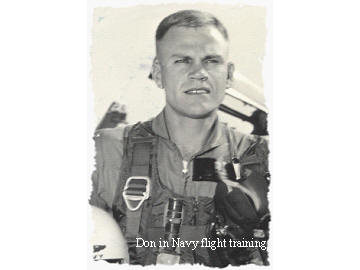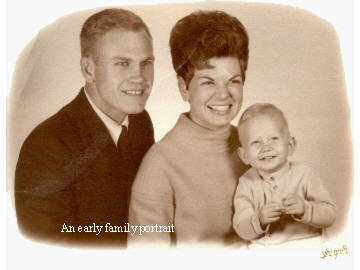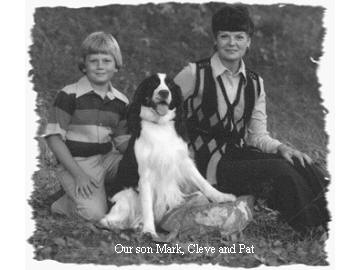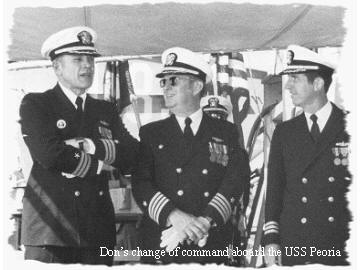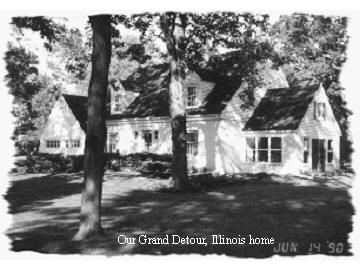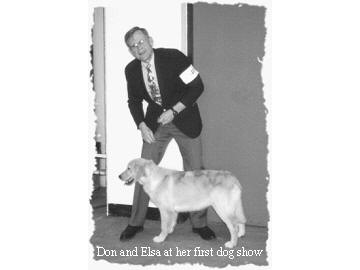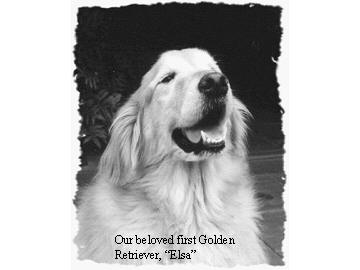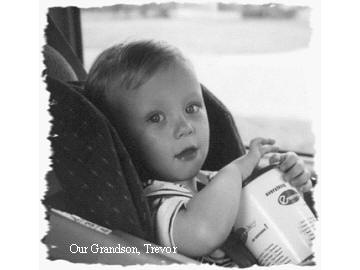 A photo montage of all the ships Don served on during his
Navy career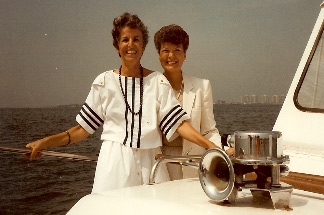 Pat and Martha Donovan on the Admiral's Barge in San Diego Harbor awaiting the arrival of the USS Belleau Wood returning from her deployment in the Western Pacific.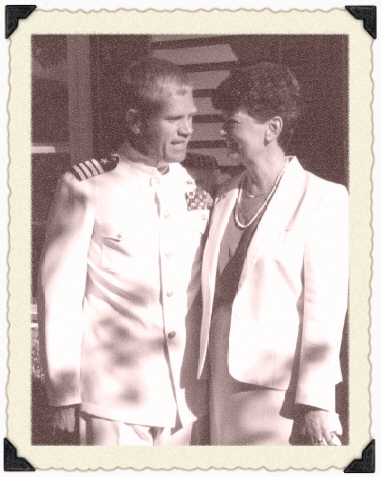 Don and Pat Snodgrass (taken just before Don's retirement
from the Navy in 1989)
The family name Snodgrass originated in the late 17th century in Scotland. It has been said that the name means "dweller in the smooth grass." The first records of the family in America are in the mid 18th century in Pennsylvania. From there they have spread across the continent and today there are more than 6000 Snodgrass families here. We are all descendants of William Russell and Harriet Jane McGuire Snodgrass. William & Harriet had 6 sons and 8 daughters (shown in the above picture). The home place is at Dandridge Tennessee. People by the name of Cameron live there now. His parents bought it from Satterfields who bought it from William & Harriet.
Don's sister, Nancy has visited Eastern Tennessee locations where Grandpa Carl Snodgrass and his many brothers and sisters were born and raised. Nancy has many other pictures and details (dates, places, names, etc.) of the Snodgrass family heritage. Thanks to Nancy' and Jill's organizing efforts, a Snodgrass family reunion was held September 2, 2001, in Leaf River, Illinois.