Final Touch Antiques Restoration
With over 30 years of experience collecting, restoring, and selling antiques, collectibles, vintage items, and other home furnishings, Final Touch Antiques Restoration has achieved an excellent reputation as a trustworthy restoration specialist.
We operate a custom restoration shop for our customers. You can learn more about what we do by clicking the link "Restoration service" under the "Restoration" menu above. Whenever appropriate, we painstakingly restore many antique and vintage items to better than when in new condition.
We also have an exceptional selection of restored antique clocks, musical instruments, and decorative home furnishing including vintage lighting in our gallery. Just click "Gallery" from the main menu above for a detailed listing of our current holdings.
We believe that the real beauty of antiques is more than skin deep. Each piece has a varied past and historical significance, which often adds to its overall value. As such, Final Touch Antiques Restoration strives to connect to this shared past by offering a wide variety of antiques and vintage items.
We started collecting and restoring antiques and vintage items during Don's 27-year career in the Navy. Back then, it was a far better alternative than buying cheaply made home furnishings in the stores. Moreover, we quickly learned that purchasing neglected pieces and restoring them facilitated stretching our dollars. When Don left active duty in 1989, we relocated back to Northern IL to be near our families. We continued collecting and restoring antiques and other vintage items. Eventually, we went into the antique business operating from a booth at a local antique mall and participating in various area antique shows.
We welcome an opportunity to assist you through our custom restoration service.
We would love to hear from you. Give us a call at 601-658-2808 or email This email address is being protected from spambots. You need JavaScript enabled to view it. regarding your restoration needs. You will get straight talk about your piece as well as smart ideas on how we can help achieve your restoration goals.
Why restore?
A wide difference of opinion exists on the need for restoration. Some will dismiss the process as being too costly, time-consuming and unwarranted especially for items older than 100 years and valued for their historical significance. At Final Touch Antiques, etc. we typically purchase items that we consider appropriate for restoration in order to enhance their beauty, extend their useful life and, increase their value. As such, we typically give our "Final Touch" to our acquisitions.
Sometimes it makes sense to restore pieces to their former beauty. However, improper antique restoration can decrease or even destroy the value of some pieces. Final Touch Antiques Restoration adheres to this policy. We carefully evaluate all acquired pieces in order to decide to what extent each item is to be restored in our shop. Click the restoration process to learn more about our approach to restoration.
Check out the photo montage below to see for yourself the dramatic results that can be achieved when an old piece of furniture is properly restored.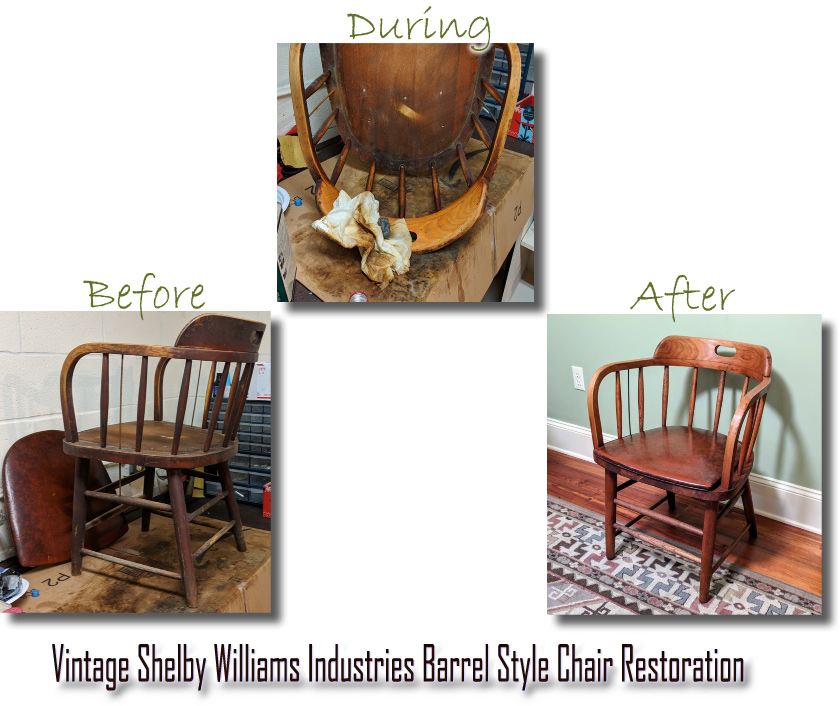 Our approach to the restoration process...
Over time, antiques and collectibles typically become dull, chipped, or damaged resulting in a loss of their aesthetic appearance, functionality, and value. Restoration can potentially reverse this phenomenon but requires great care and knowledge. Restoration is the process of returning items to their original functionality and improving their appearance.
At Final Touch Antiques, etc., our basic approach to the restoration process includes:
Conducting a restoration suitability analysis before purchase. Ideally, we prefer to procure items that are in a relatively poor condition with the potential for restoration to improve their appearance, functionality, and value. As such, most of the items purchased are all or partially of wood. We avoid acquiring anything finished in paint or polyurethane for health concerns.


Performing a more thorough evaluation. Once an item has been purchased and brought back to our shop, we first take several initial (before) photos of the piece. Next, we determine what repairs are necessary. Typical repairs include cleaning and lubricating clock movements, re-gluing loose furniture joints, etc. We also look for markings that provide a clue as to value and conduct online research to further determine the history and value.

Formulation of a restoration plan. Most true antiques require little attention beyond light cleaning to enhance cosmetic appearance and repairs to improve their functionality. Our goal is to maintain an antique piece's structural integrity and outer appearance to retain its value. Vintage pieces are often more appropriate candidates for restoration. This means either restoring the original finish or complete refinishing. Restoring a finish retains the original finish while refinishing consists of removing the original finish and applying a fresh coat of new finish. More about this process below.


Disassembly. We prefer to disassemble vintage pieces that will be refinished. When possible, this includes carefully cataloging parts to ensure that they will correctly be reassembled.

Basic restoration (revitalization). Light cleaning and functionality may be all that's necessary. In some cases, we resort to the use of products such as "Restor-A-Finish", a unique finish-penetrating formula that restores wood finishes while blending out minor scratches, blemishes, and abrasions. More about this product at https://www.howardproducts.com/product/restor-a-finish/.


Complete refinishing (stripping). We hardly ever strip furniture! It is a far too difficult and unsafe process. More importantly, stripping and sanding typically diminish the wood's overall patena. As such, we avoid pieces that are painted or polyurethaned.



Complete refinishing ( without stripping). We always prefer to restore the original finish without stripping! This process works well for gently removing varnish, shellac, or lacquer finishes. With the use of 000-grade steel wool, the old finish is dissolved and removed without taking color from wood or raising veneers. The only product we have found best for this product is "Formby's Furniture Refinisher" which we purchase at Lowes or Home Depot. More about this product at https://www.formbys.com/products/refinisher/.


Reassembly. Typically we put the piece back together in reverse order of how it was originally disassembled.


Application of a protective coating. Understandably, this important stage is a matter of personal preference. Over the years we have used a variety of methods and have developed a preference for penetrating finishes. Penetrating finishes are easier to apply and leave a more natural look. Surface finishes such as tung oil may be more durable but don't look as natural whereas penetrating finishes are easier to apply and leave a more natural look. Penetrating finishes are easier to apply and leave a more natural look. More importantly, they can be reapplied without the necessity of removing the existing finish. We wipe on several coats of "Watco Danish Oil" to protect the wood from within by penetration deep into the wood. More about this great product at https://www.rustoleum.com/product-catalog/consumer-brands/watco/danish-oil.


Final inspection and photographs.
We only restore the original finish without stripping! As such, we will not refinish anything coated in paint or polyurethane. Instead of stripping, we use a process that gently removes the original varnish, shellac, or lacquer finishes. With the use of 000-grade steel wool, the old finish is dissolved down and removed completely without taking color from wood or raising veneers. We use the product called "Formby's Furniture Refinisher" which we purchase at Lowes or Home Depot. The various steps of our process are described on our website at http://finaltouchantiques.com/restoration/our-technique.

Essentially, we dip 000-grade steel wool and swirl it around on the wood. Then, once the old finish is sufficiently dissolved, we wipe it clean from the piece with Bounty paper towels. This is repeated as necessary depending on the stubbornness of the old finish.
Once the old finish is thoroughly removed, we wipe on several coats of a penetrating finish. Penetrating finishes are easier to apply and leave a more natural look. We typically use "Watco Danish Oil" to protect the wood from within by penetration deep into the wood.
If you're interested in learning more about our services, call us at 618-524-7590 or email This email address is being protected from spambots. You need JavaScript enabled to view it. for additional information. We welcome your inquiry.
One example of our restoration work...
Our first attempt at reupholstering an antique rocking chair. Gone are the obsolete coil springs and stuffing. High-density foam works wonders! I tend to resist restoring a true antique. Sadly, the original seat had become so severely deteriorated that total restoration was warranted.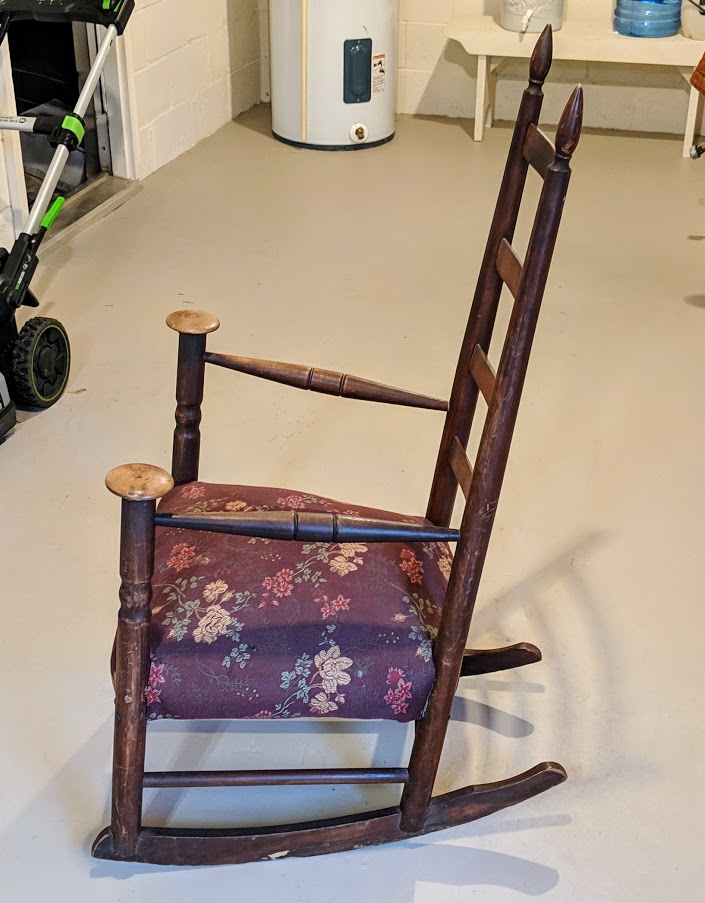 Original unrestored rocking chair.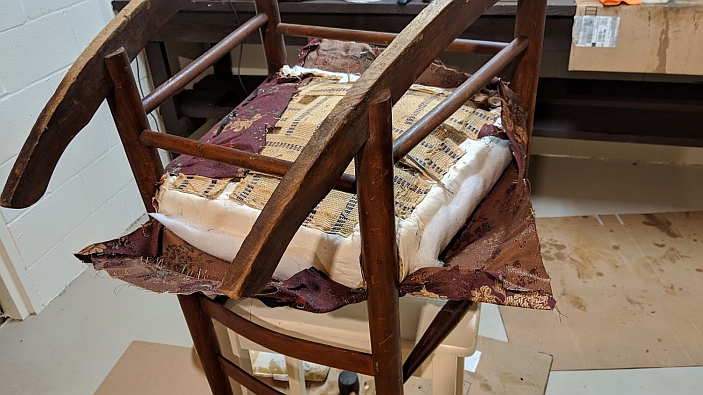 Removal of old upholstery begins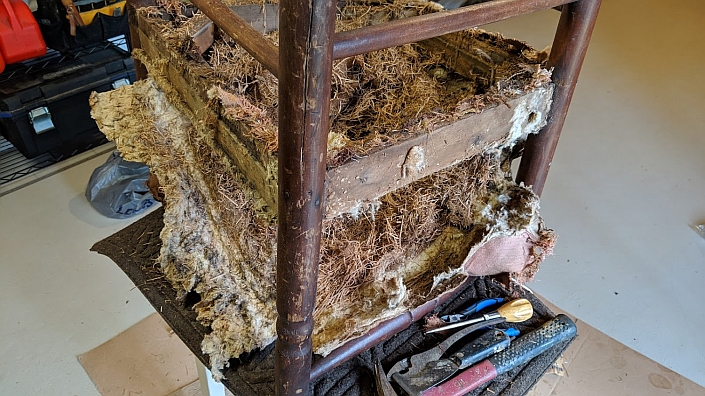 Next, the removal of all the old springs and stuffing.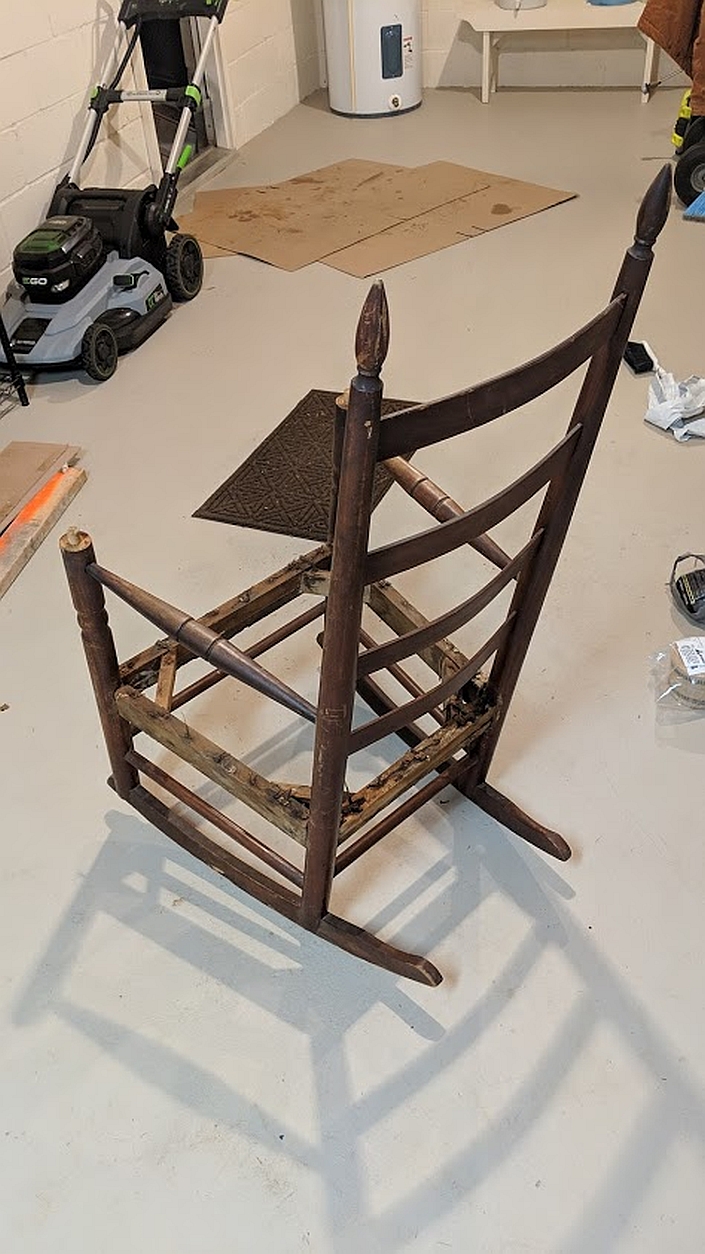 Stripped-down frame ready to be refinished.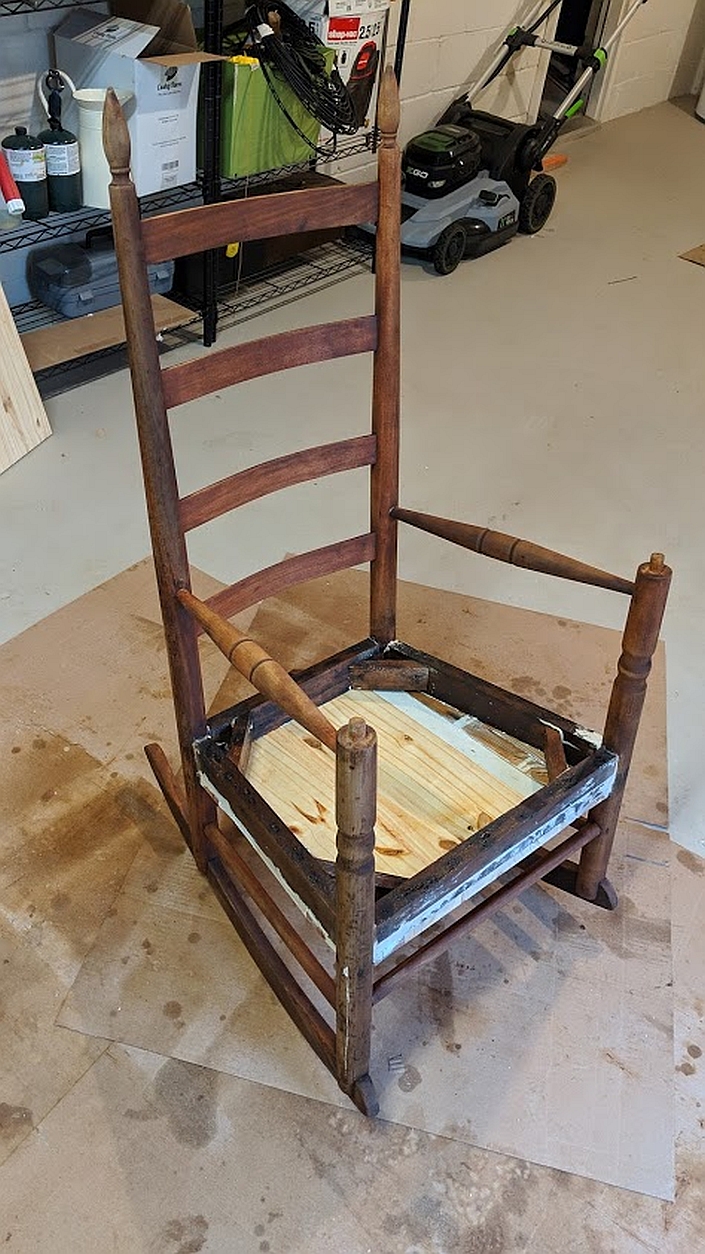 Replacement solid wood chair bottom in place. Chair ready for refinishing.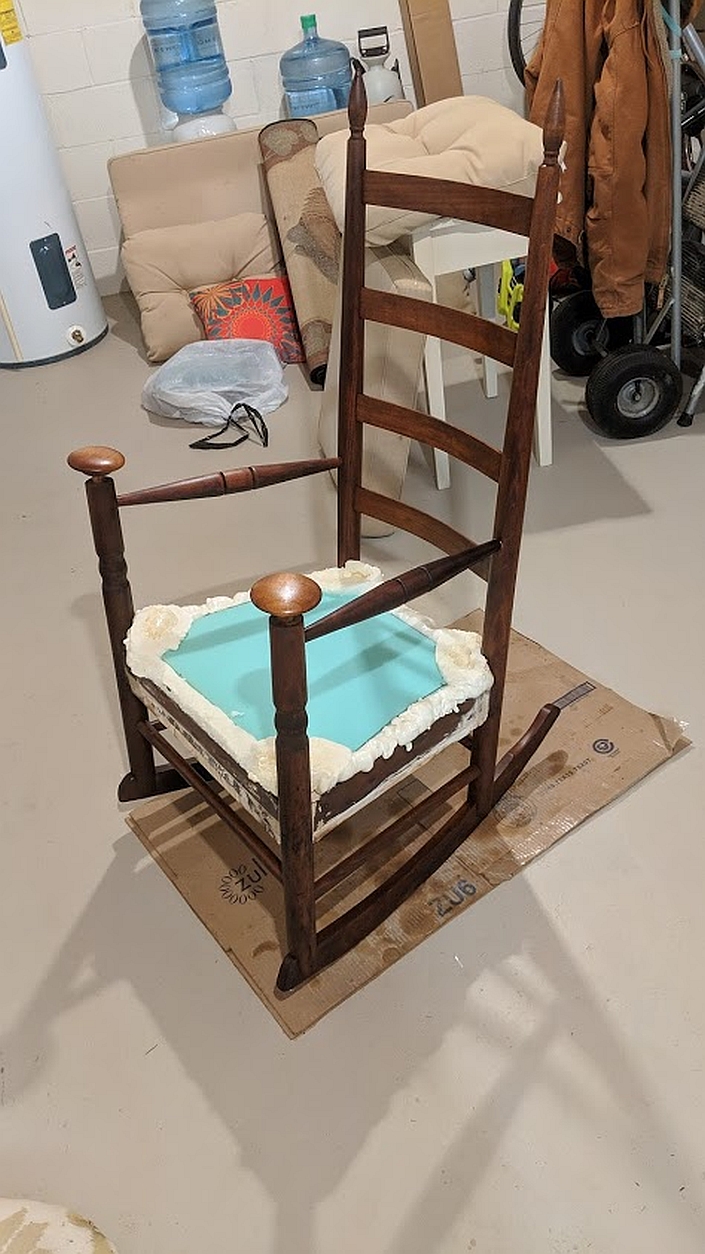 Refinishing completed. The high-density foam was installed instead of reinstalling the original ineffective coil springs.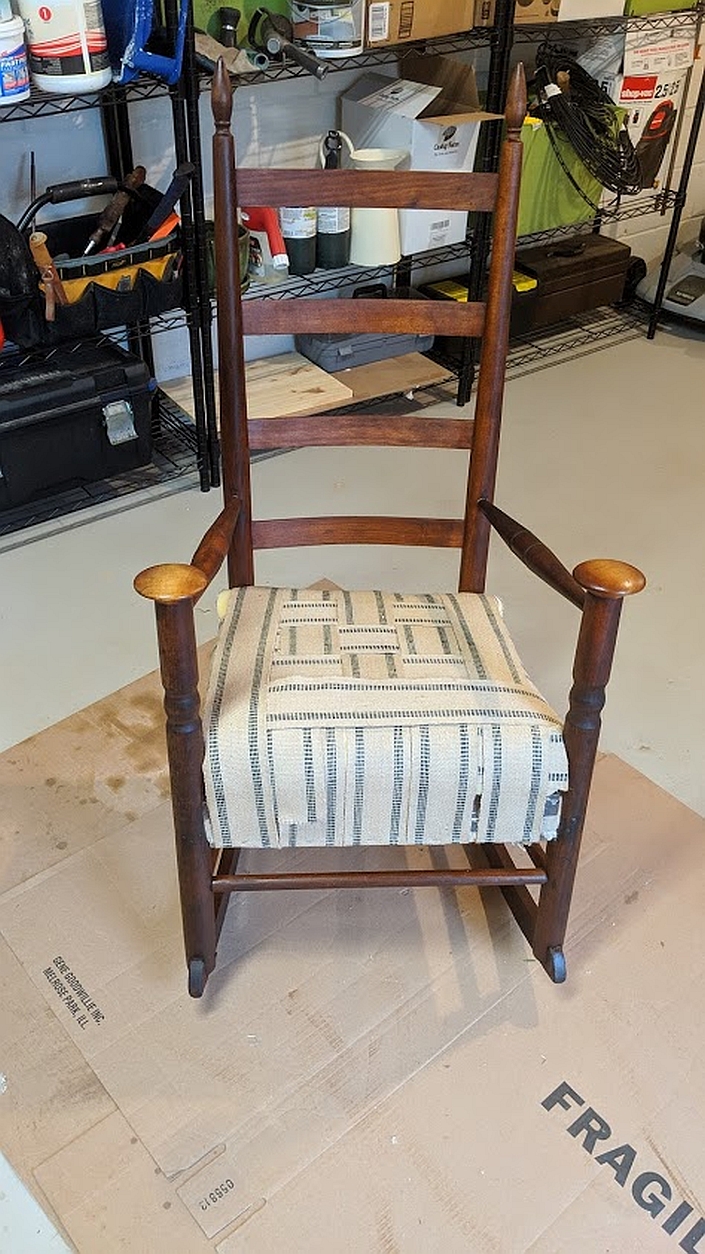 Layered jute webbing over foam rubber for added stability.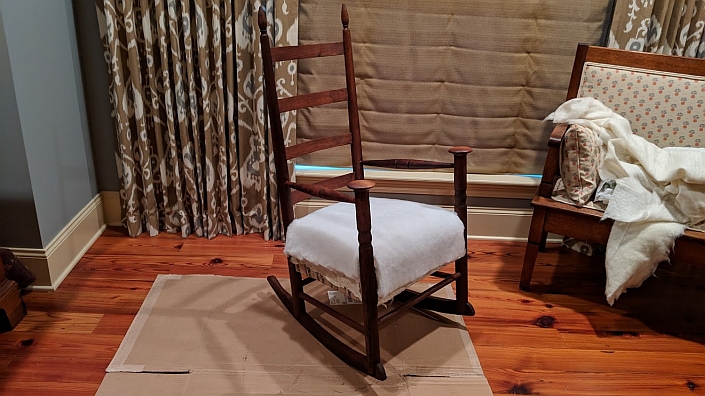 Cotton batting in place followed by installation of the new upholstery fabric purchased locally.

Finished!
Notes:
(1) Watched many youtube videos in order to learn the basics of upholstering.
(2) Purchased an electric staple gun which is essential for this kind of work.
(3) Imperative to use high-density foam for firm seating.
(4) Always a struggle to decide on an appropriate fabric design.
Our Antique Furniture Gallery
Pat and I have been collecting, restoring, and selling antique and vintage home furnishing for many years. Here are photos of several antique and vintage furniture items currently in our collection. Almost everything has been carefully restored in our shop.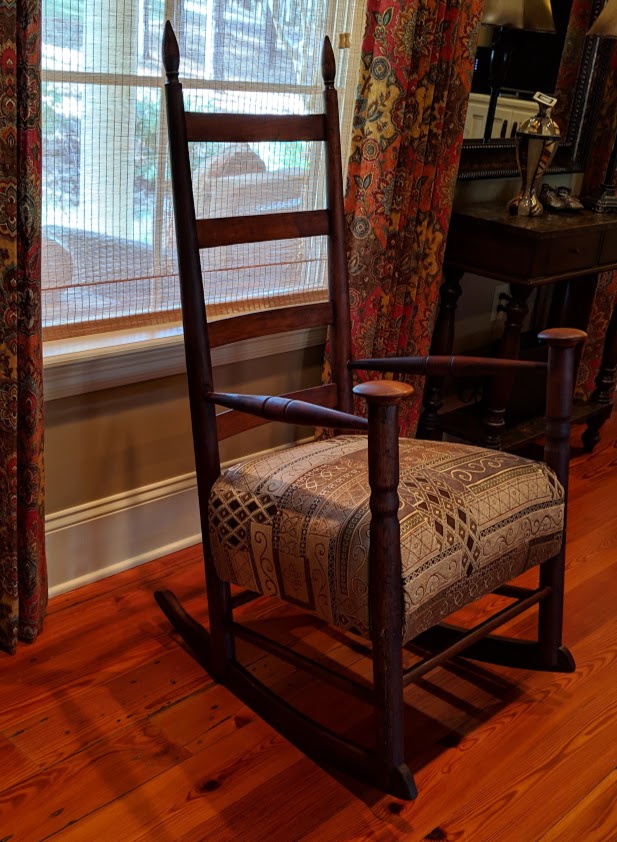 Very special recently restored period rocking chair. Although reupholstering is not our forte, we elected to do it ourselves this time. Worked out far better than anticipated. Gone are the original coil springs and excelsior stuffing and in with high-density foam. Makes for much firmer cushioning with greater stability.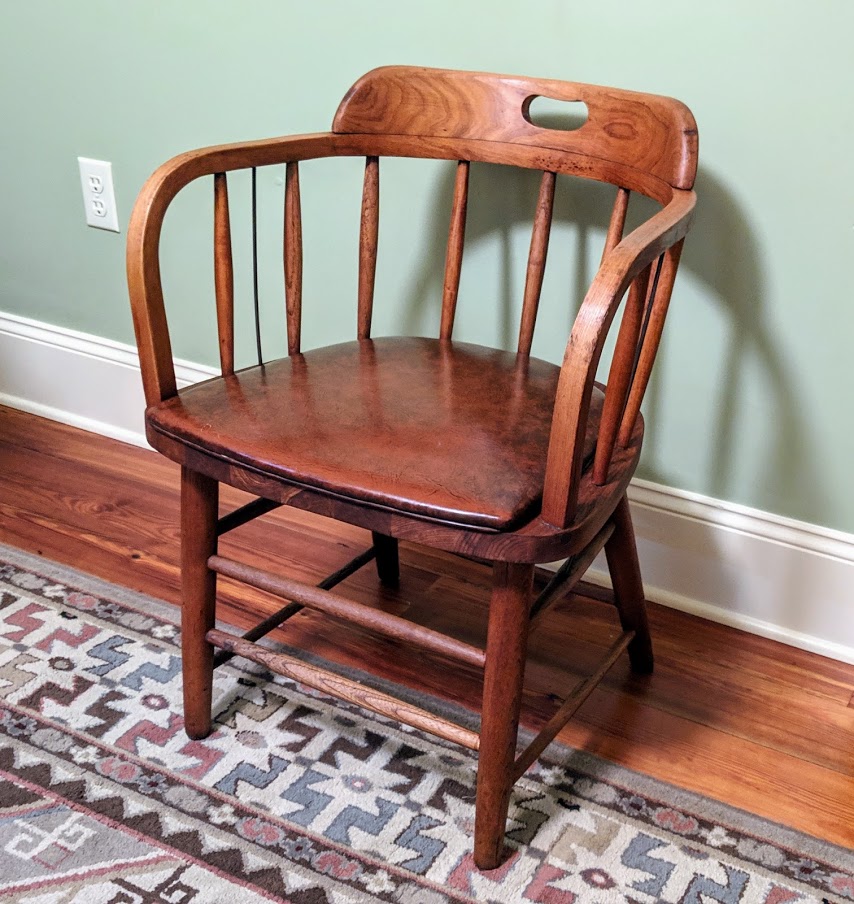 Restored Vintage Shelby Williams Industries Barrel Style Chair.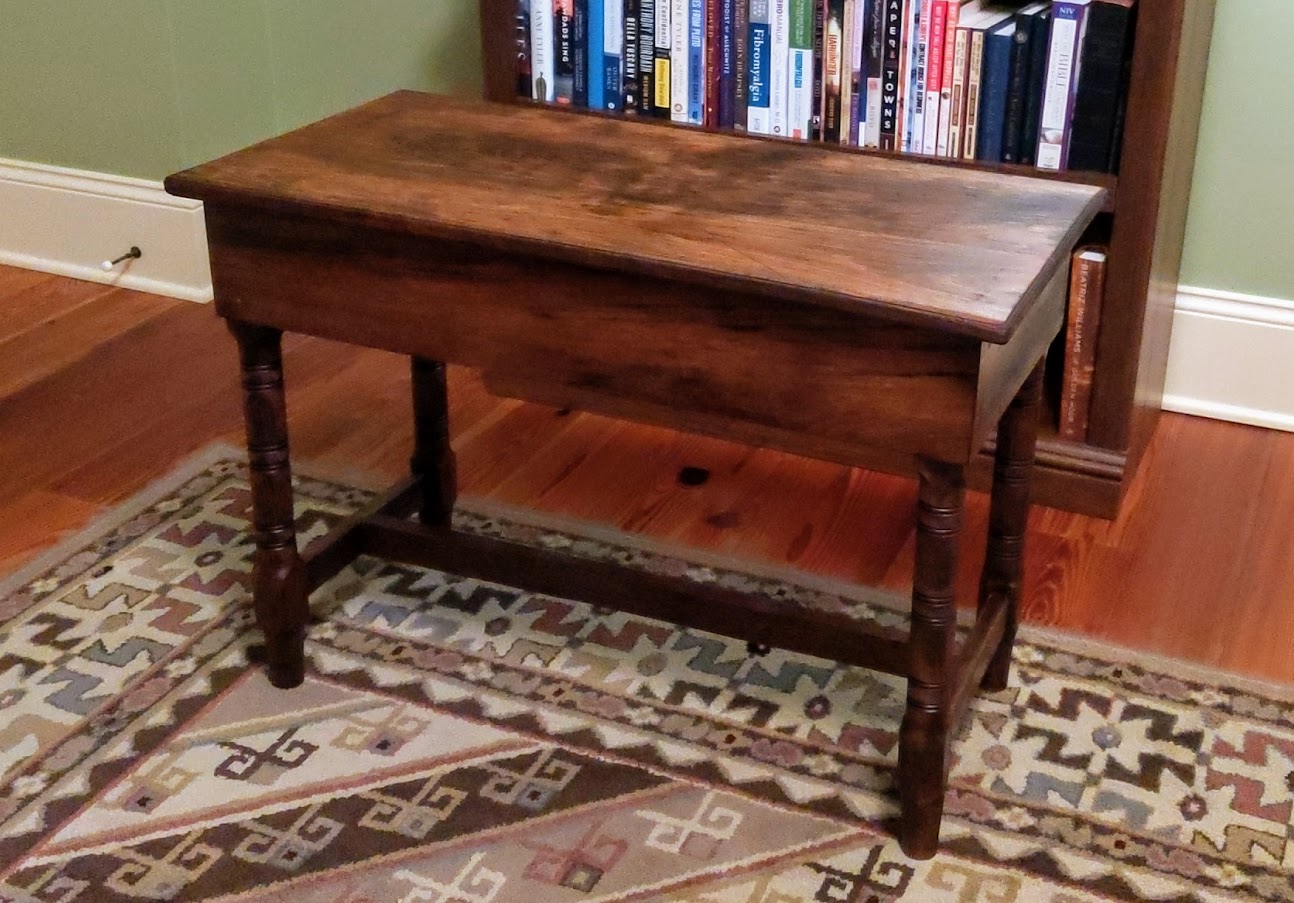 Restored vintage piano bench.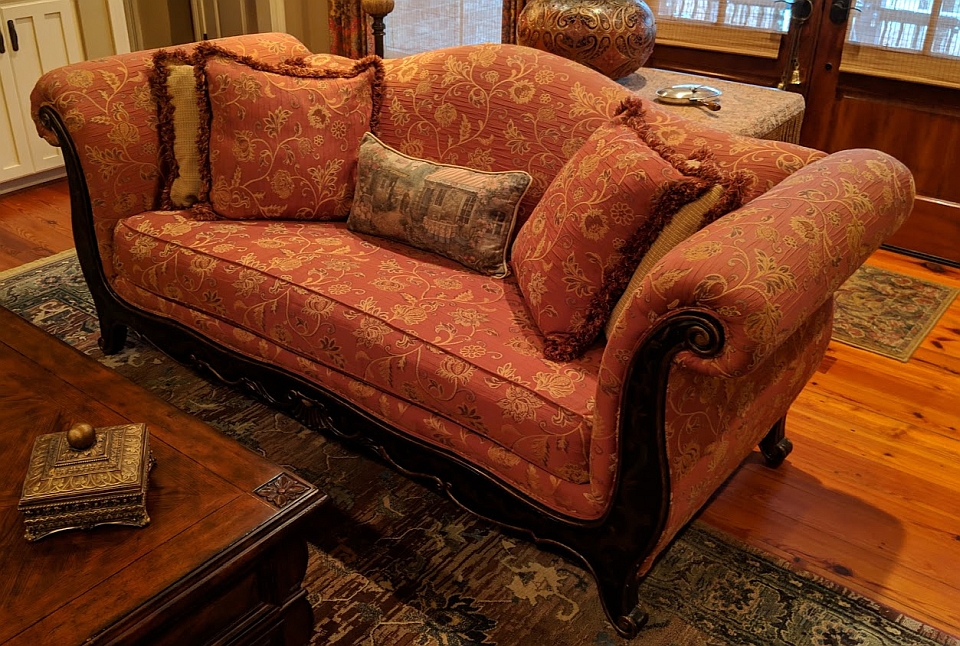 Newer sofa with matching pillows providing rich hues and texture to our living room. This elegant sofa features ornate wood carvings with floral upholstery and matching pillows.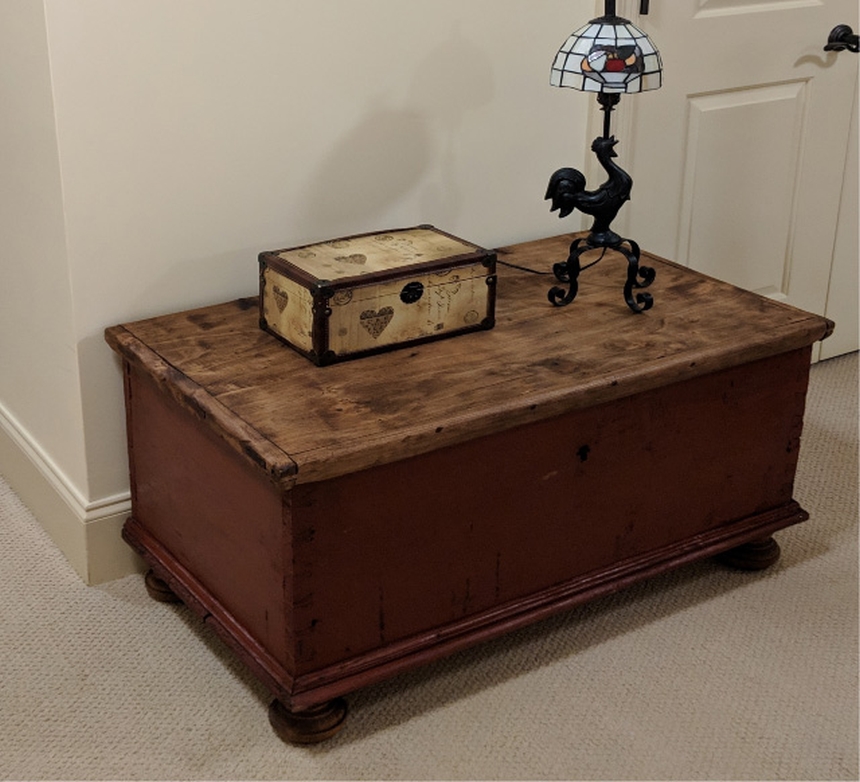 Primitive painted blanket chest.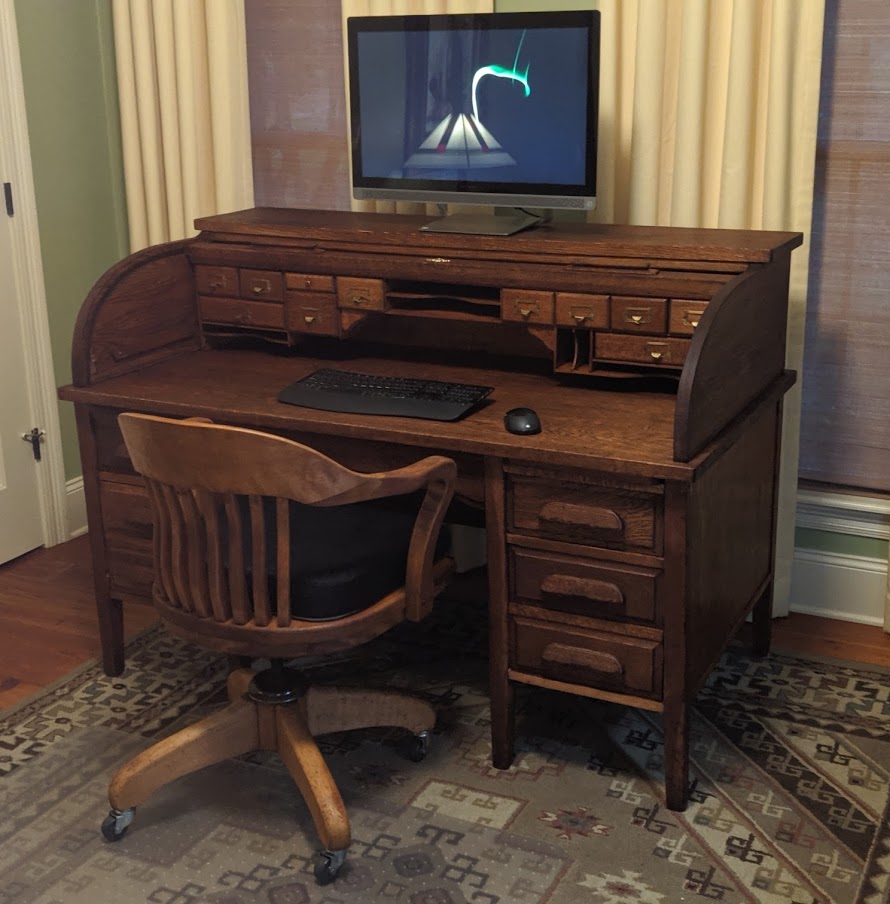 Recently restored oak antique roll top "D" style desk with vintage oak swivel office chair commonly used in law offices. Everything is fully intact and functioning including the roll-top mechanism.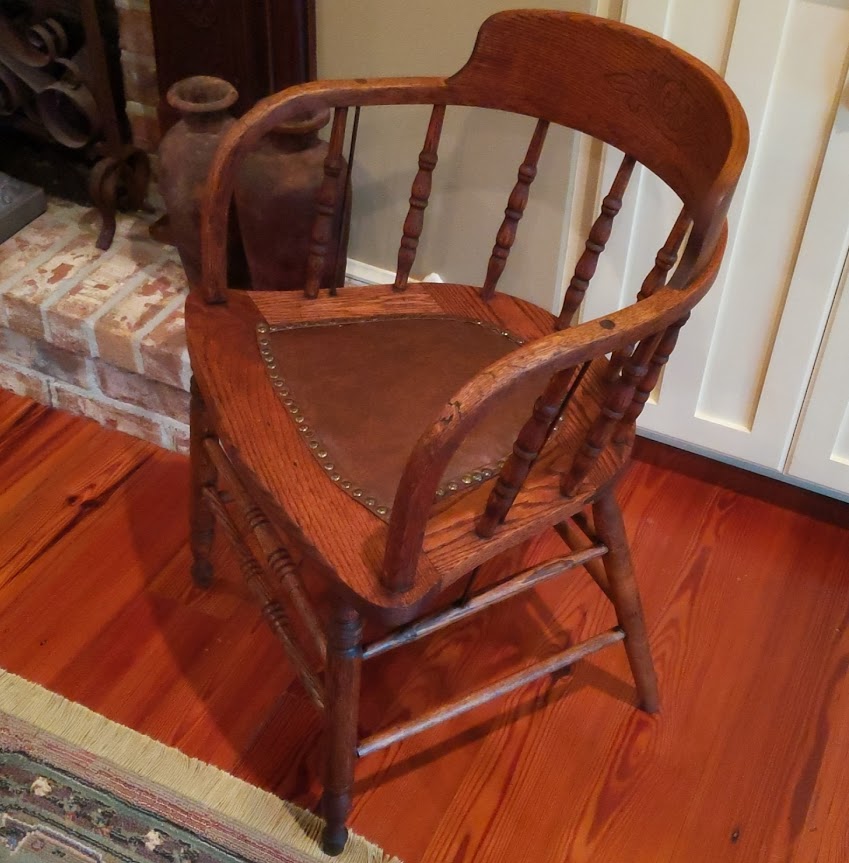 Fully restored vintage oak tavern-style chair with new faux leather type upholstery seat inserts.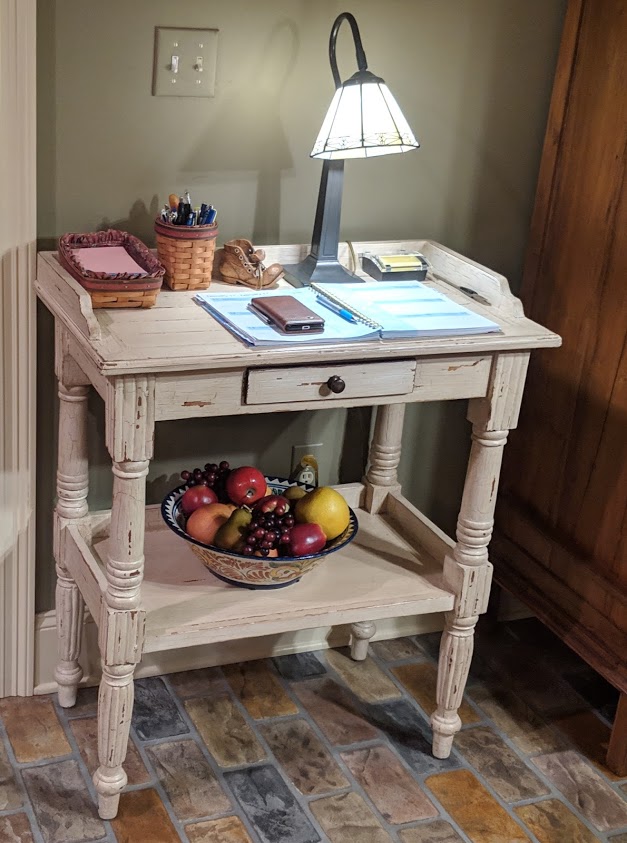 Charming Antique Writing Desk / Sewing Table with a small drawer. This piece features a darling shape and can be used as a writing desk, laptop stand, makeup vanity, sewing table, etc. Has been distressed painted for a whole new look. The vintage condition shows surface wear from age and use. Dimensions: 33 3/4" x 20 1/4" x 30" (24")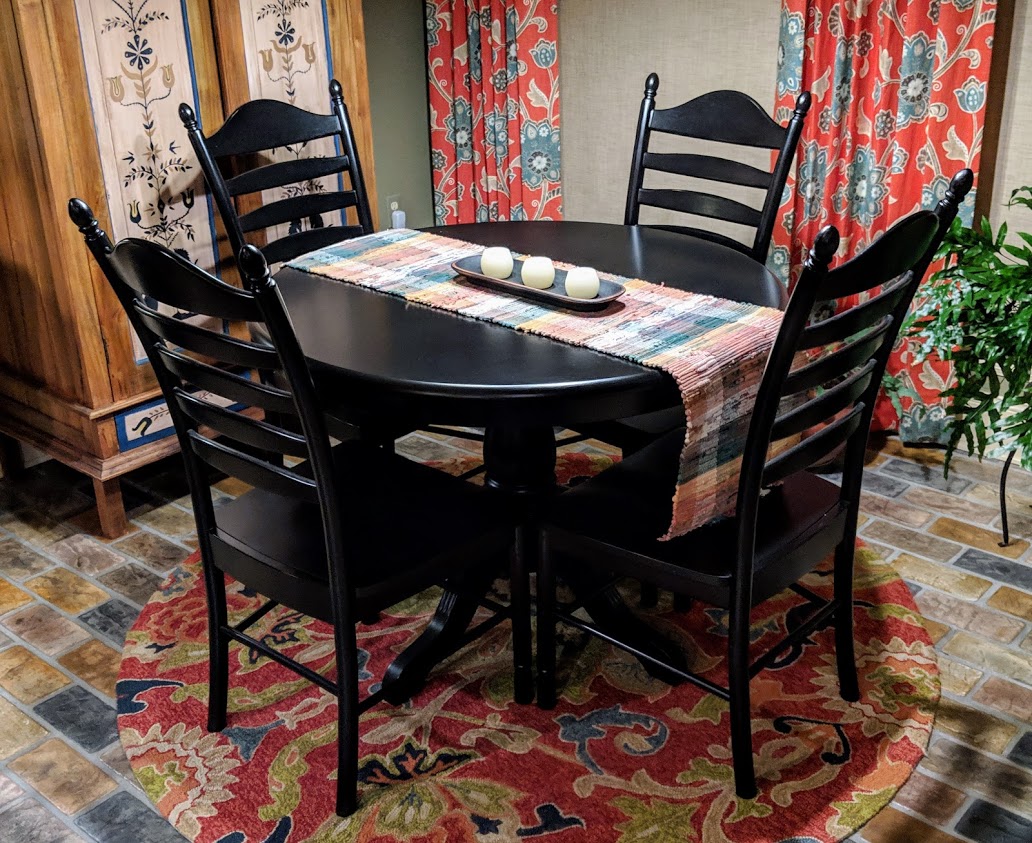 New table and matching chairs.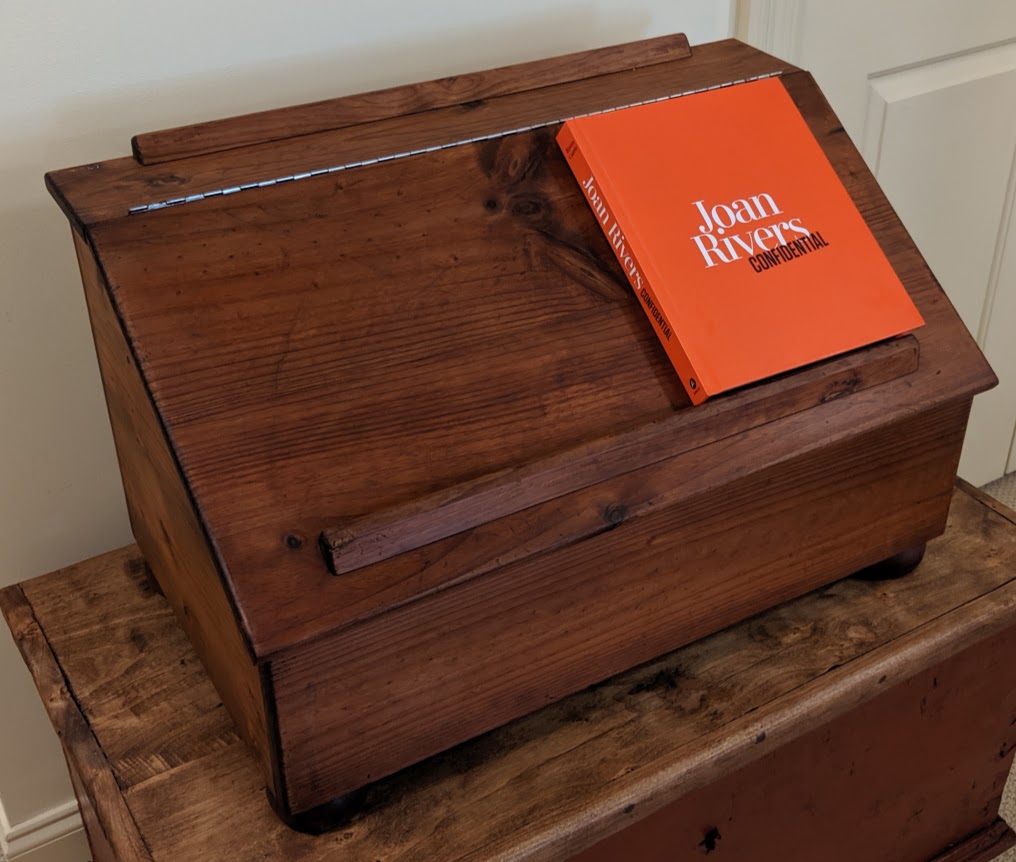 Restored vintage pine hand-made slant lift top footed lectern reportedly used in a church for many years.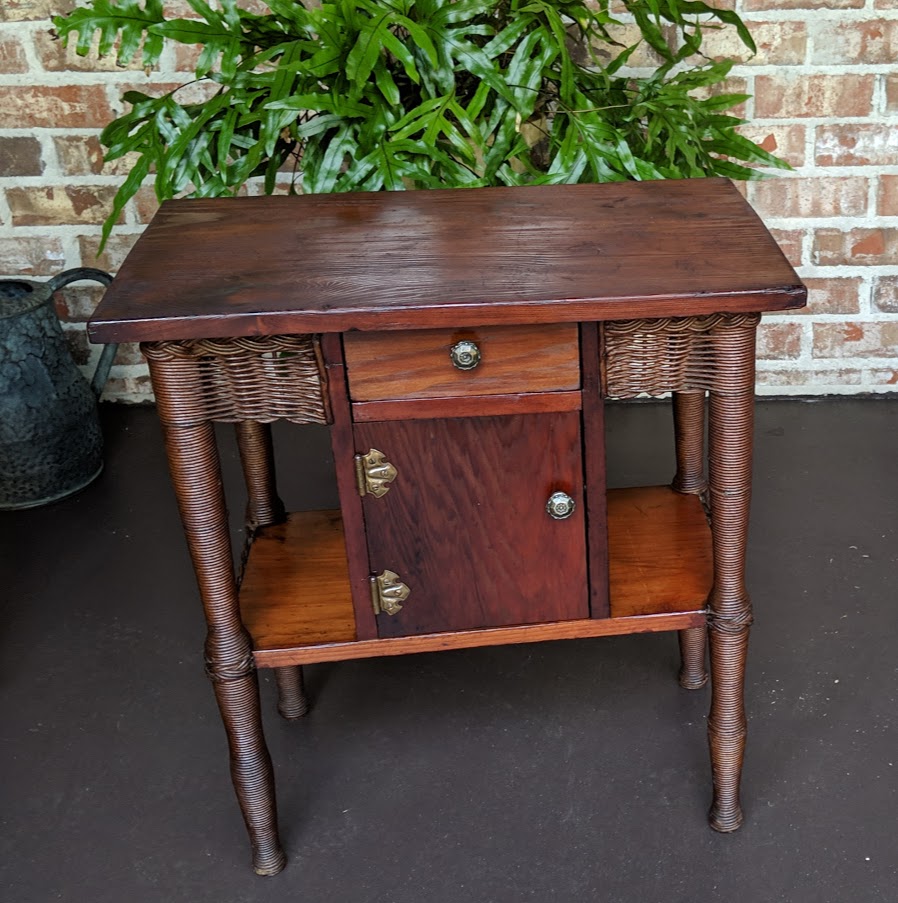 Restored vintage small wood and wicker small lamp table with storage compartment. Nice piece to complement outdoor furniture.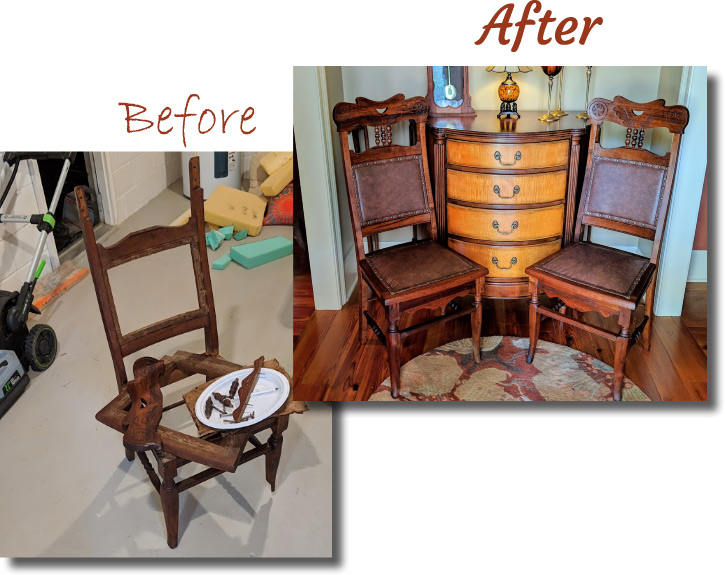 Two restored decrepit walnut high-back dining room chairs including replacing a missing portion of one of the front legs, reupholstering and refinishing. High-density foam is much more preferable than obsolete springs and stuffing!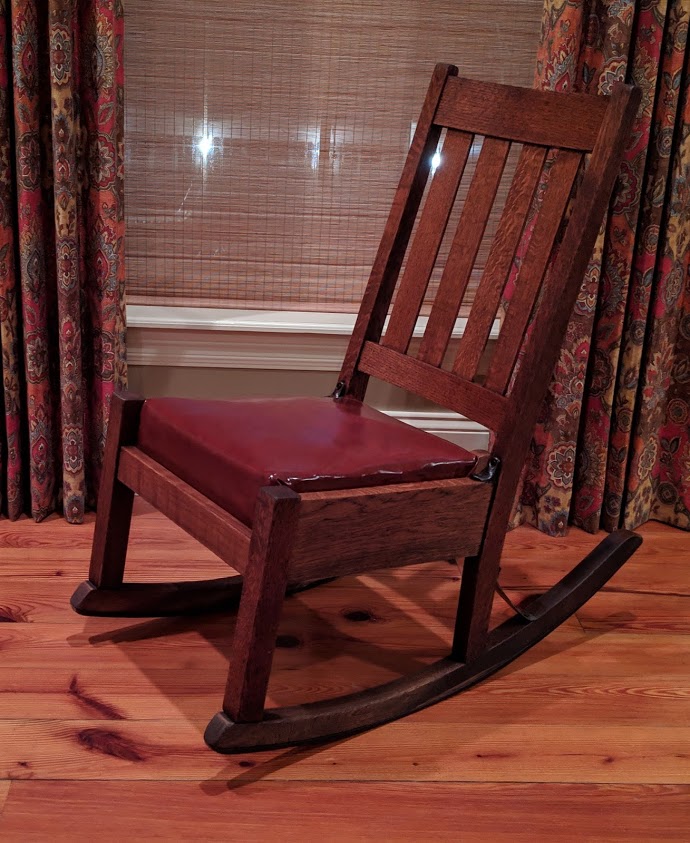 Restored antique ARTS & CRAFTS MISSION OAK NURSING ROCKER. It resembles a "Strictly" but unmarked. IT'S IN A VERY WONDERFUL restored condition. MEASURES ABOUT 19" WIDE, 25" DEEP AND 33" TALL. Original seat spring-style cushion.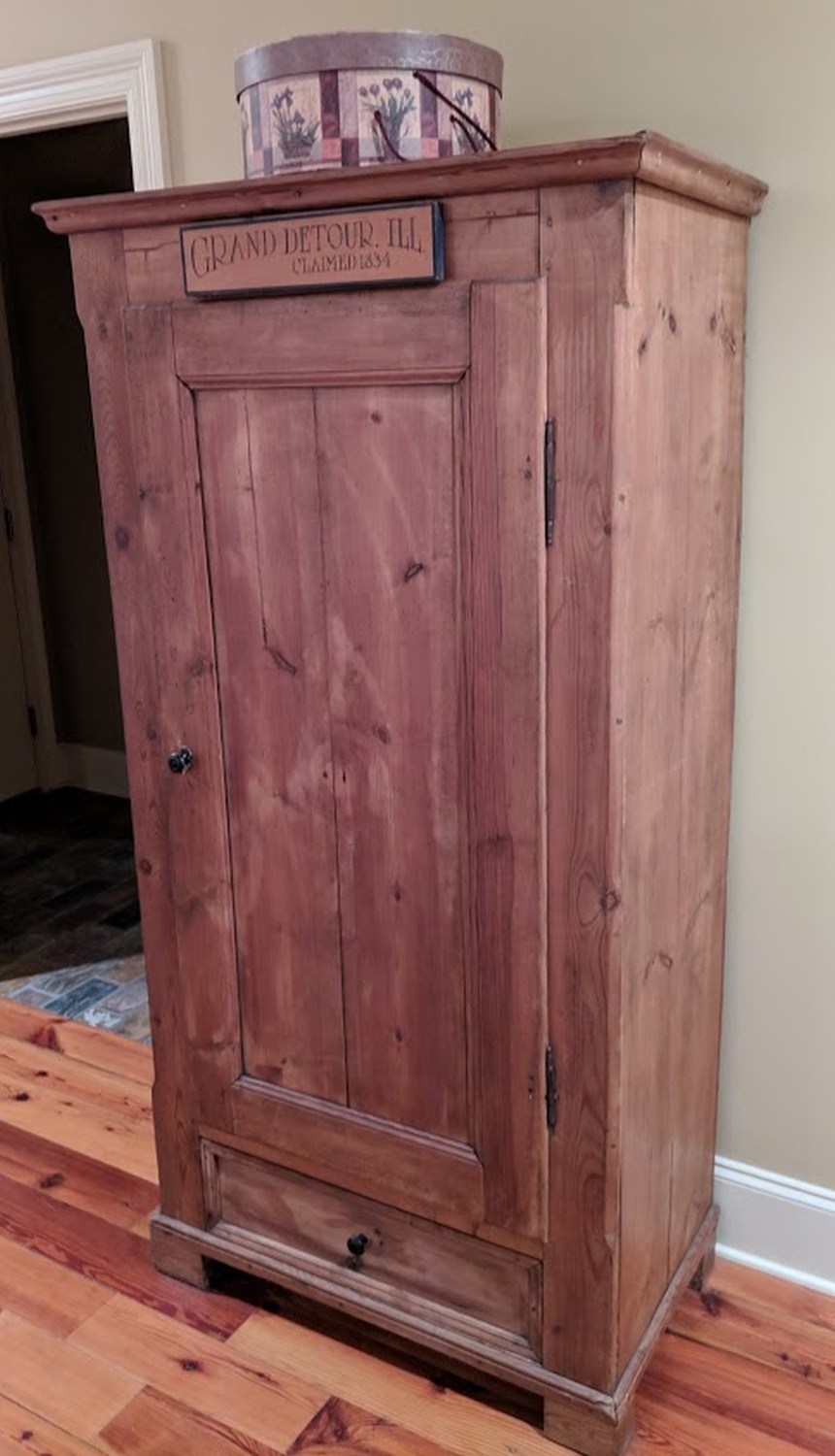 Very old primitive upright cabinet. (European import)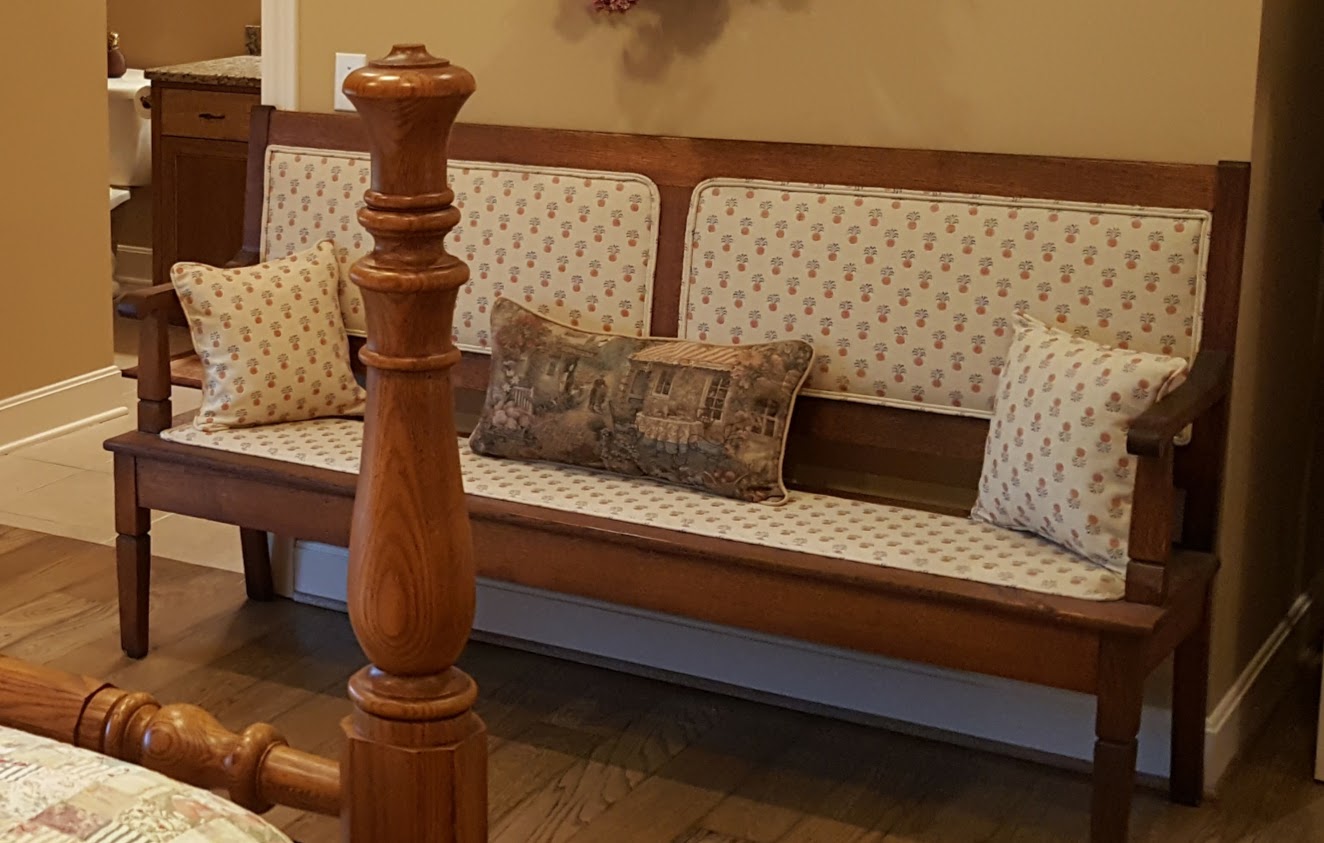 Restored oak bench from a bank with new upholstery inserts and matching pillows.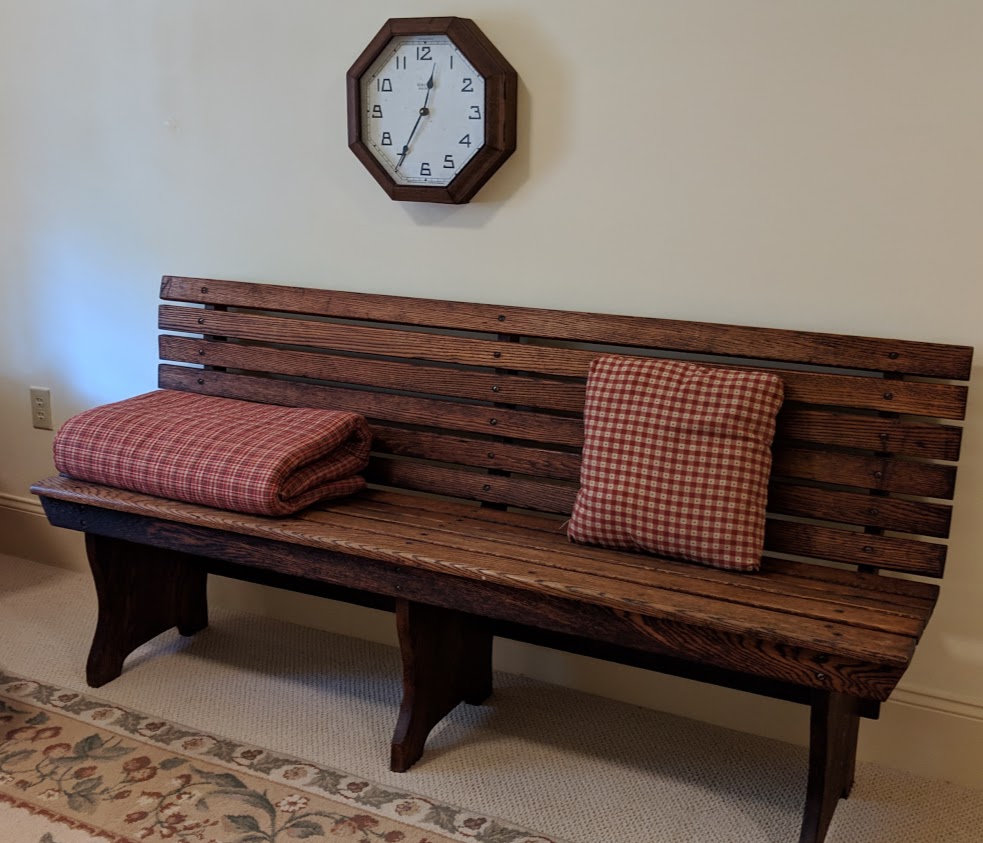 Restored oak wall bench reportedly used in a train station.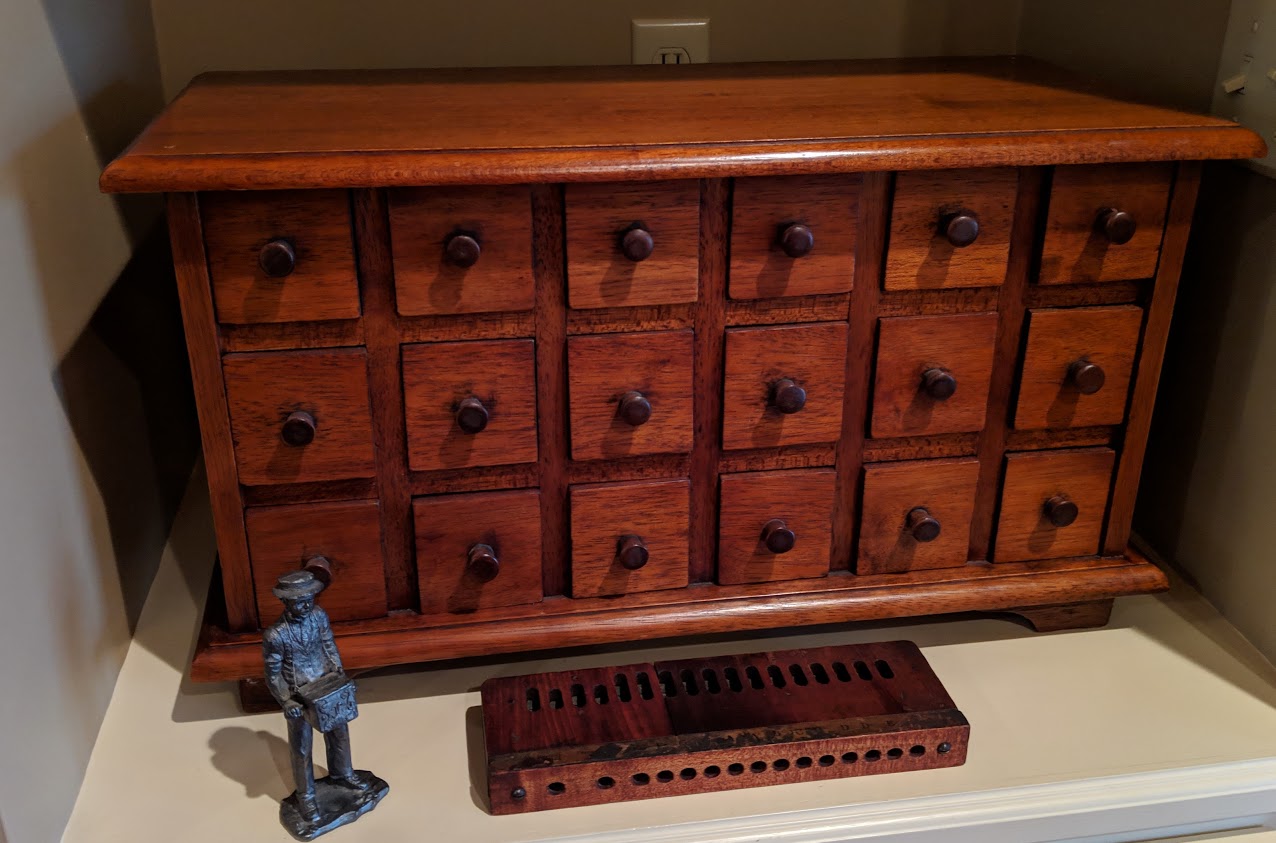 Walnut 18 drawer cabinet along with a wooden tuning tool and a pewter statue of an organ grinder man.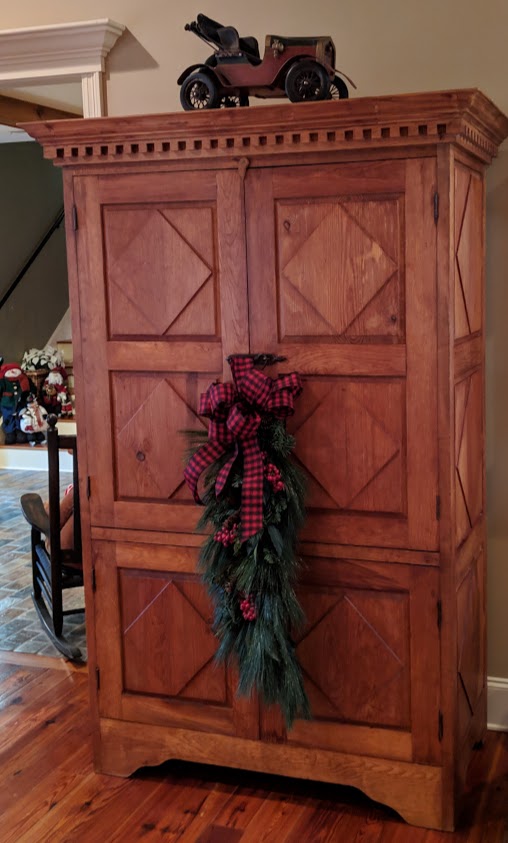 Large and heavy man-made cabinet from South Texas. (Not an antique per se)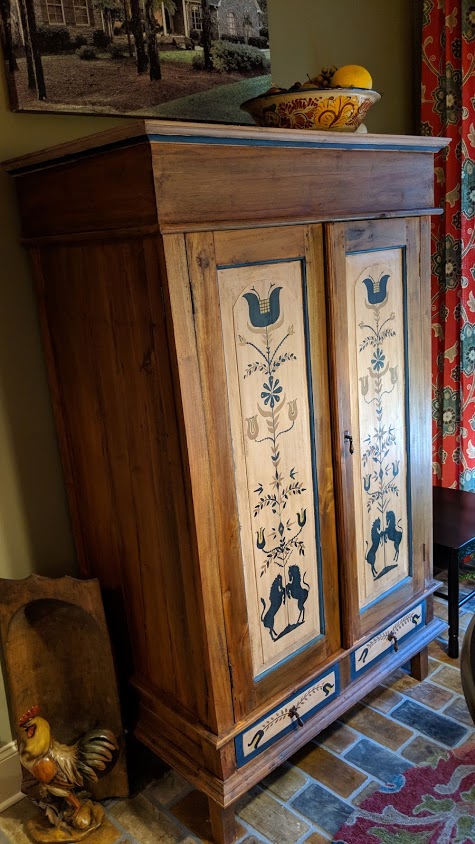 Smaller vintage cabinet imported from Europe and adorned with painted artwork.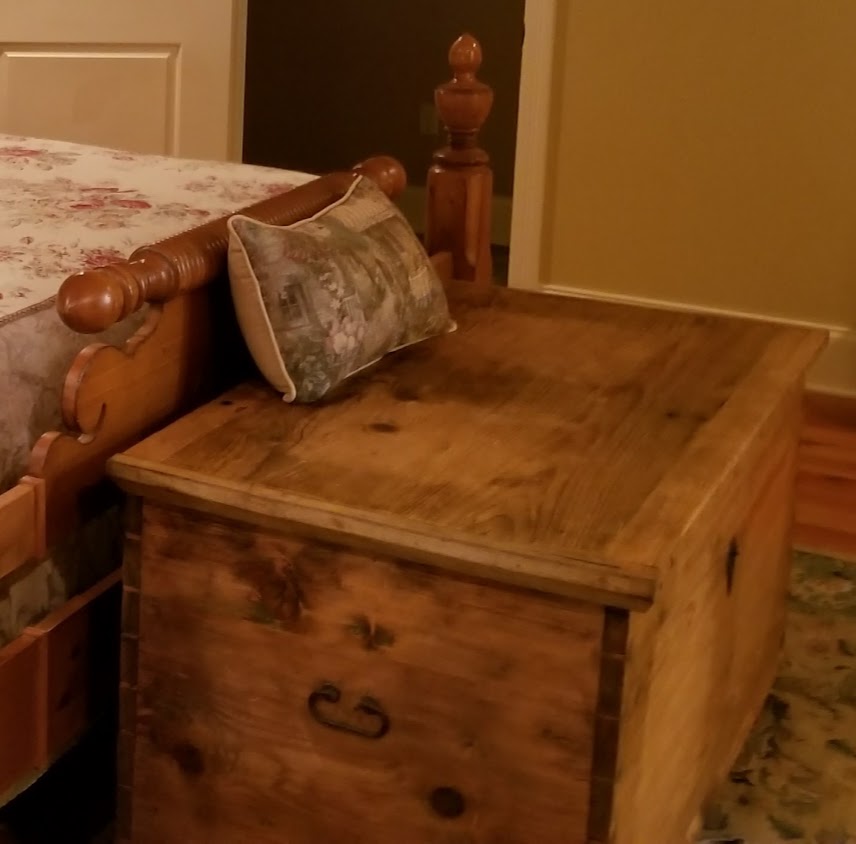 Very old handmade imported European blanket chest.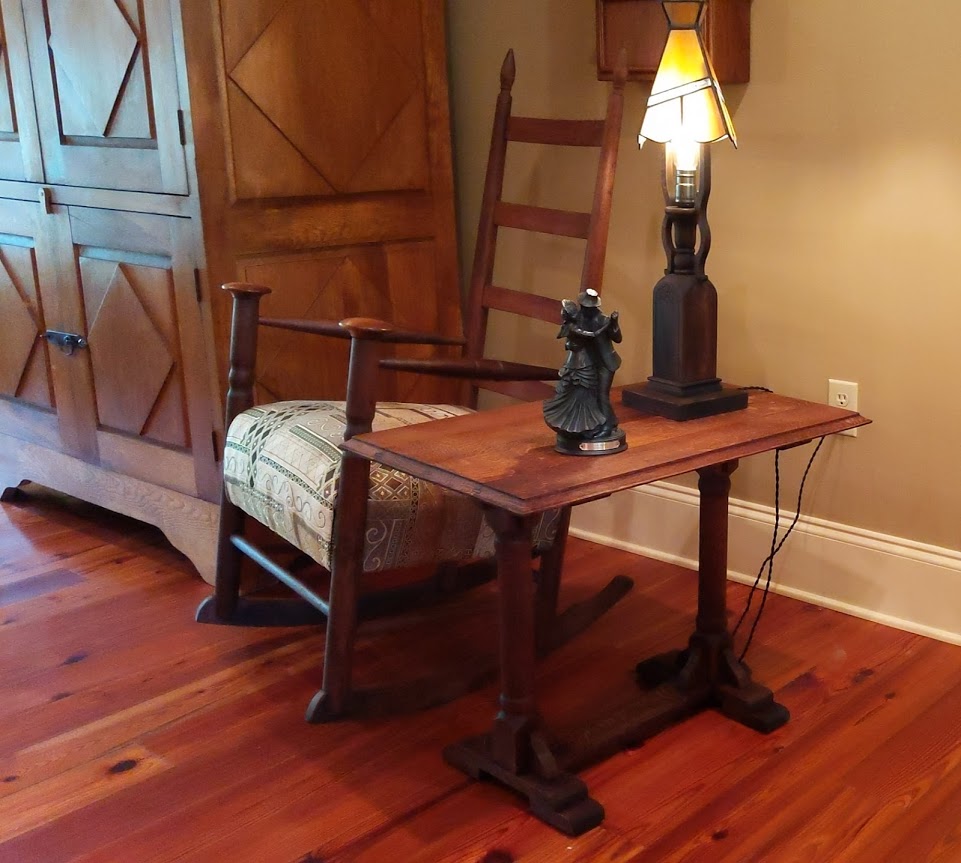 Restored antique English oak lamp table.
Antique Clocks we have collected and restored
Pat and I have been collecting, restoring, and selling antique and vintage home furnishing for many years. Here are photos of several antique and vintage clocks currently in our collection. Almost everything has been carefully restored in our shop.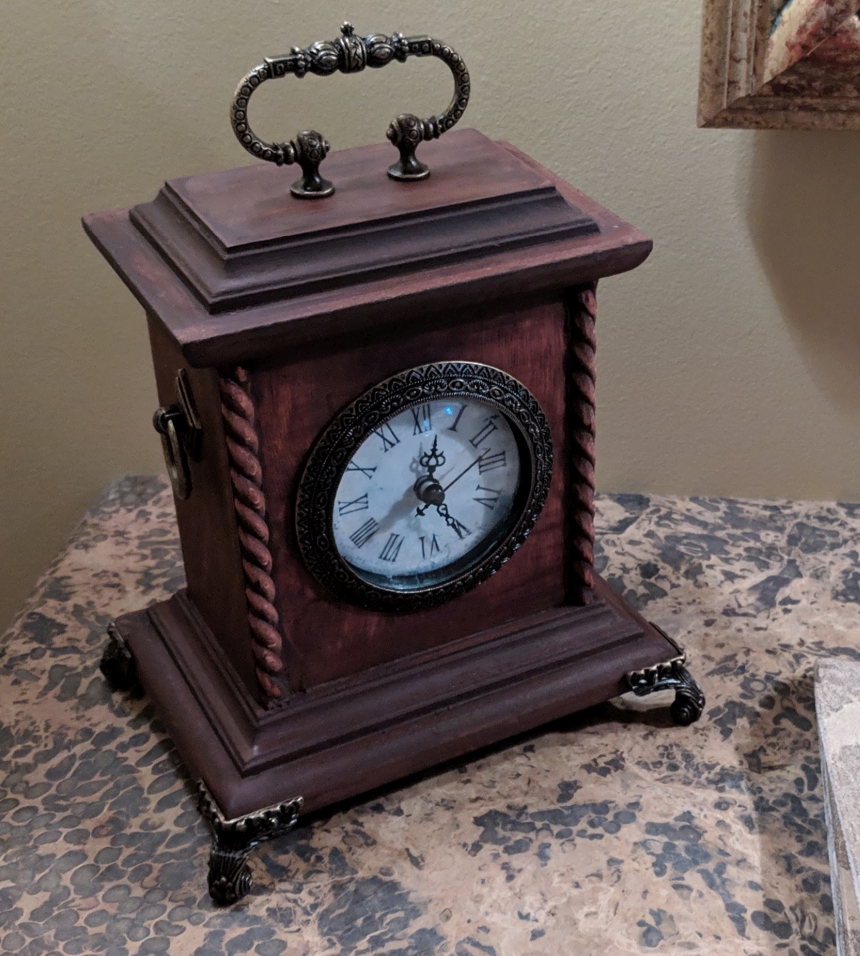 Vintage restored reproduction battery-operated mantle clock.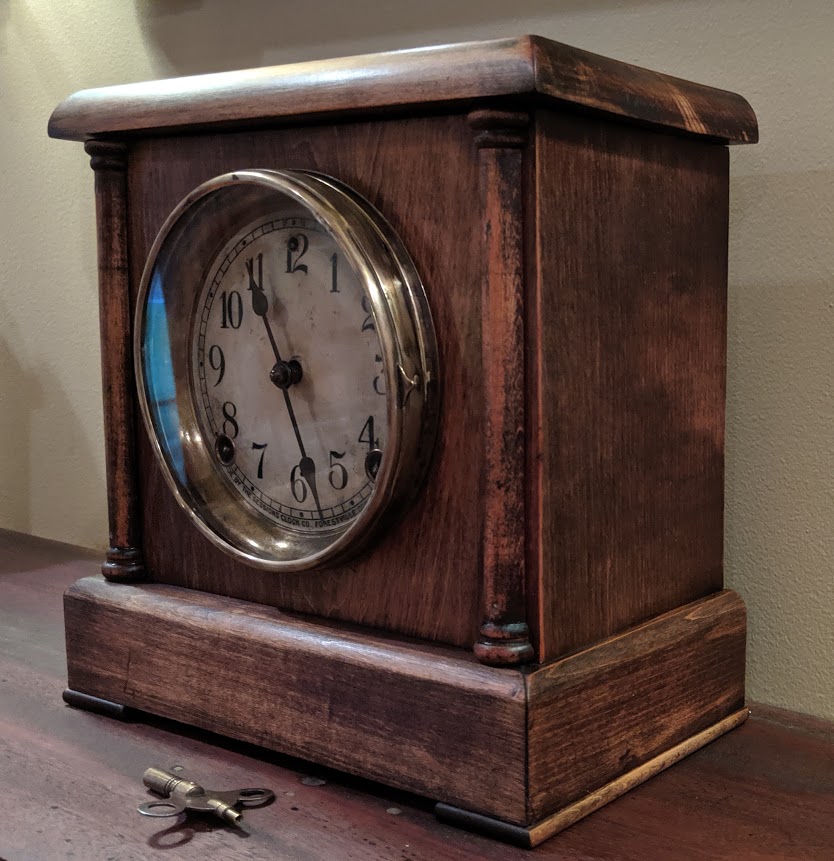 SESSIONS FLAT TOP WOODEN MANTEL CLOCK IN GOOD WORKING CONDITION, STRIKES ON THE HALF AND ON THE HOUR, IT MEASURES 9 3/4" WIDE, 9 1/2" TALL AND 5 1/2" DEEP, THE CLOCK WAS ADJUSTED, cleaned and lubricated AND KEEPS GOOD TIME. Hour strike sounds similar to the strike of a typical grandfather's clock.


Howard Miller walnut grandfather's clock was purchased in 1997 (not antique).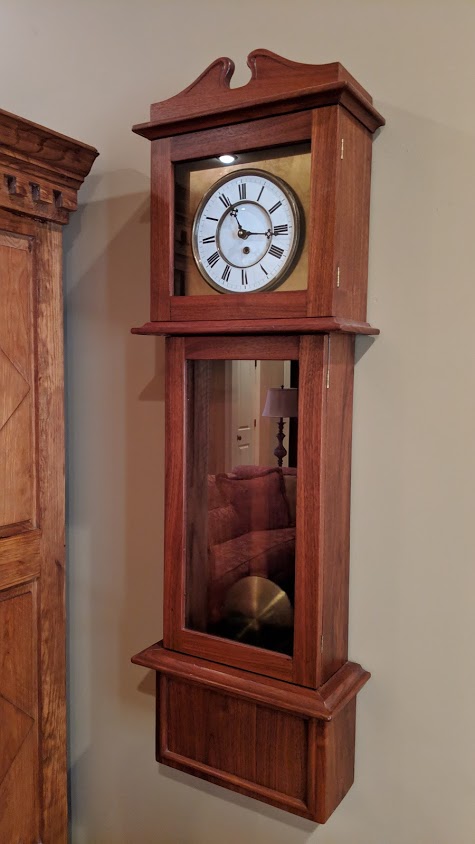 Handmade wall clock with replacement movement.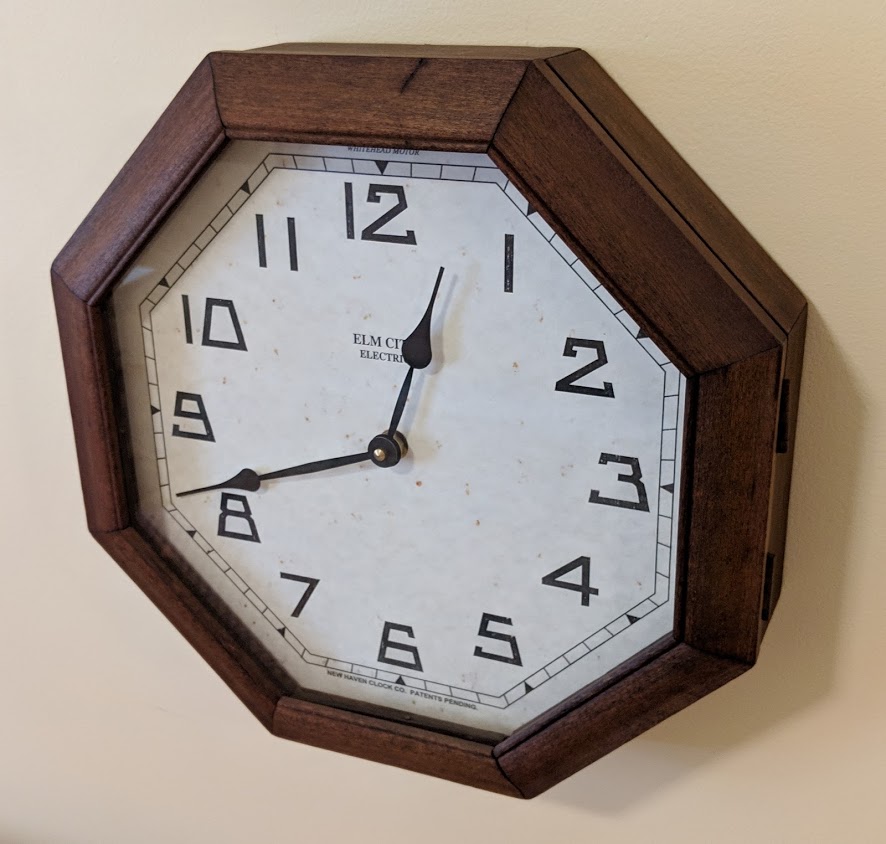 Octagonal wall clock with replacement movement. (one of two similar clocks)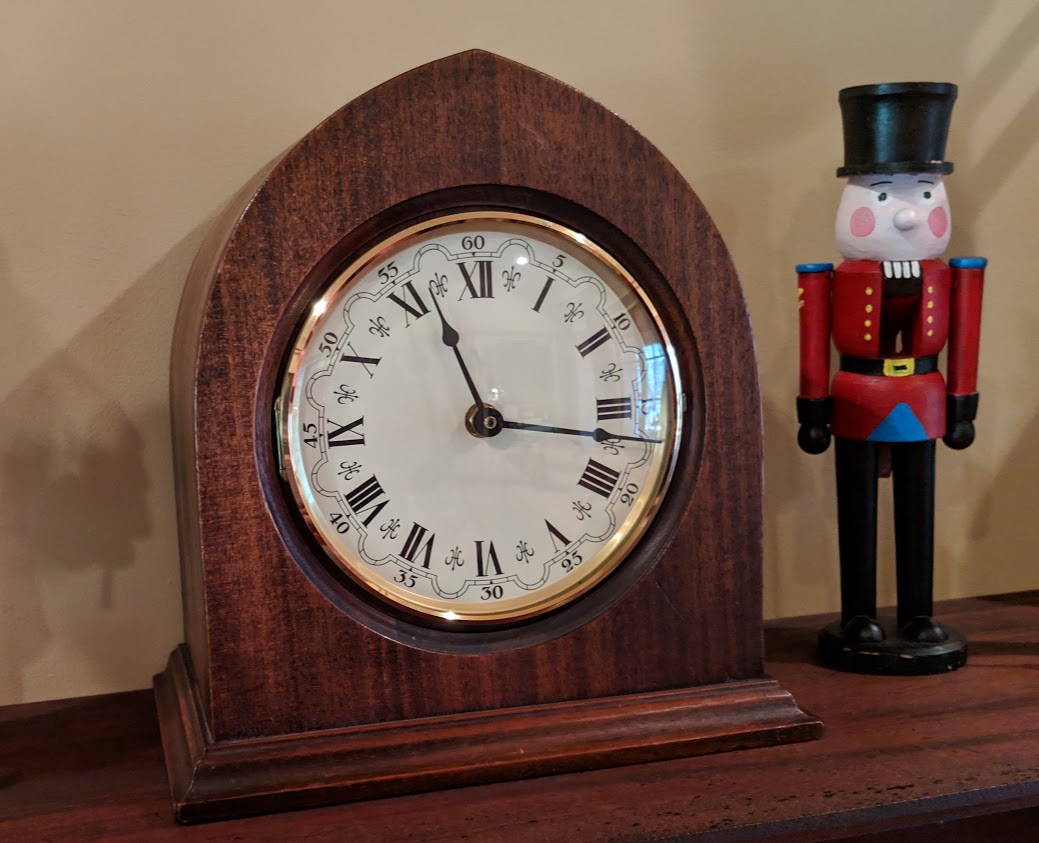 Repurposed antique radio speaker converted to mantle clock with a new clock insert.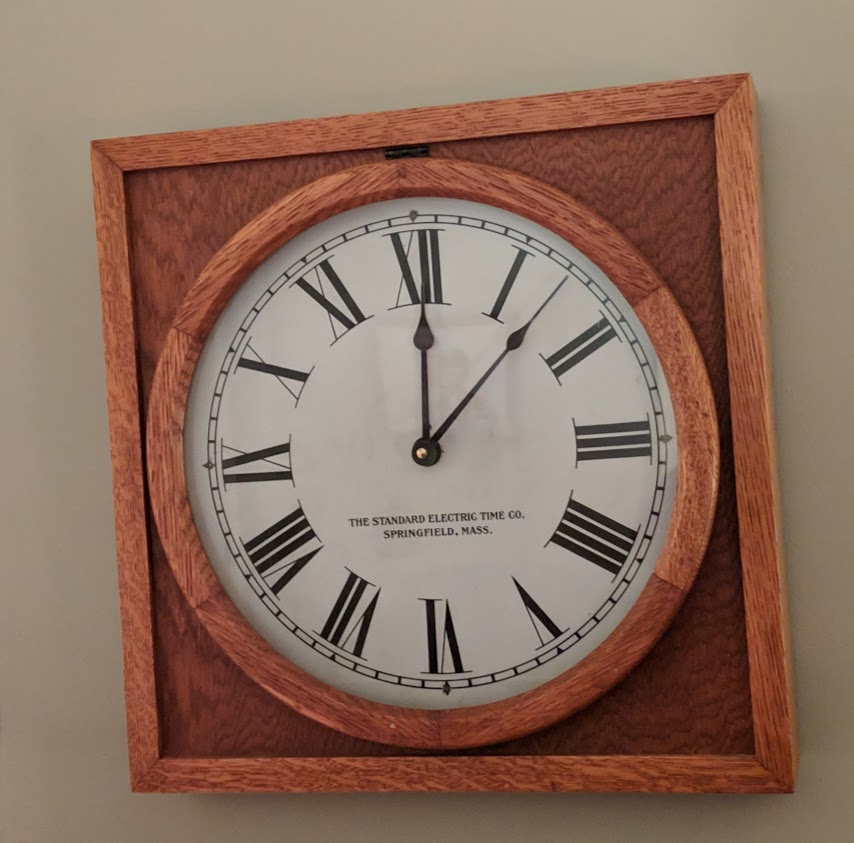 Oak school clock with replacement movement.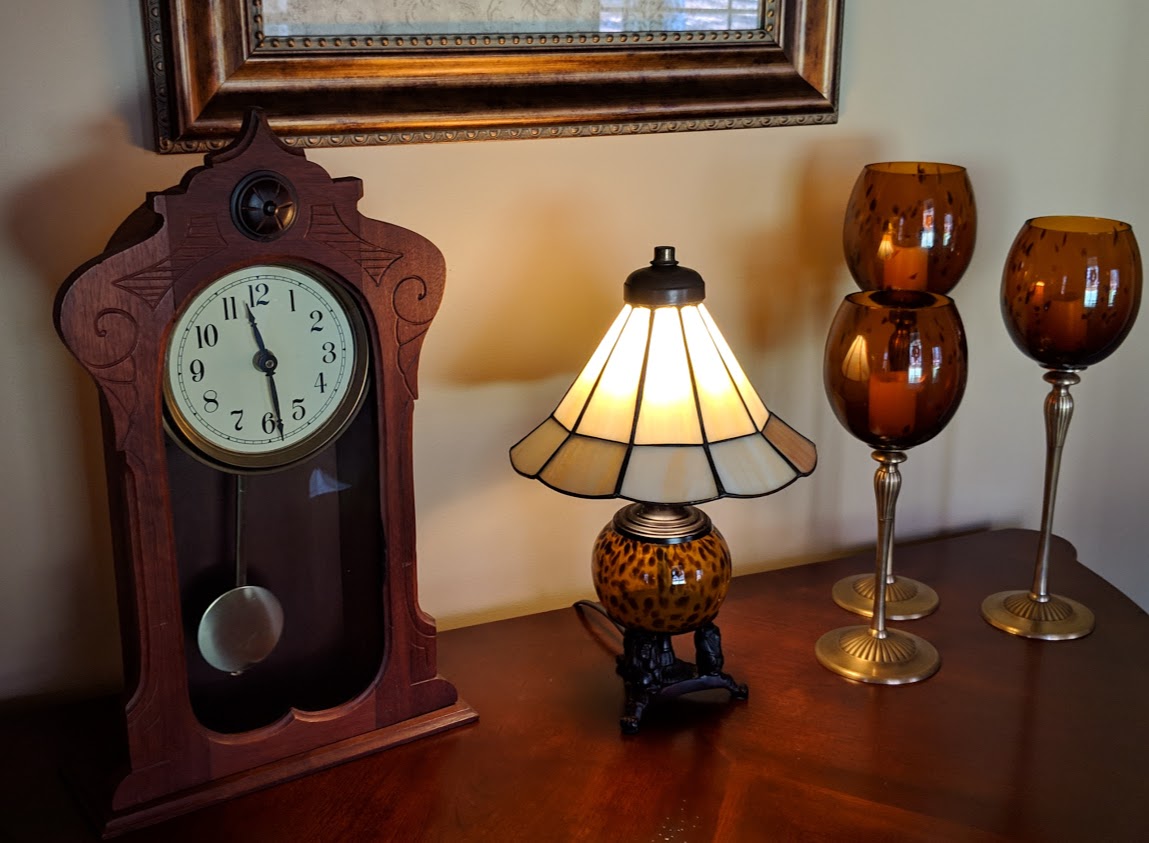 Walnut shelf clock with replacement movement alongside a "Hear no evil, See no evil, Speak no evil" lamp.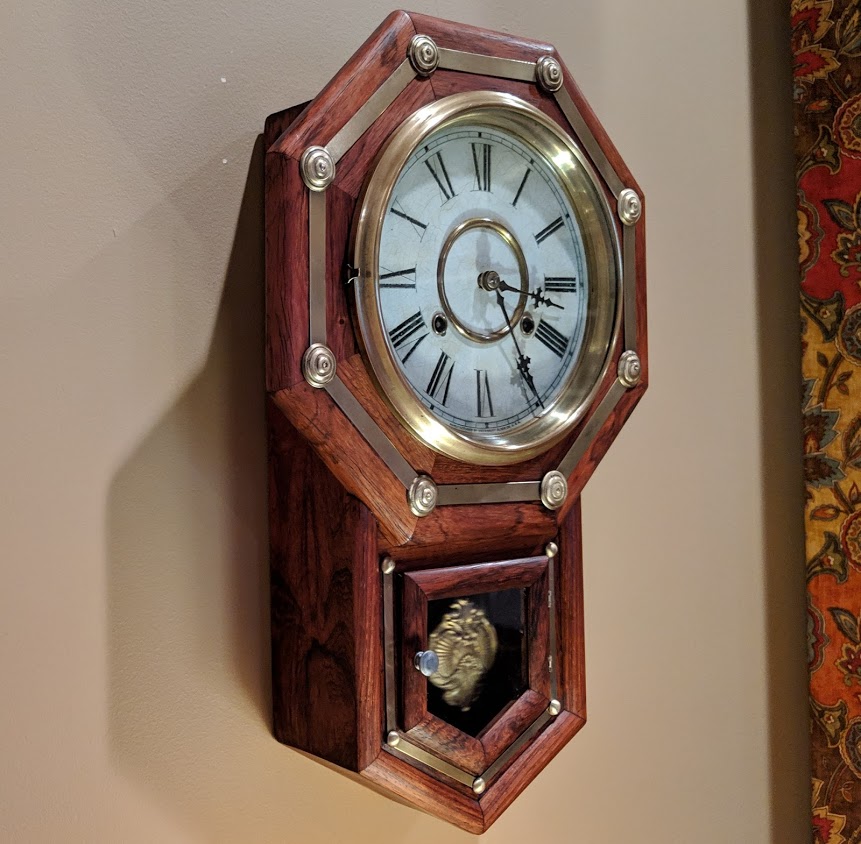 Vintage Waterbury wall clock with brass adornments.
Antique Lamp collection
Pat and I have been collecting, restoring, and selling antique and vintage home furnishing for many years. Here are photos of several antique and vintage lamps currently in our collection. Almost everything has been carefully restored in our shop.


Very unusual and eye-catching restored vintage wooden spindle floor lamp with cast iron base and shade consisting of repurposed green blown bubble glass globe flower design.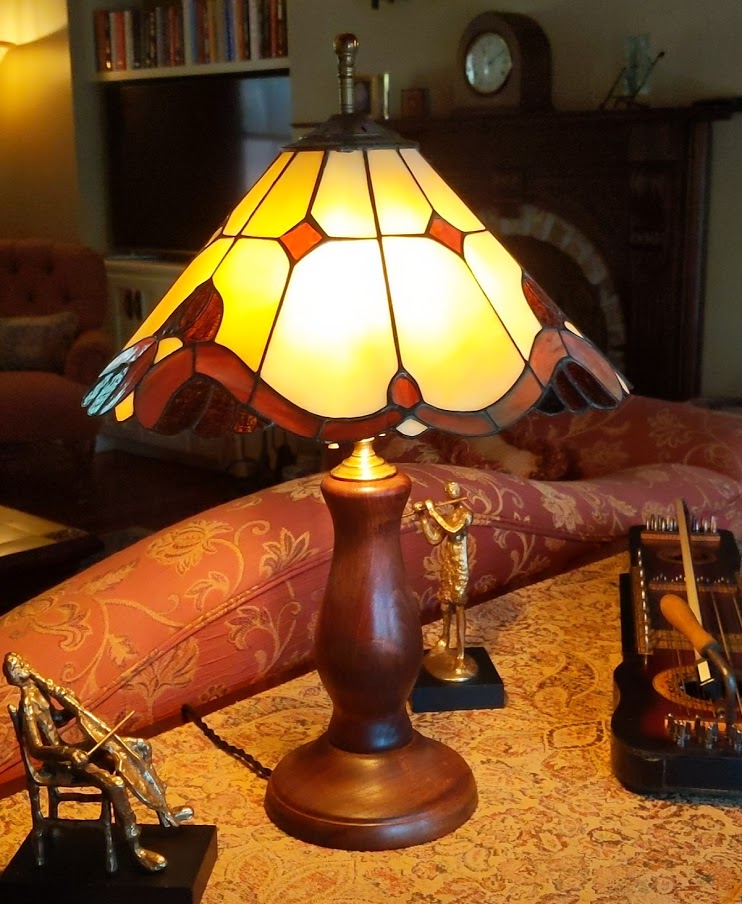 Restored vintage wooden mahogany table lamp with original hardware including double bulb receptacles with colonial-style pull chains. This unusual lamp measures 21 inches tall by 7 inches wide. Height is adjustable. It comes with a Tiffany-style stained glass lamp shade Floral 16" shade topped by a wonderful antique finial.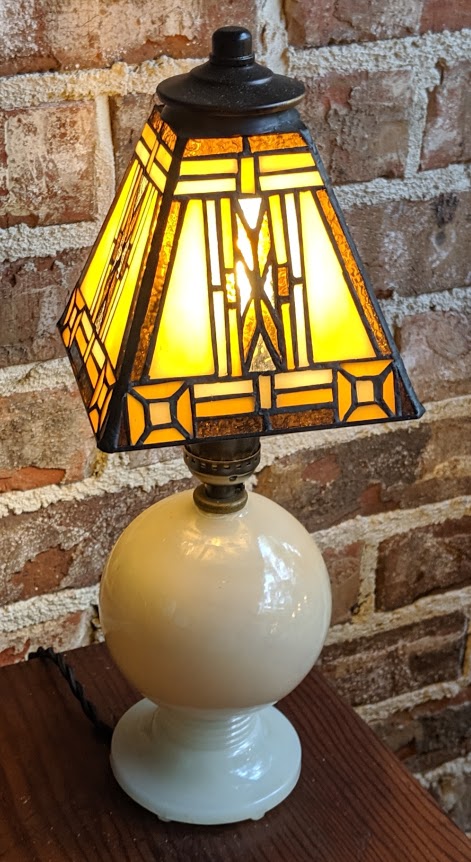 Antique Mantle Lamp Co Off-White Glass Small Round Table Lamp Base Vintage Beige with small Tiffany Style Leaded Stained Glass Lamp Shade 5" Tall.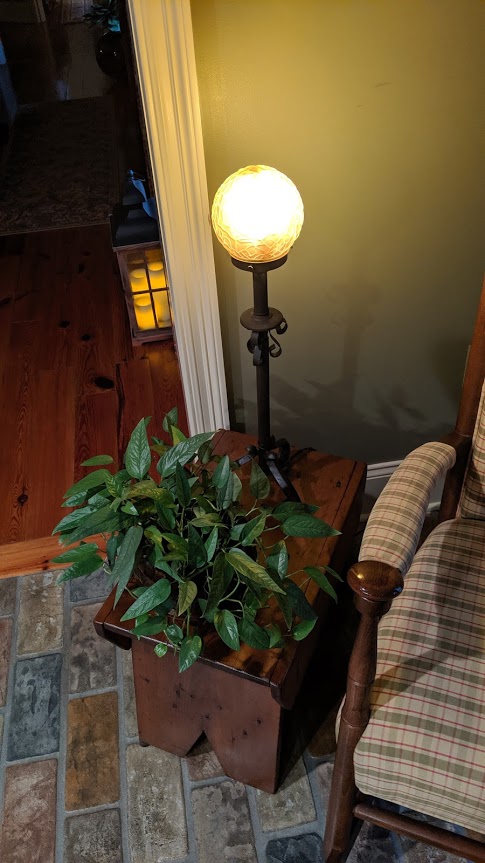 NEW 3 1/4" fitter Amber Brain Glass Art Deco Ball Globe Table Lamp Shade atop vintage cast iron table lamp base.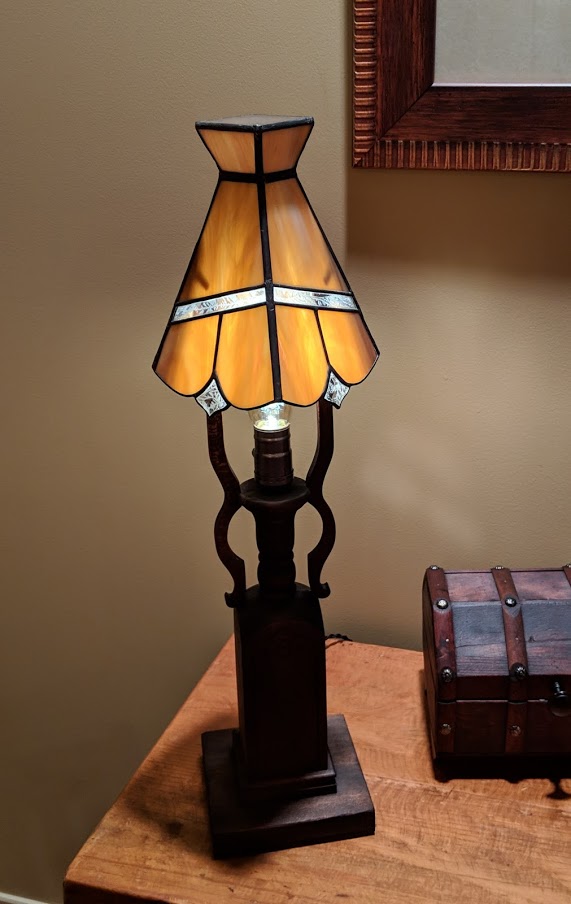 "One of a kind" restored unique vintage mahogany inlaid table lamp with a rare prong style wooden harp. Perched atop the lamp is gold to caramel-colored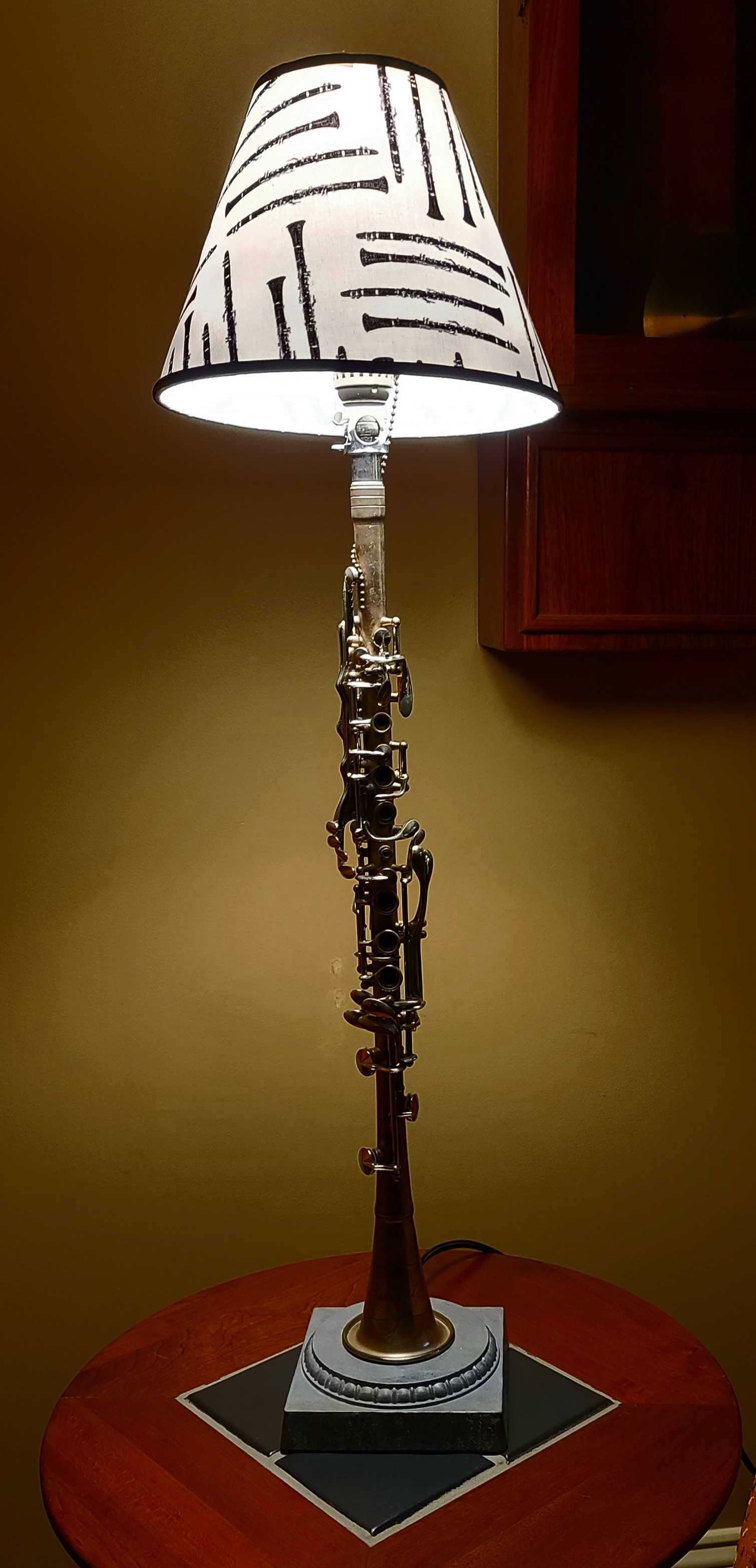 Metal "Silverton" clarinet repurposed as a table lamp. Can be reverted back to a playable instrument in less than five minutes.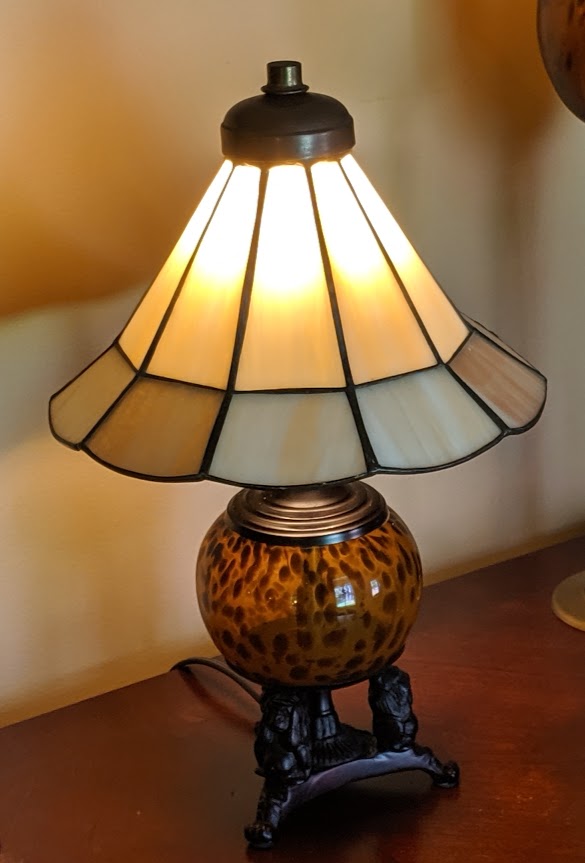 Vintage "Hear no evil, See no evil, Speak no evil" table lamp. Just precious!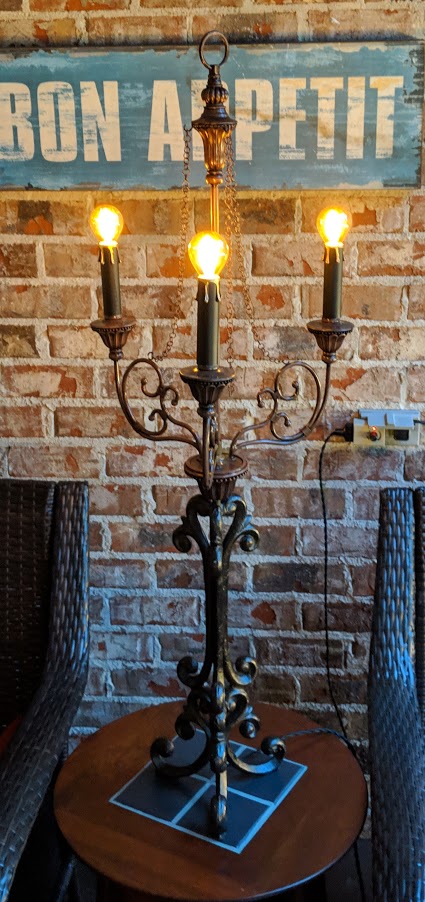 Repurposed "one of a kind" tall table lamp born from the marriage of a newer amber glass urn base and chandelier that has been rewired and fitted with LED bulbs. Perfect for a back porch!
Other items of décor around the house
Pat and I have been collecting, restoring, and selling antique and vintage home furnishing for many years. Here are photos of several miscellaneous pieces in our collection.

Fully restored vintage 10-inch single row tambourine with single row 14 metal jingles. This wooden tambourine offers a great patina. Drum head tightness is made possible by adjustable screw clamps as shown in the photo.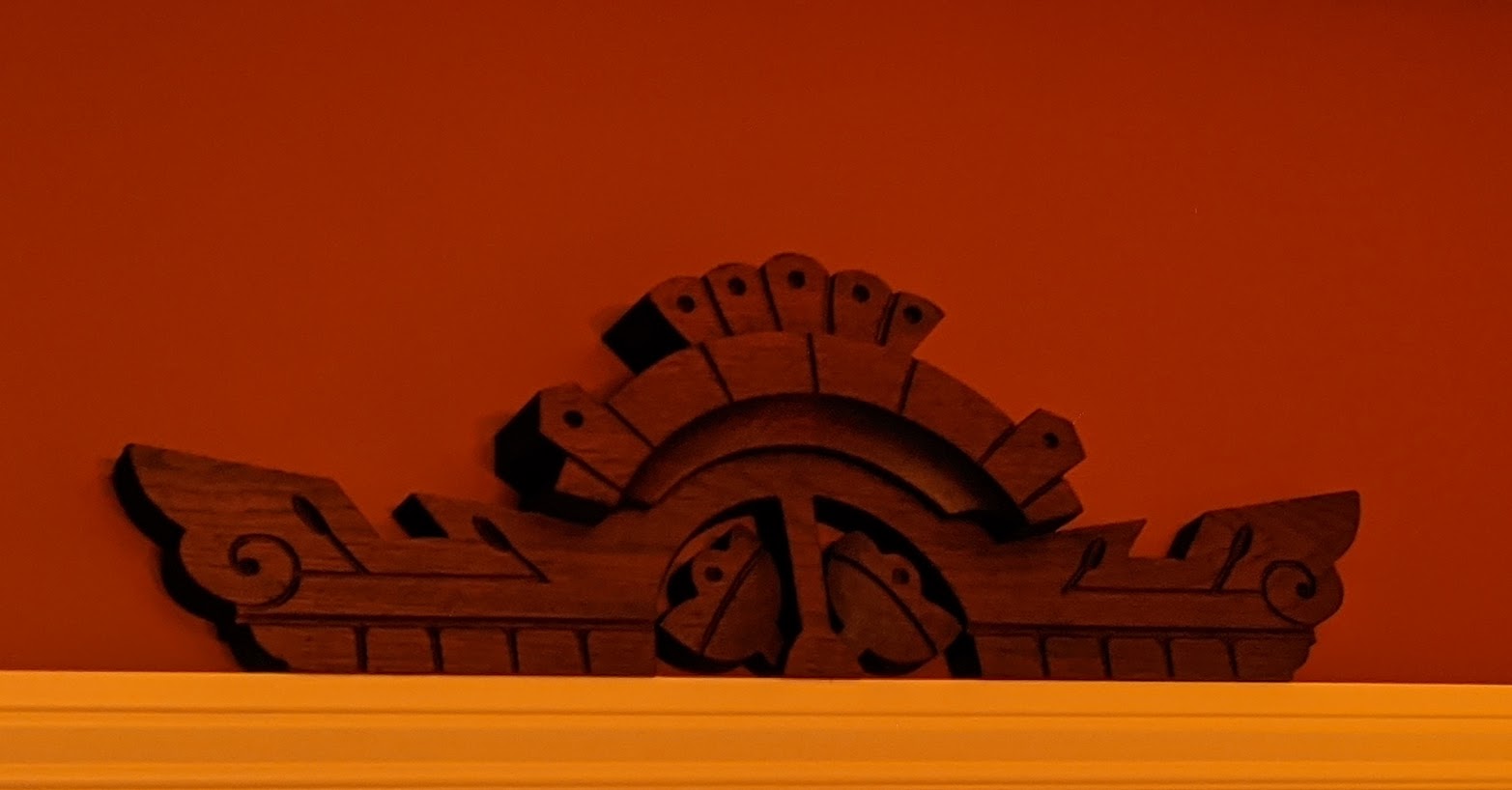 Antique carved walnut applique architectural decorative pediment, cottage style.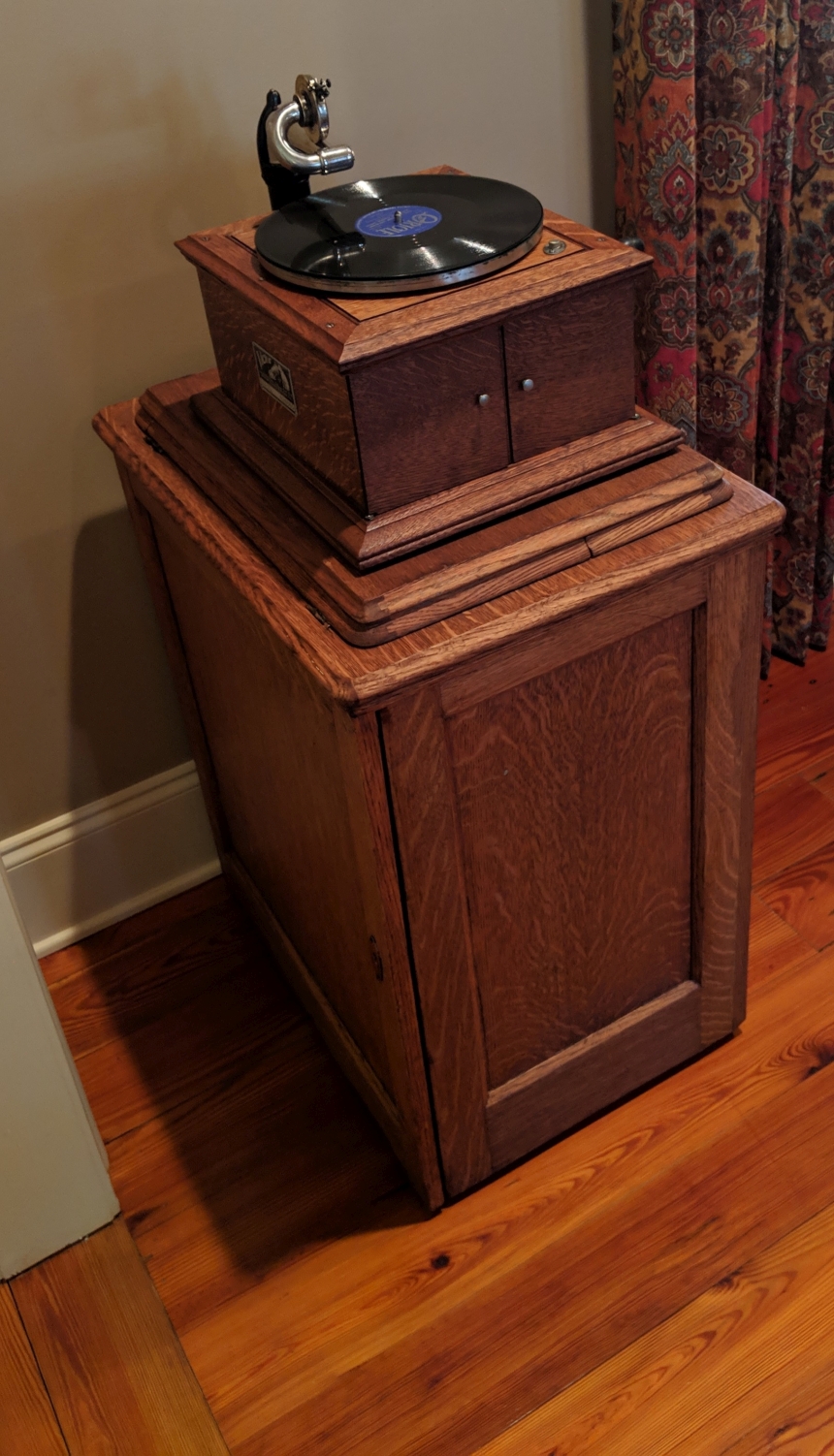 A repurposed solid oak antique 1921 Singer sewing machine cabinet with restored Victor Victrola phonograph.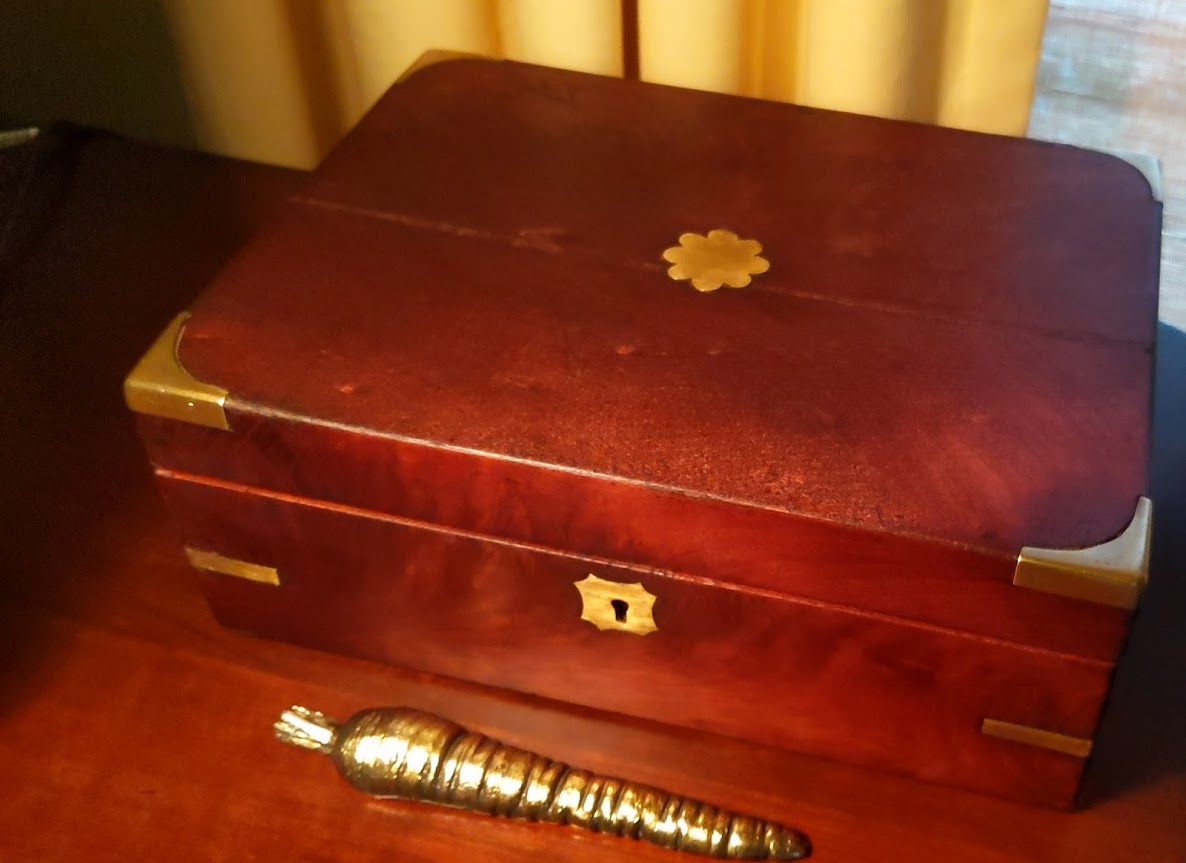 Antique English brass bound and inlaid mahogany lap desk, circa mid 19th century. Has a fitted interior with two felt-covered writing surfaces. Re-purposed as a jewelry music box. Fully restored in order to repair structural issues.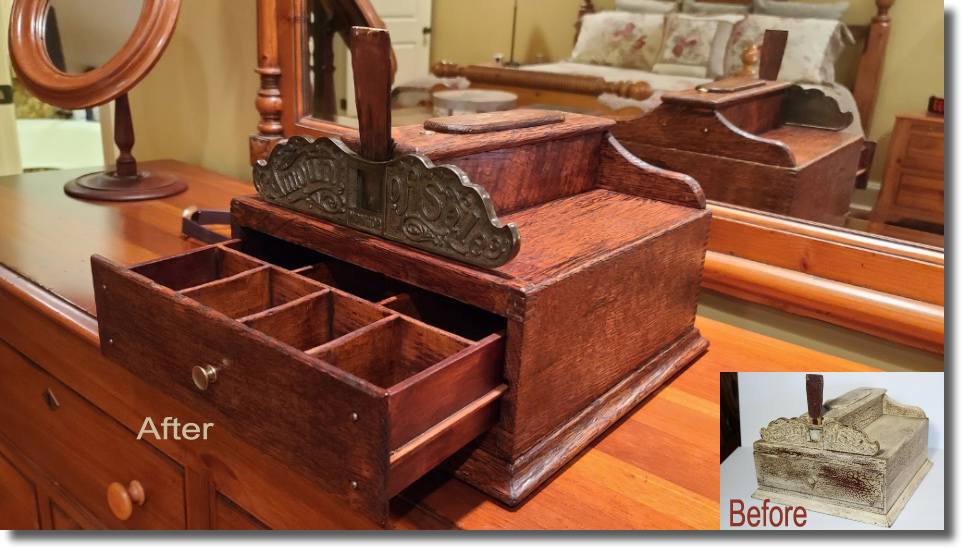 Restored scarce ANTIQUE MONITOR OAK & METAL BARBER SHOP CASH REGISTER c.1900's vintage. Has a metal sign on the front which says "AMOUNT OF SALE" with a "MONITOR" name. The wooden wedge protruding from the top is used to open the drawer. Purchased last month on eBay, this cash register came from the original owner's family estate. I was told that the previous owner's grandfather used this register in his Worcester, MA barbershop in the early part of the 20th Century. These Monitor cash registers were made by the Whiting Mfg. Co. with a patent date of 1900 and were made specifically for barbershops. As per the "Before" embedded photo, I purchased it in the "as found" condition. Regrettably, it had an old and very alligatored layer of white paint on all exterior surfaces which is a chore to remove. I restored it for my wife Pat to use a "repurposed" jewelry box.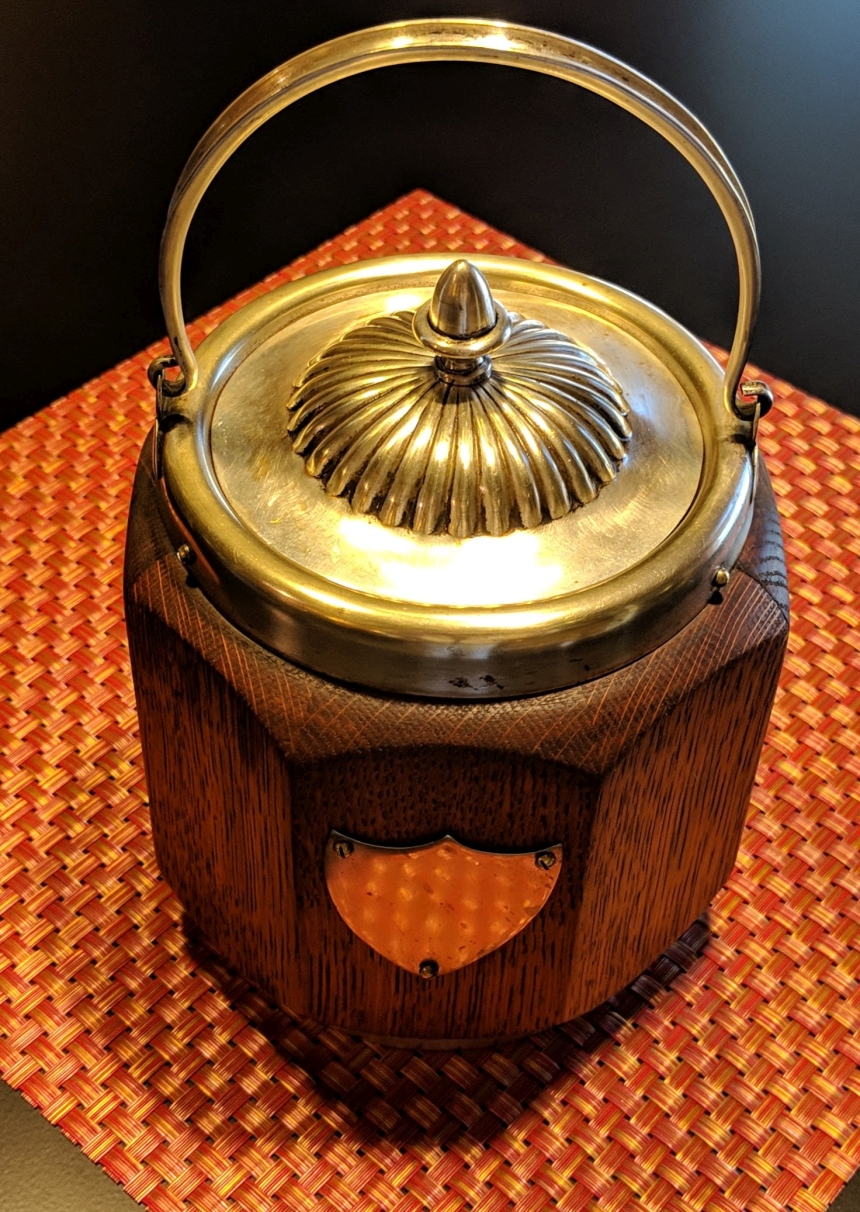 Vintage English Oak & Biscuit Ice Barrel Porcelain Shield.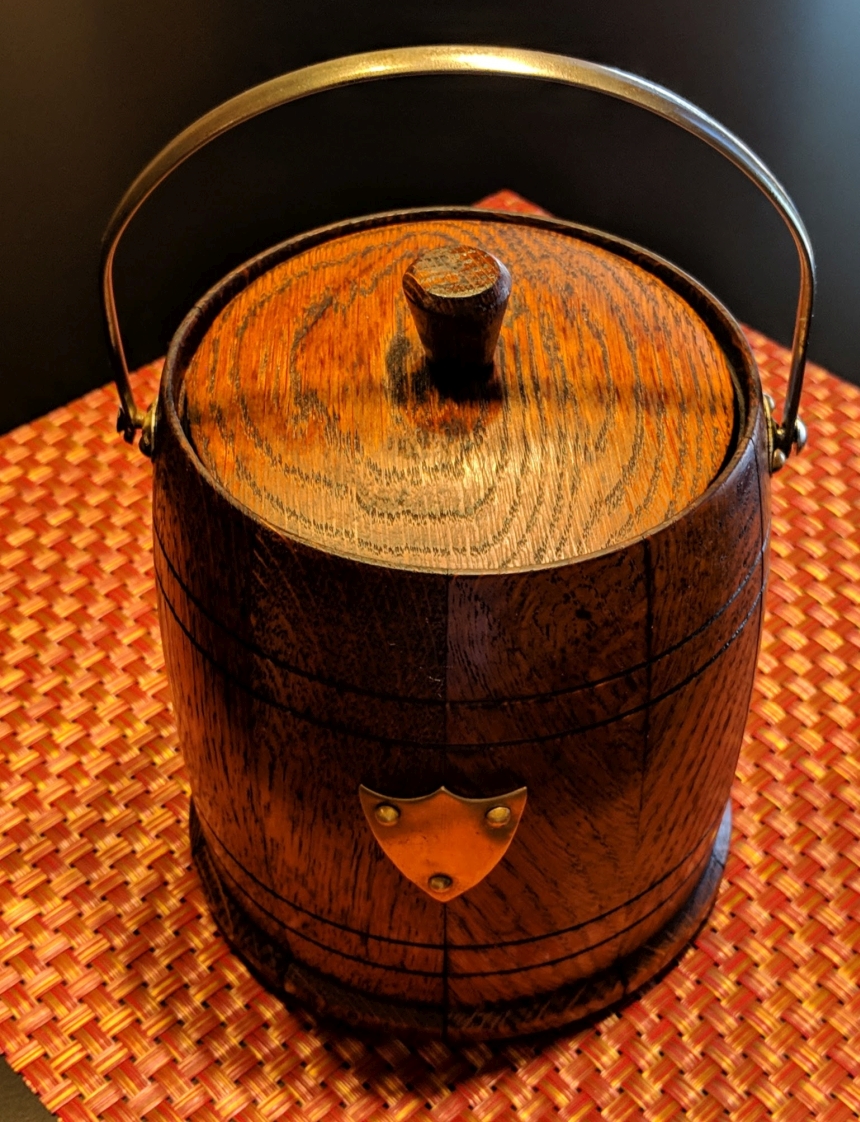 Vintage English Oak & Biscuit Barrel with Porcelain liner and Shield.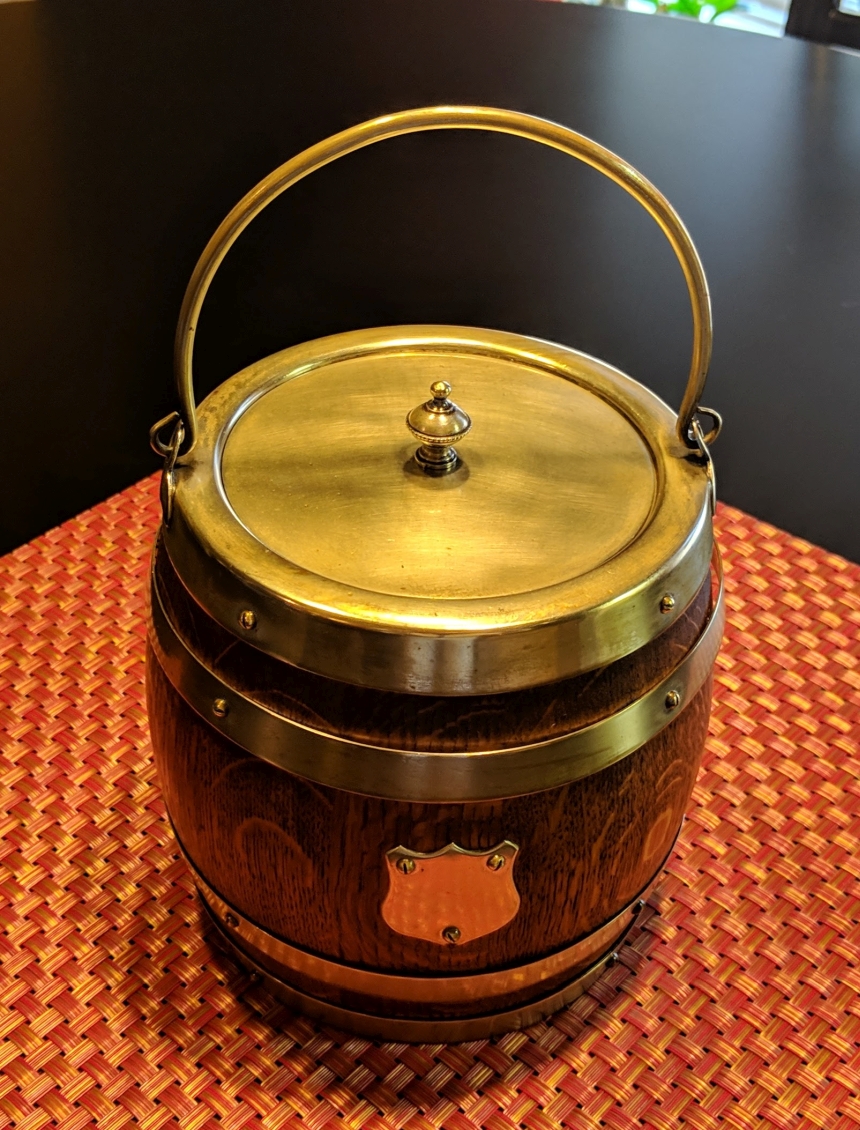 Antique Old English Oak Barrel Ice Bucket/Biscuit Jar.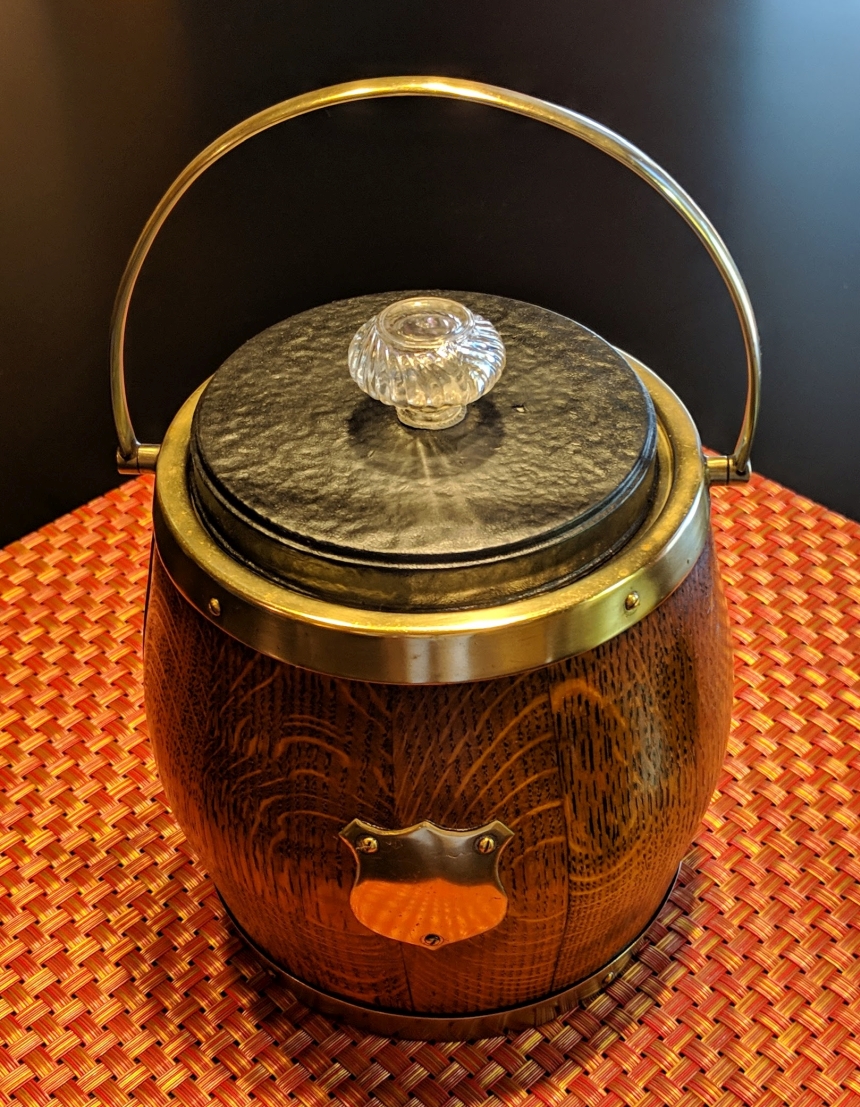 Antique Tiger Wood Oak with Silverplate BISCUIT BARREL JAR.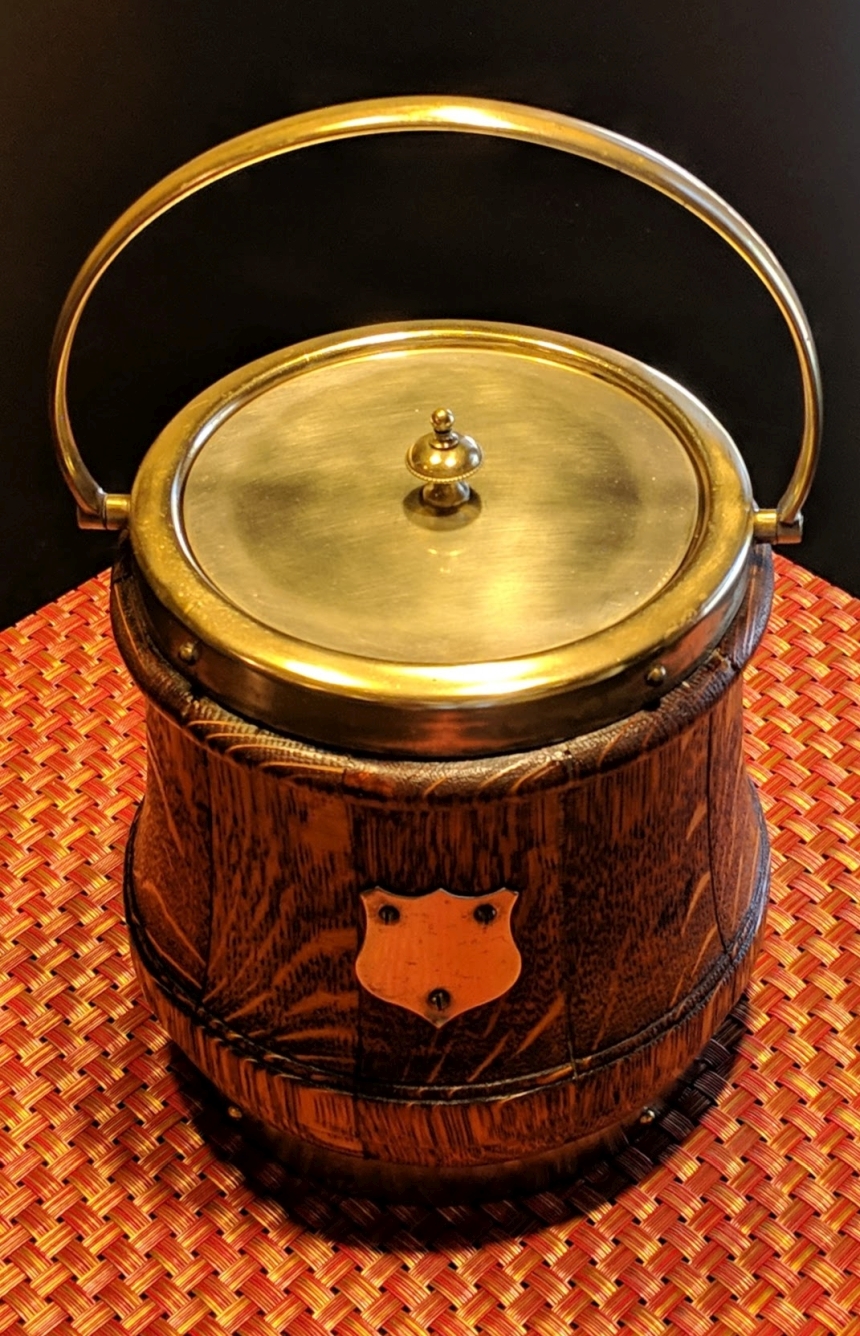 Another EPNS WOODEN BARREL BISCUIT COOKIE JAR WITH CERAMIC LINER.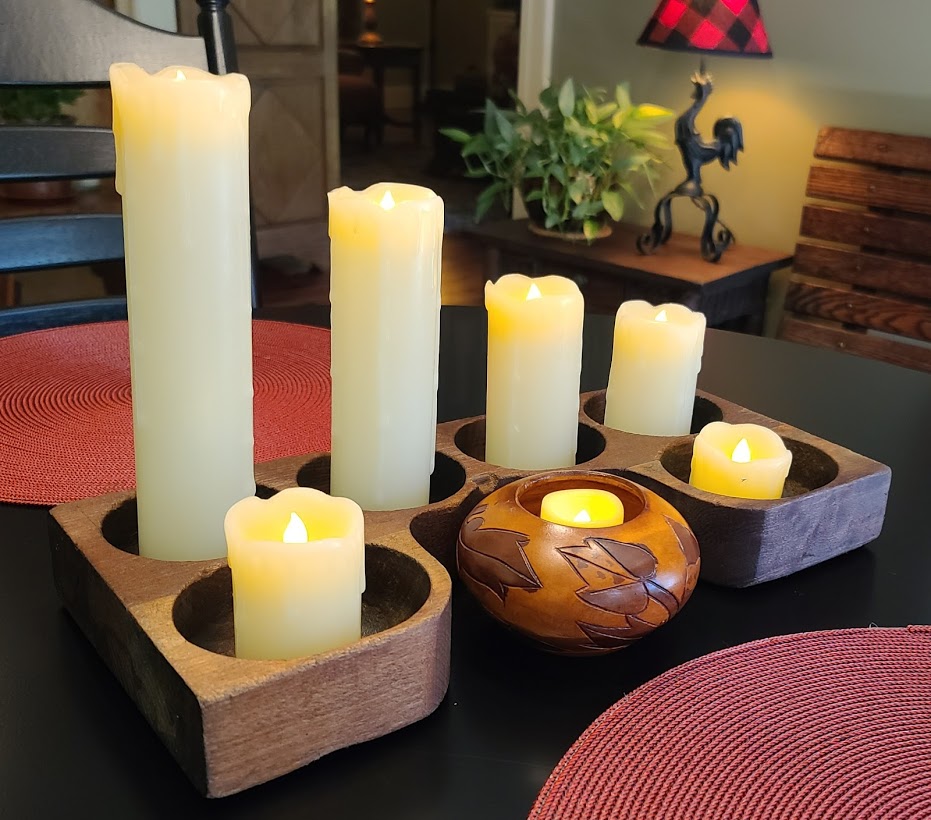 Restored and repurposed vintage General Store Wood Cash Register Drawer Coin Tray.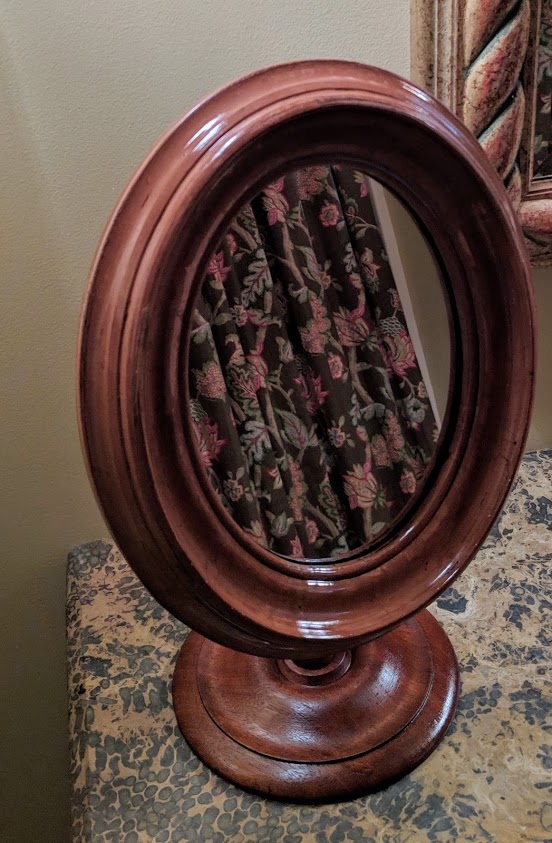 Antique 1871 Wood Walnut Toilet Vanity Mirror Dresser Swivel Drawer Makeup. Recently restored including replacement of the original badly deteriorated mirror glass. One of the oldest pieces in our collection.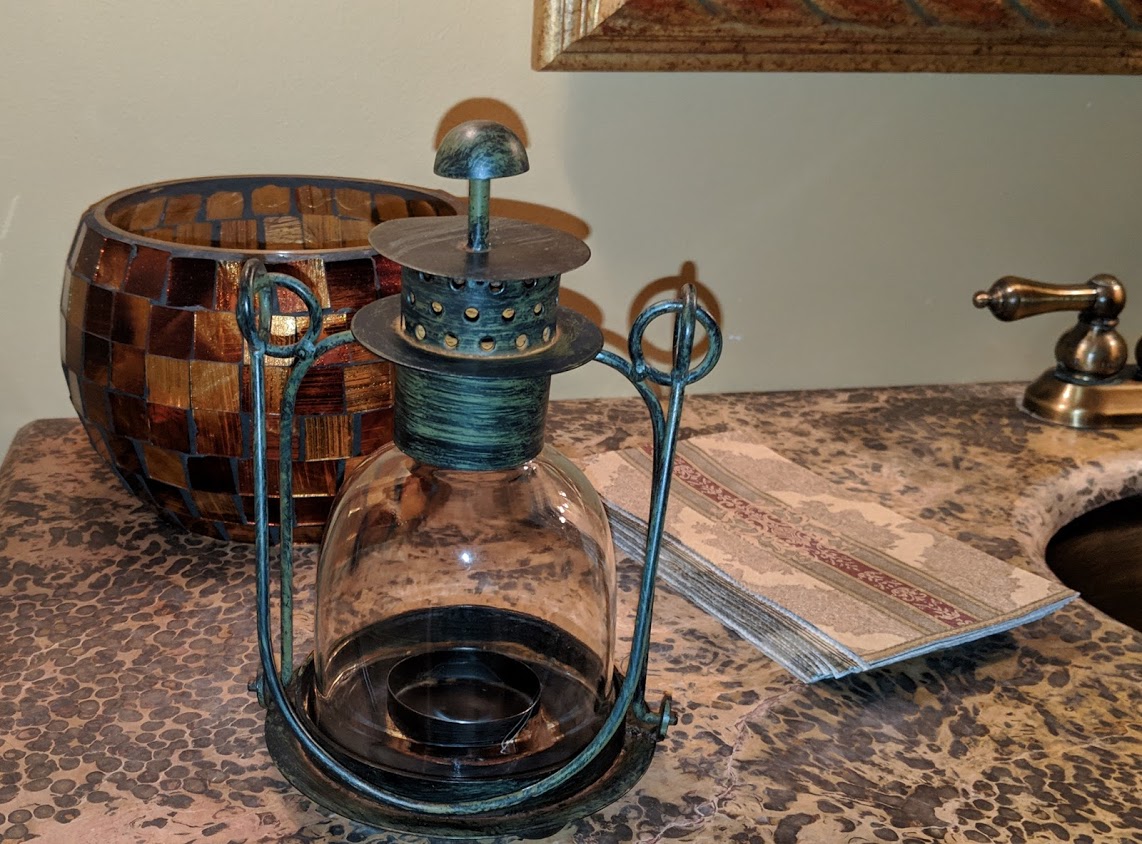 Antique signed brass candle lamp candlestick porcelain top "SURTOUT RIEN". It measures 8 1/2 inches tall and is 4 1/4 inches at the bottom diameter. This is beautifully signed on the underside works well, a very unusual piece.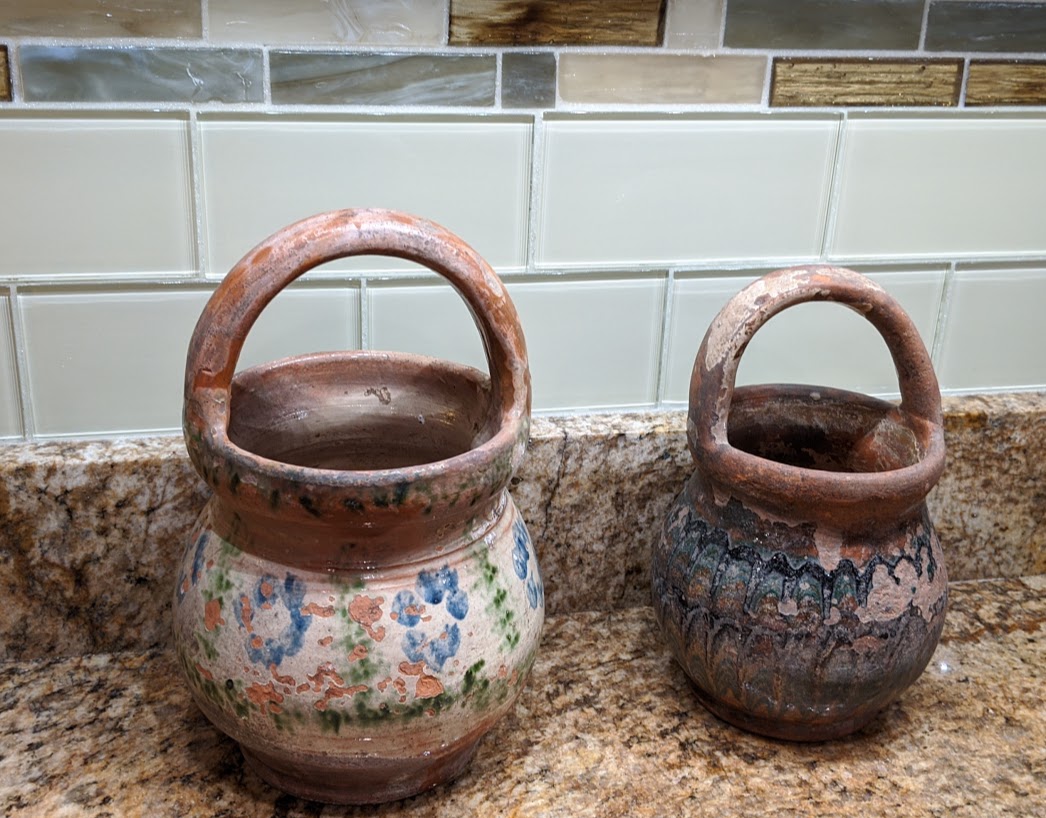 Two antique primitive redware pots from the beginning of the 20th century. They are both traditional Bulgarian vessels used for yogurt and honey. Hand-painted and100% authentic.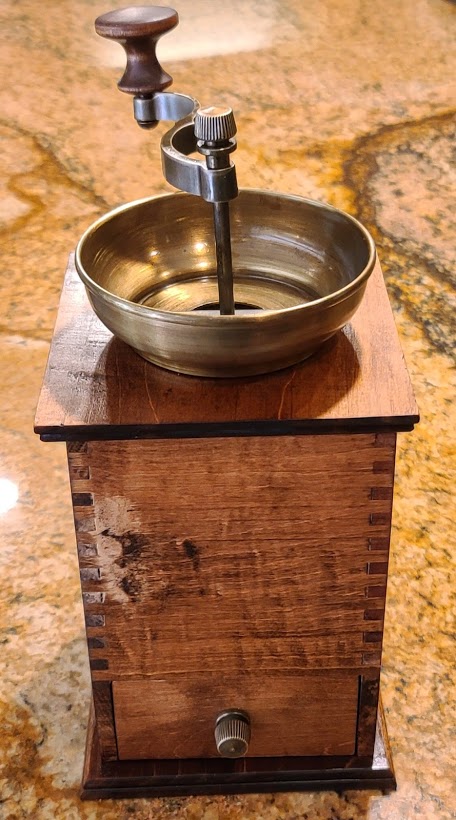 Restored reproduction BRASS & FINGER-JOINTED WOOD 12" TALL HAND CRANK COFFEE BEAN GRINDER. This Finger-Jointed Wood Hand Crank Coffee Bean Grinder is beautifully made! Even the little drawer is finger-jointed, and the knob on the drawer matches the knob on top. It measures approx. 12" tall overall, with the cabinet measuring approx. 8" tall x 5 1/2" square. It makes for an interesting & decorative conversation piece.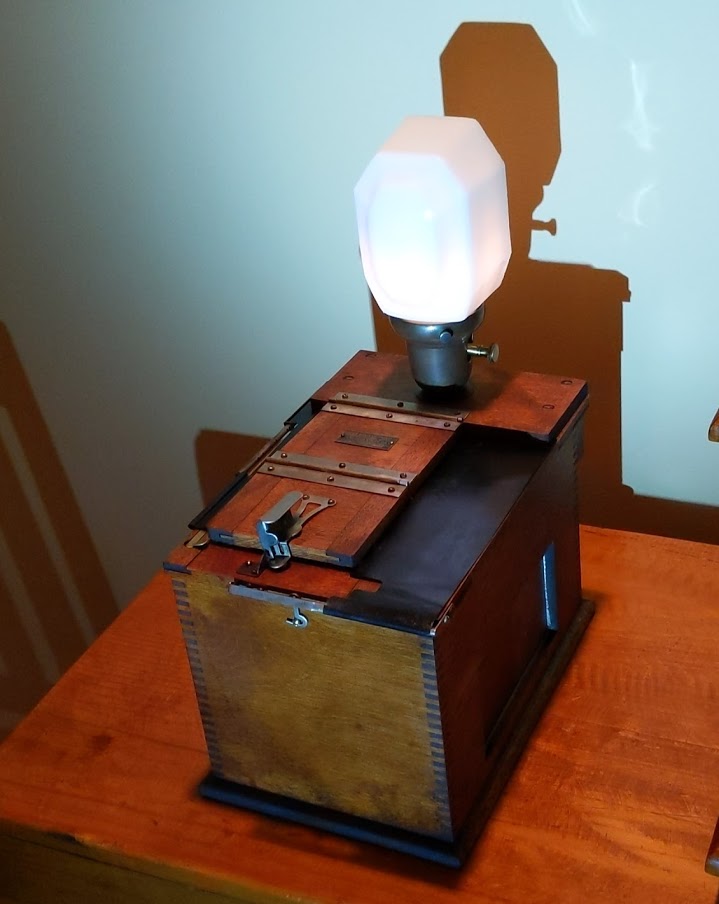 Restored antique Eastman Kodak amateur printer that has been "repurposed' as the base for a table lamp. This was a contact printer for negatives up to 3x5 inches in size. It has an internal safe light and a built-in printing frame with adjustable masks. These contact printers were frequently used to mass-produce postcards in the 3 1/4-inch by 5-inch size at up to 300 cards per hour. Using a contact printer in this way could provide an extra source of income for an industrious photographer. The wooden printer measures 11 1/4" L by 8 1/4" H and 7 3/4" W. These printers started being manufactured in 1914. They printed up to 3 3/8 X 5 1/2 inches and have a built-printing frame with adjustable masks and internal safe-light. When plugged in the light bulbs do work and the top metal bar works. When you push the bar down it hits a button and a white light bulb does light. The printer and the folding platen on top that holds the film and paper in place by way of the locking switch on the left. A small shaft protruding through the upper left is depressed to switch the safelight off and the white light on. The orange window on the side is removable and laminated orange paper as a safelight media. Note: this is a display piece only and not currently operational.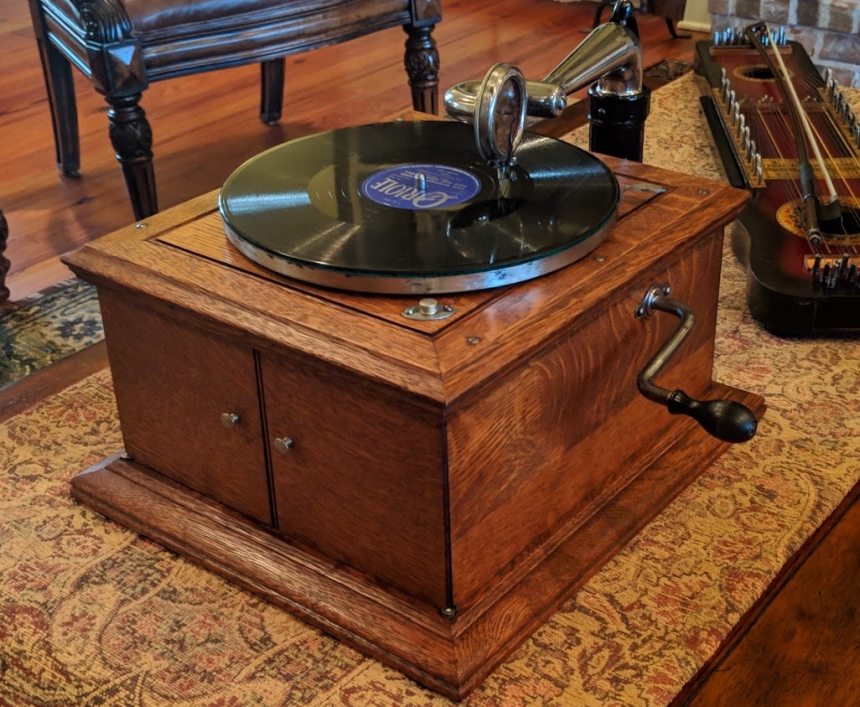 Victor-Victrola Talking Machine VV-IVa Phonograph Record Player 1904.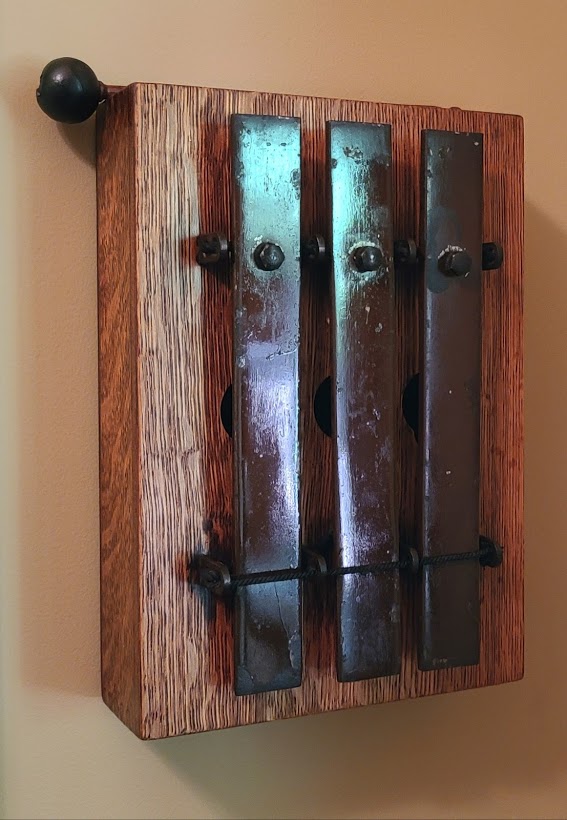 Restored antique Koehler-Liebich Co. Liberty Chimes 3-Bar Church Chimes originally from an Eastern Pennsylvania church. It works well and sounds great. A vintage mallet with no makers mark has been paired up with it. Possibly for a J.C.Deagan type dinner chime mallet that is about 8 5/8" long overall.

Silverplate silent butler, crumb catcher MAJOR AB ADVERSIS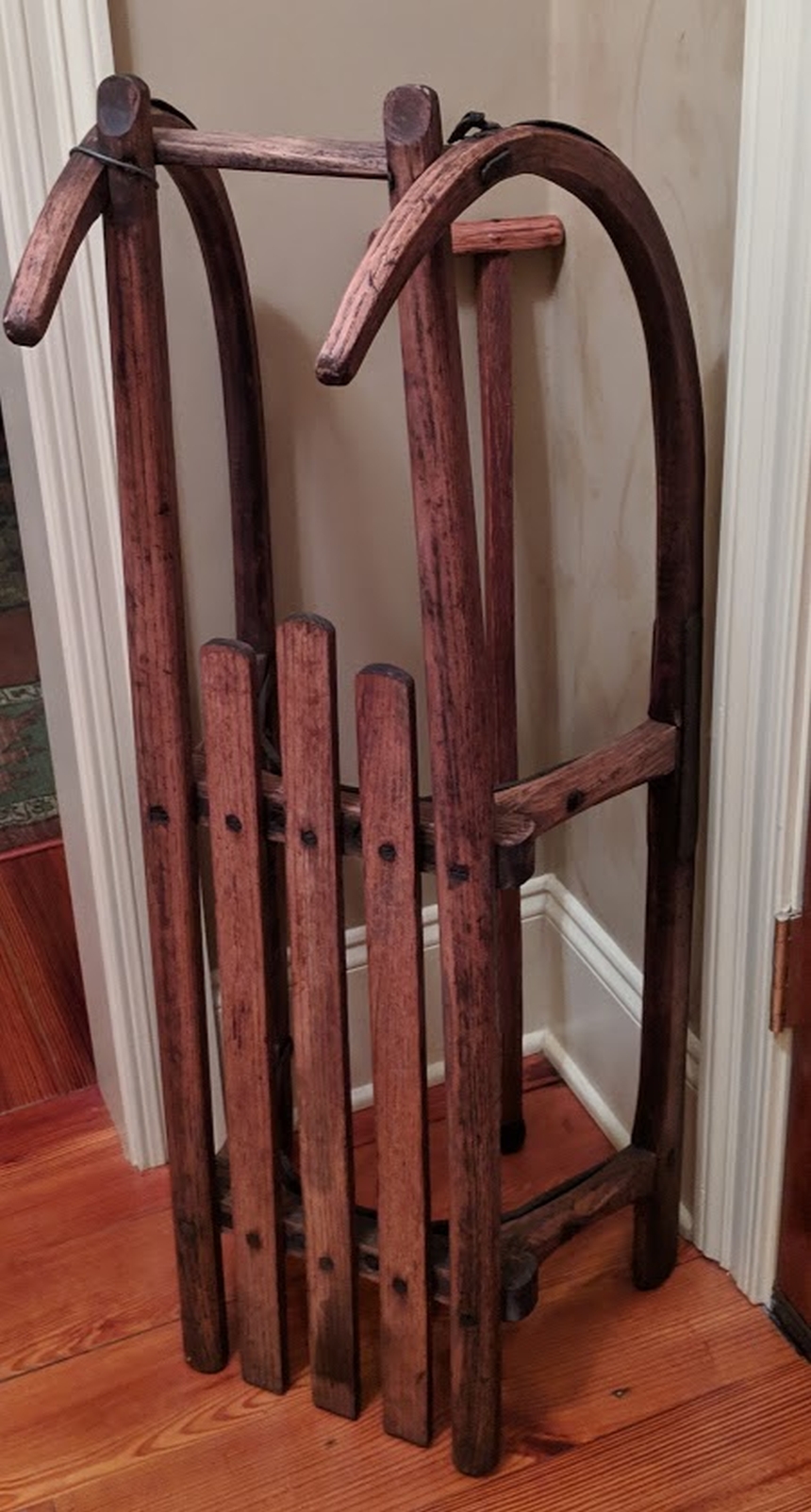 Very old sled (European import).


Montage consisting of (left to right) contemporary Brutalist metal sculptures of a cello player, cello player, flutist, piano player, flutist, saxophone player, and dancer.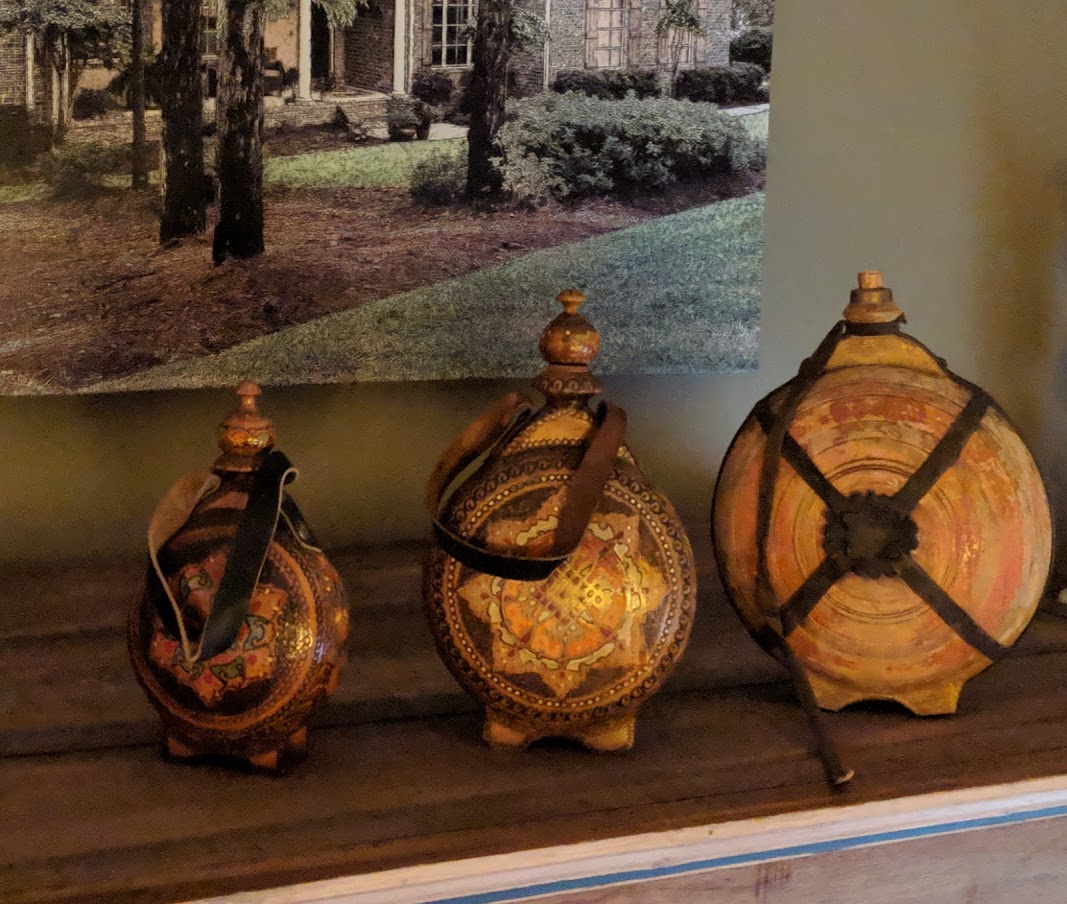 Three imported OLD ANTIQUE PRIMITIVE HAND CARVED PAINTED WOODEN VESSEL FLASK WINE BOTTLE 1922s.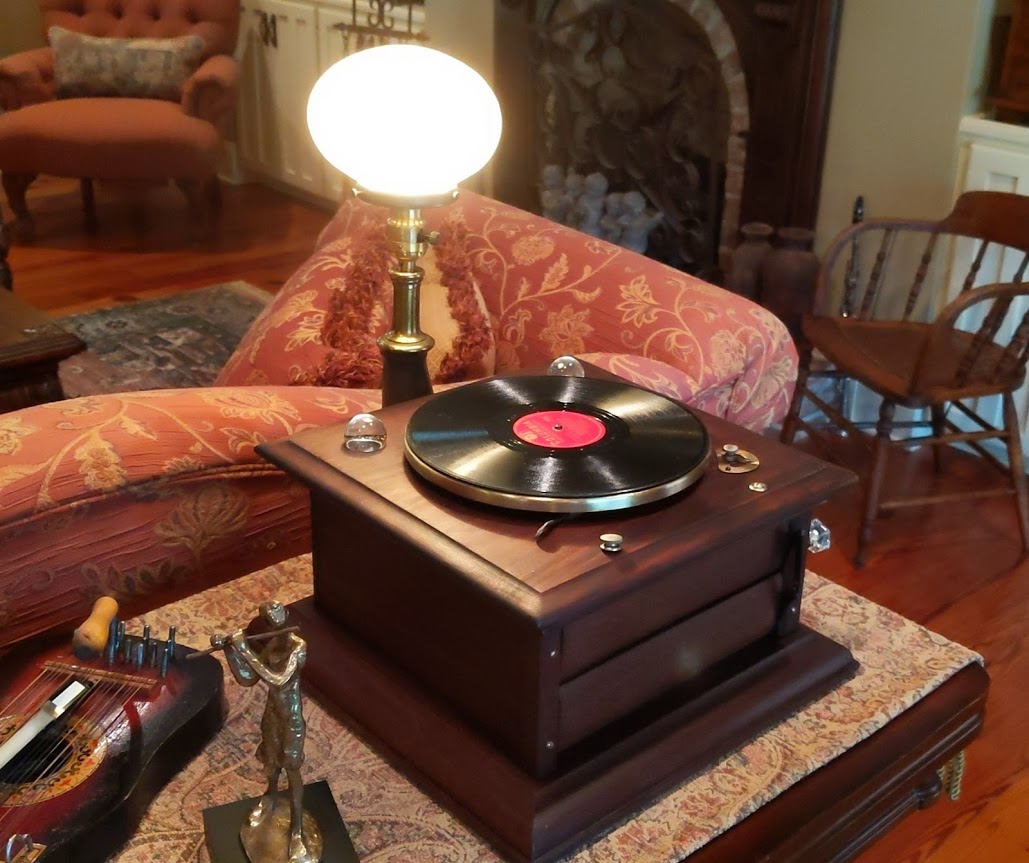 Vintage partially restored antique Columbia Graphophone desktop phonograph record player. This incomplete piece is missing the sound reproducer and hand-wound motor crank. As such, it has been repurposed as a unique table lamp as shown in the photo. The front louvers open and close. The mahogany wood is fully restored to new condition. The base measures 13" x 14".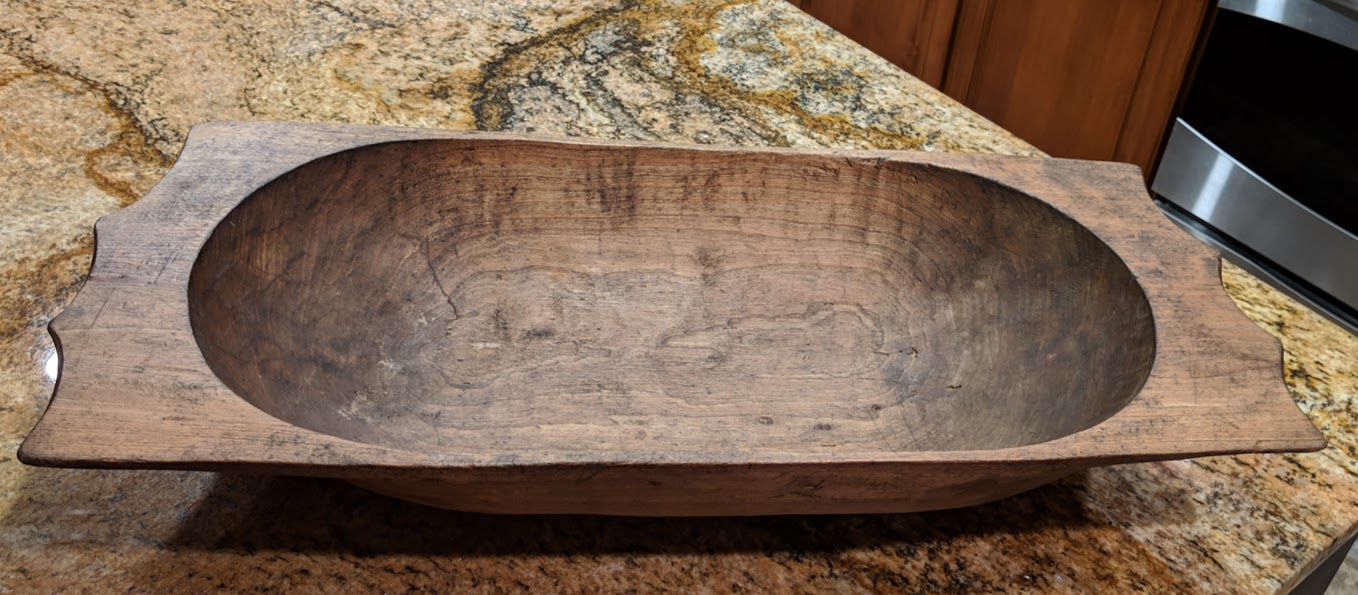 Antique wooden dough bowl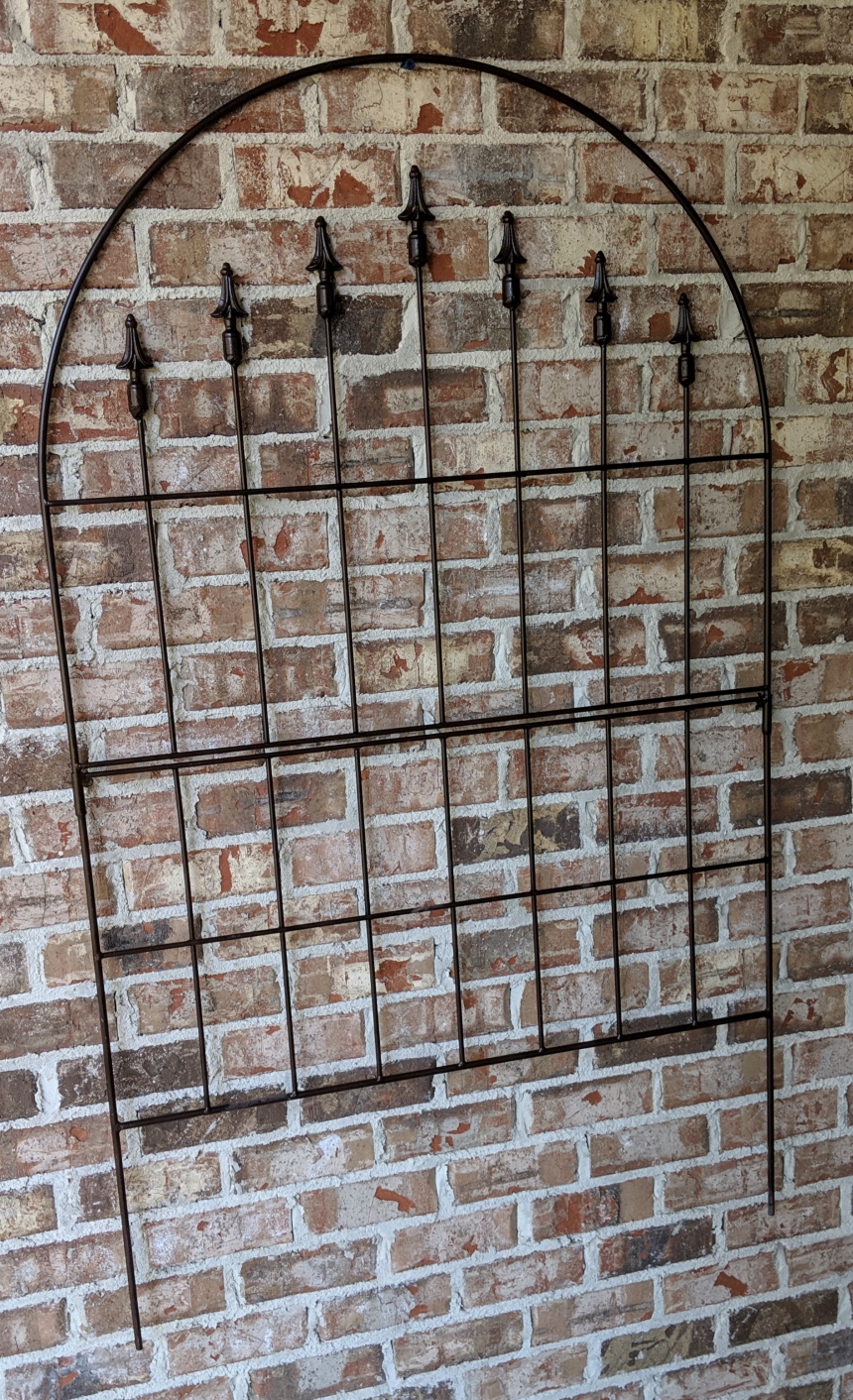 Iron wall hanging.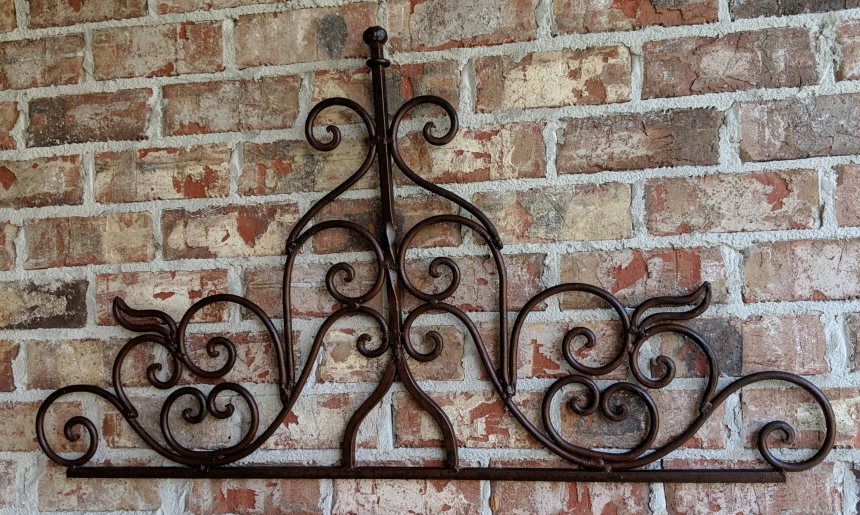 Another iron wall hanging.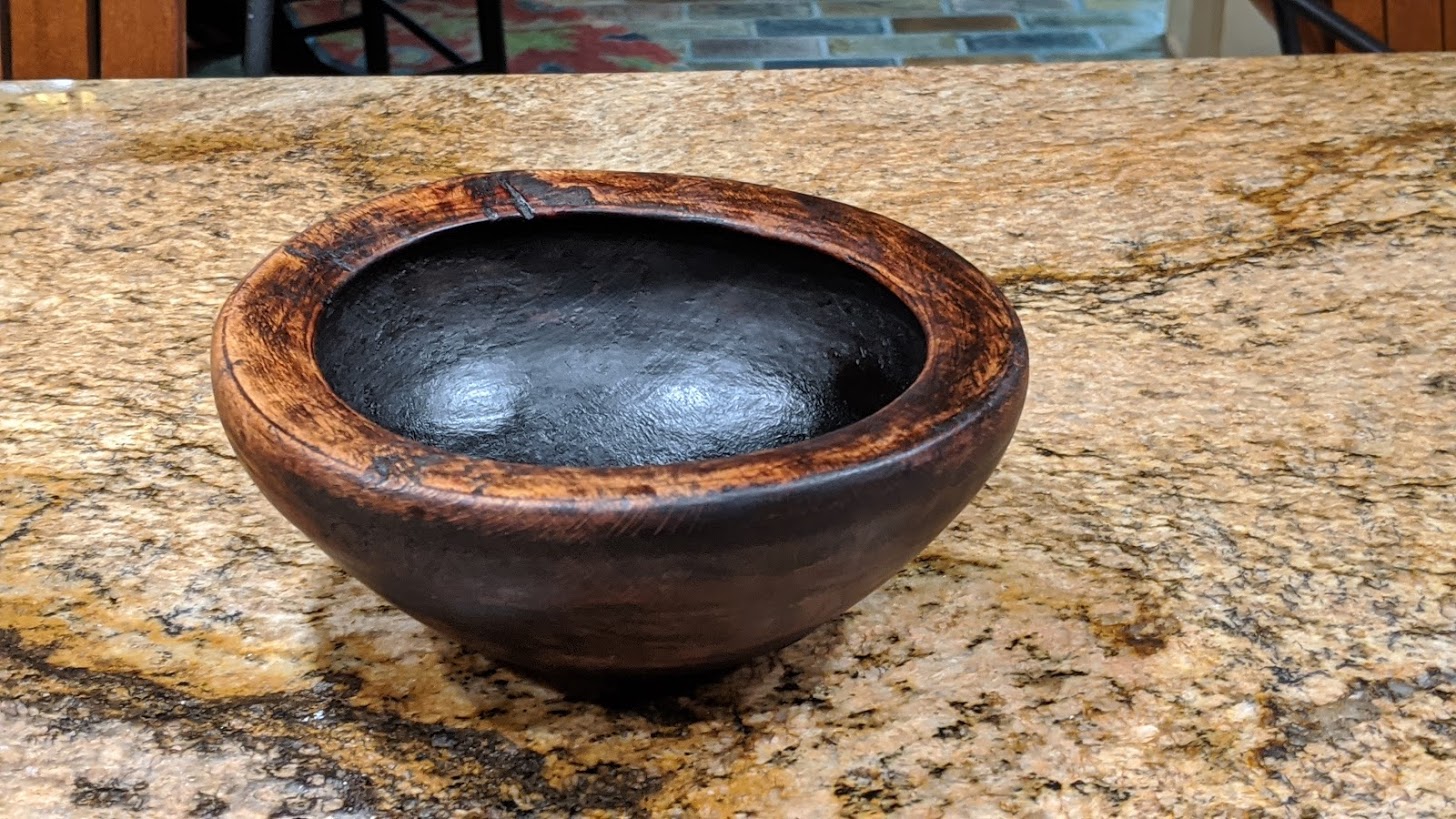 Authentic small antique primitive hand-made wooden country bowl from the first half of the 20th century (about 70-80 years old). Believed to have been made on a primitive lathe.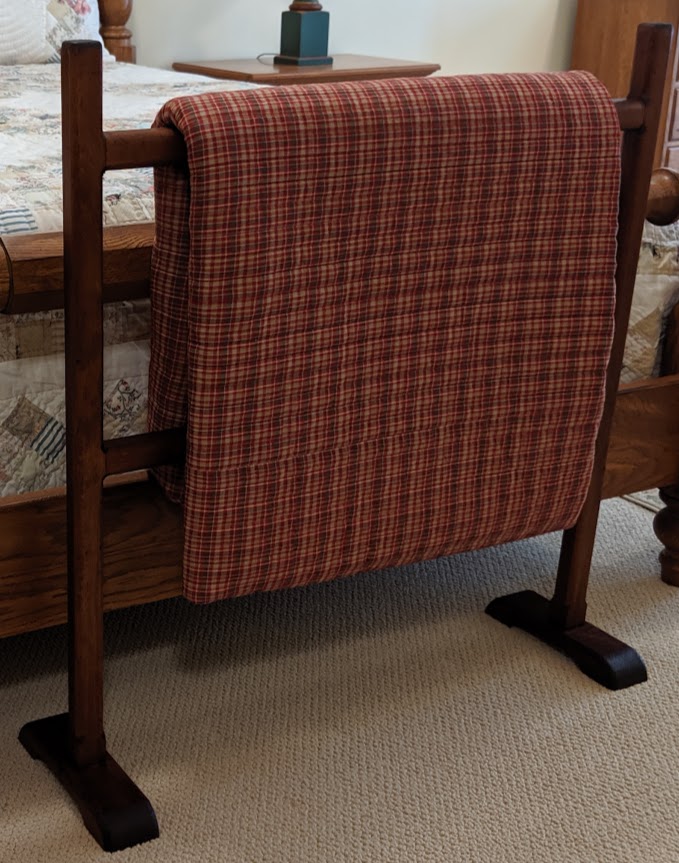 Hand-made quilt stand with wooden pegged construction.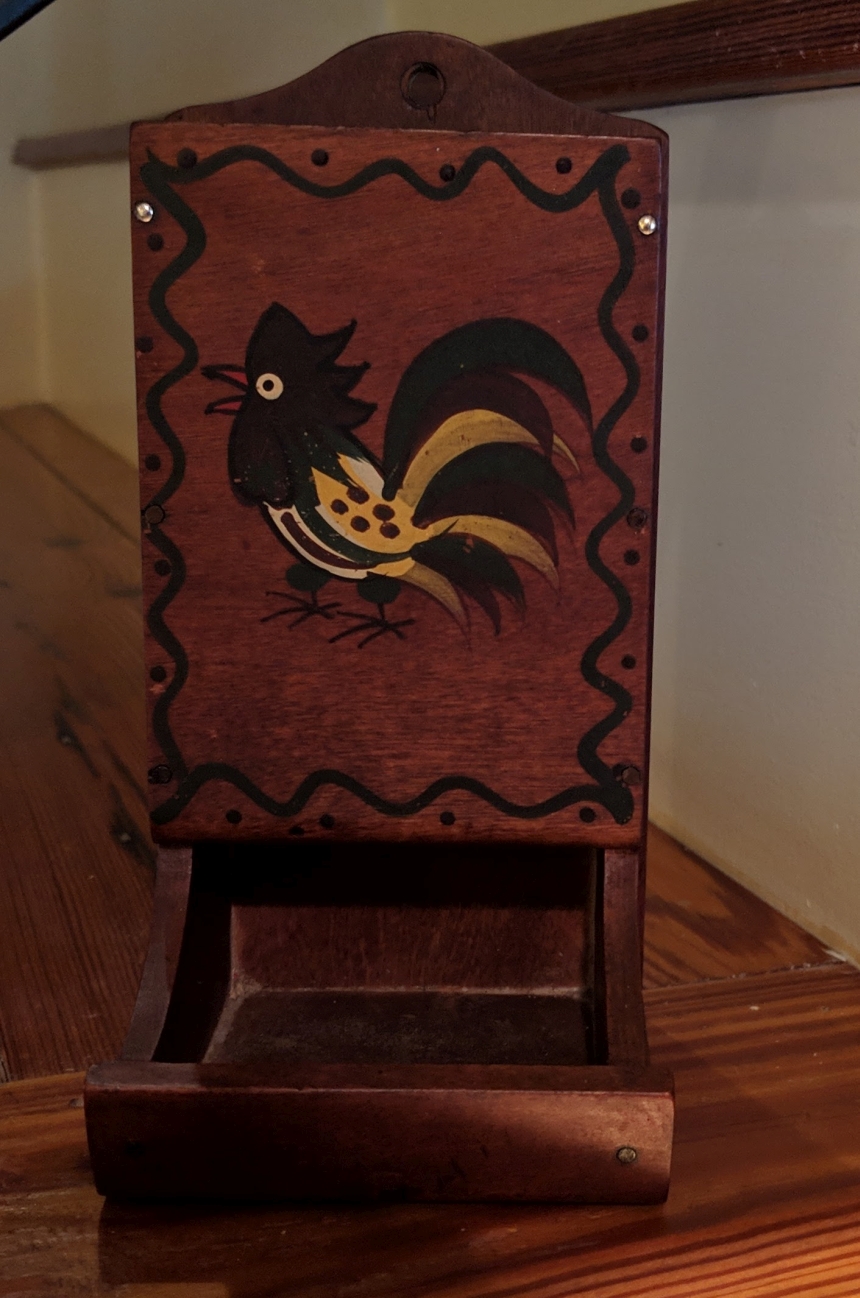 Vintage Wooden Hanging Match Holder by Woodpecker WoodWare -Japan -Hand Painted.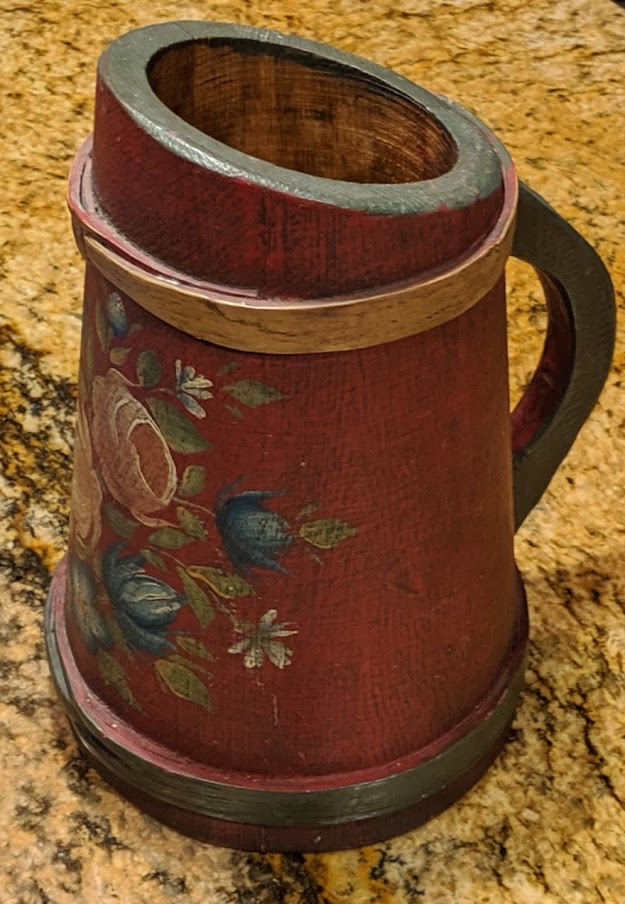 Scandinavia imported antique primitive folk art rosemaling painted wooden pitcher jug 6.25" diameter and 10.25" high.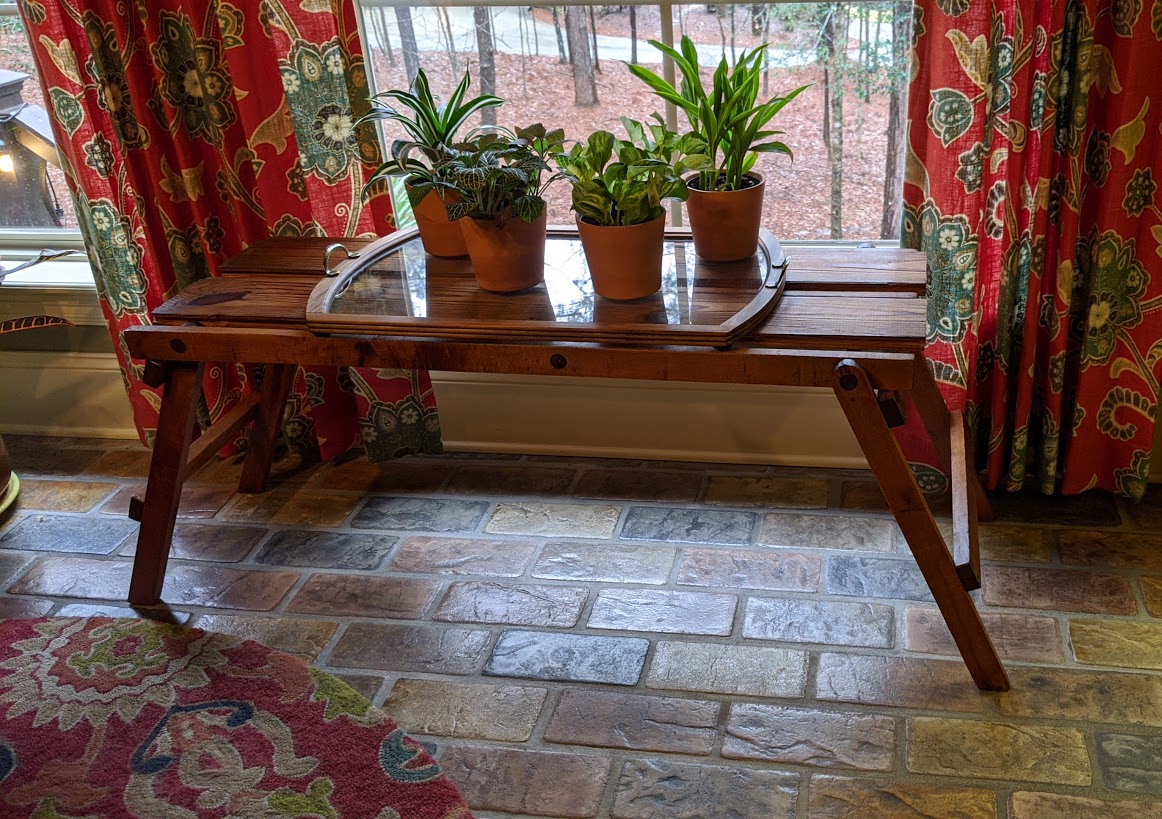 All original vintage folding wooden clothes washtub bench #3485 repurposed to a plant stand.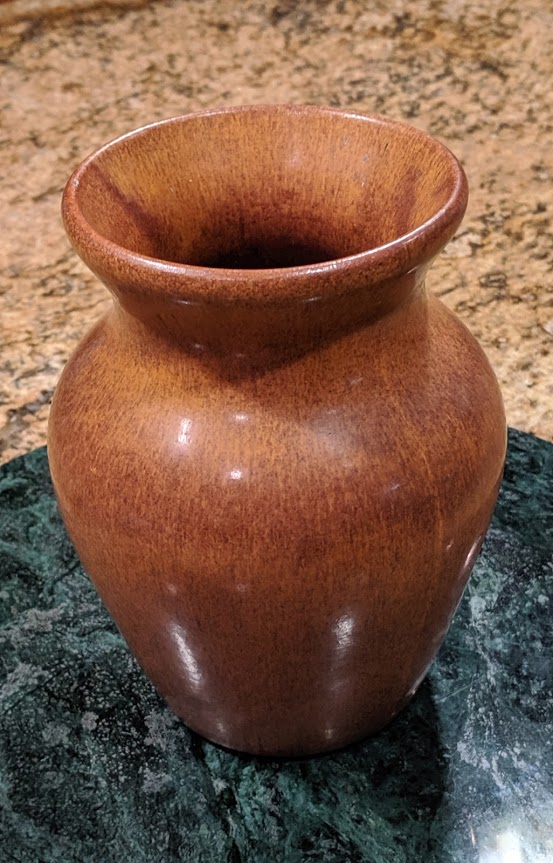 Antique Primitive Brown Stoneware Crock Vase 6.75" high, 3.75" diameter.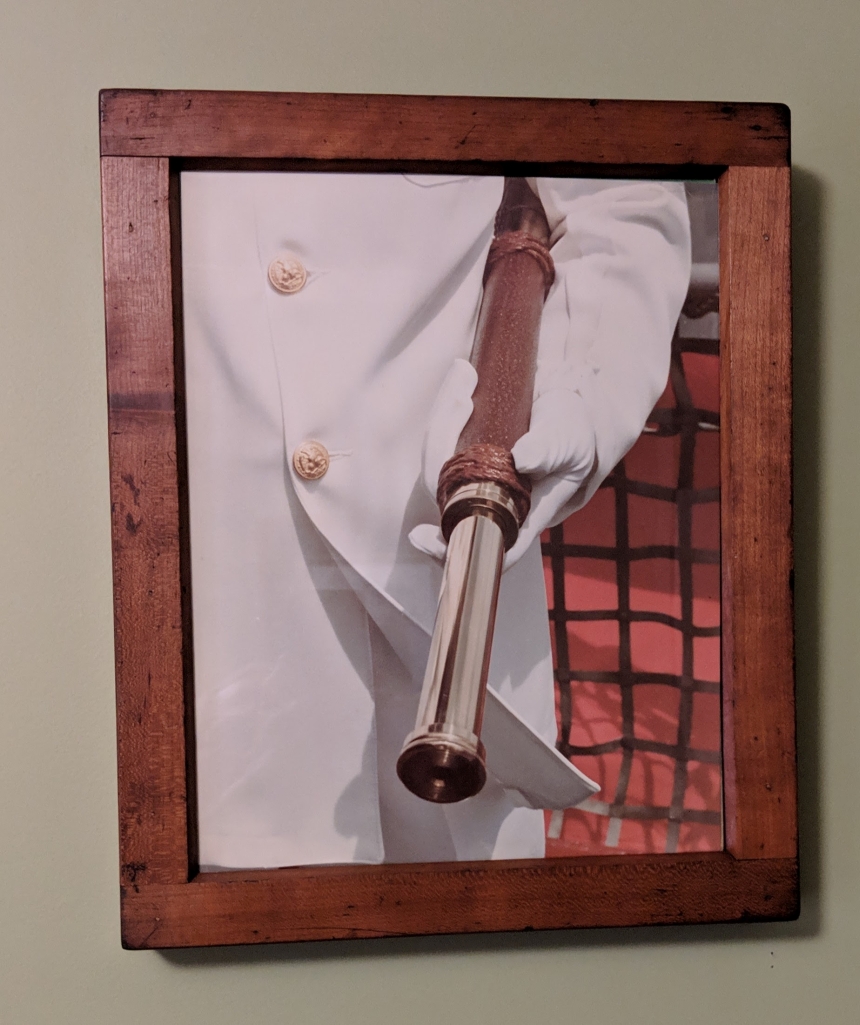 Antique-framed Navy photo.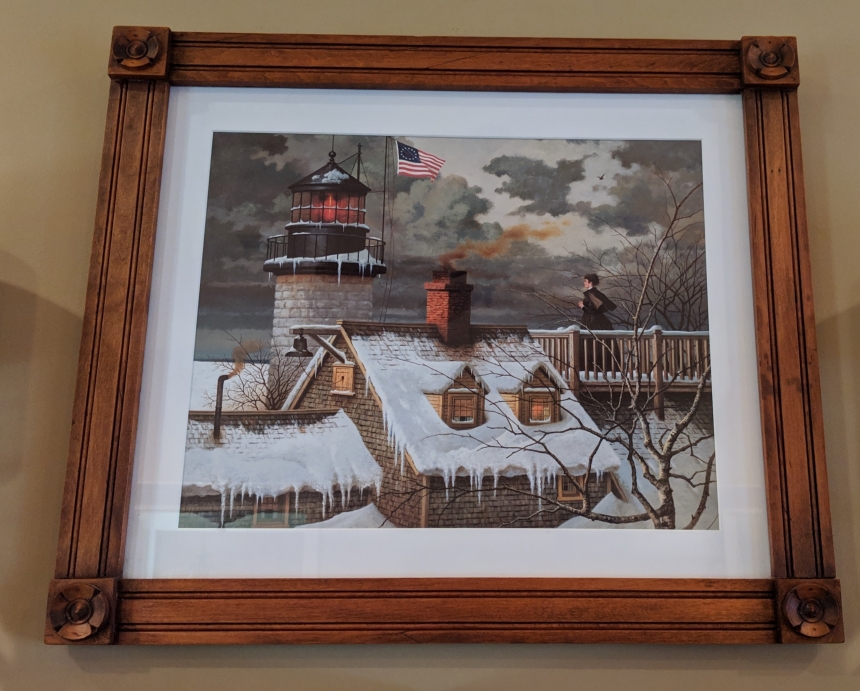 Antique-framed Charles Wysocki I hope your Seas Are Calm Limited Edition S/N With Certification.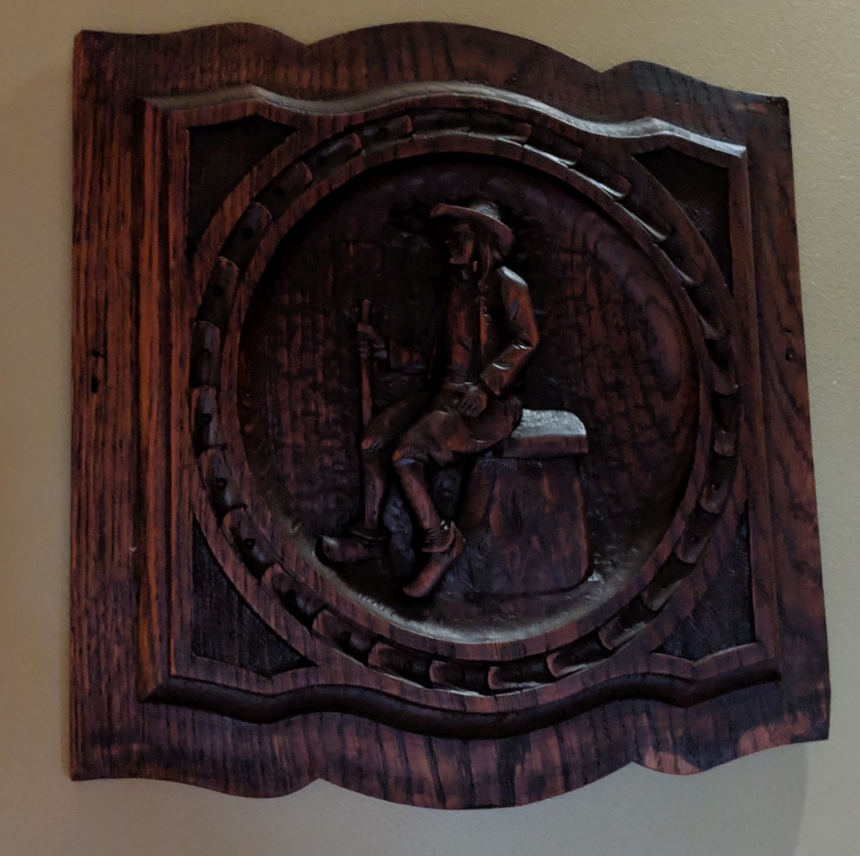 WOODEN OAK RELIEF CARVED PANEL WITH SEATED FIGURE Carving c1800s.

Small vintage English oak tray with handles adorned with brass corner inserts.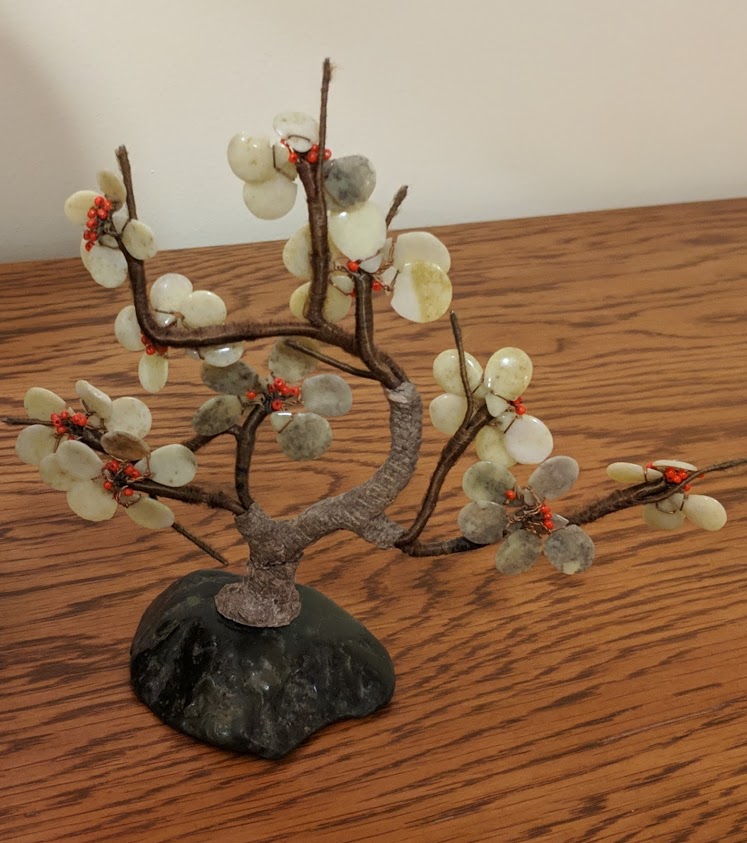 Authentic Jade tree purchased in Hong Kong in the early '70s during one of 9 Pacific deployments Don completed while in the Navy.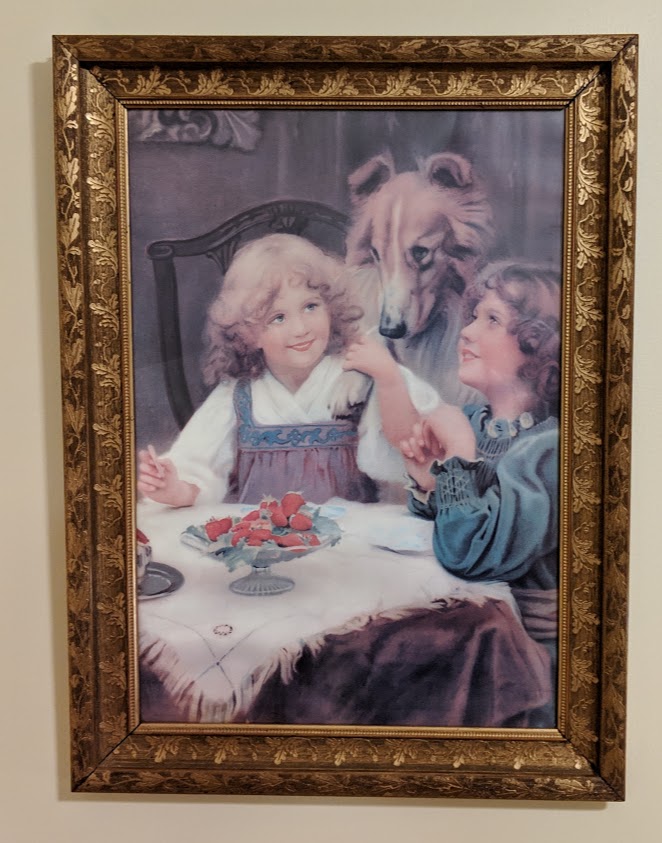 A vintage gilded frame and older print.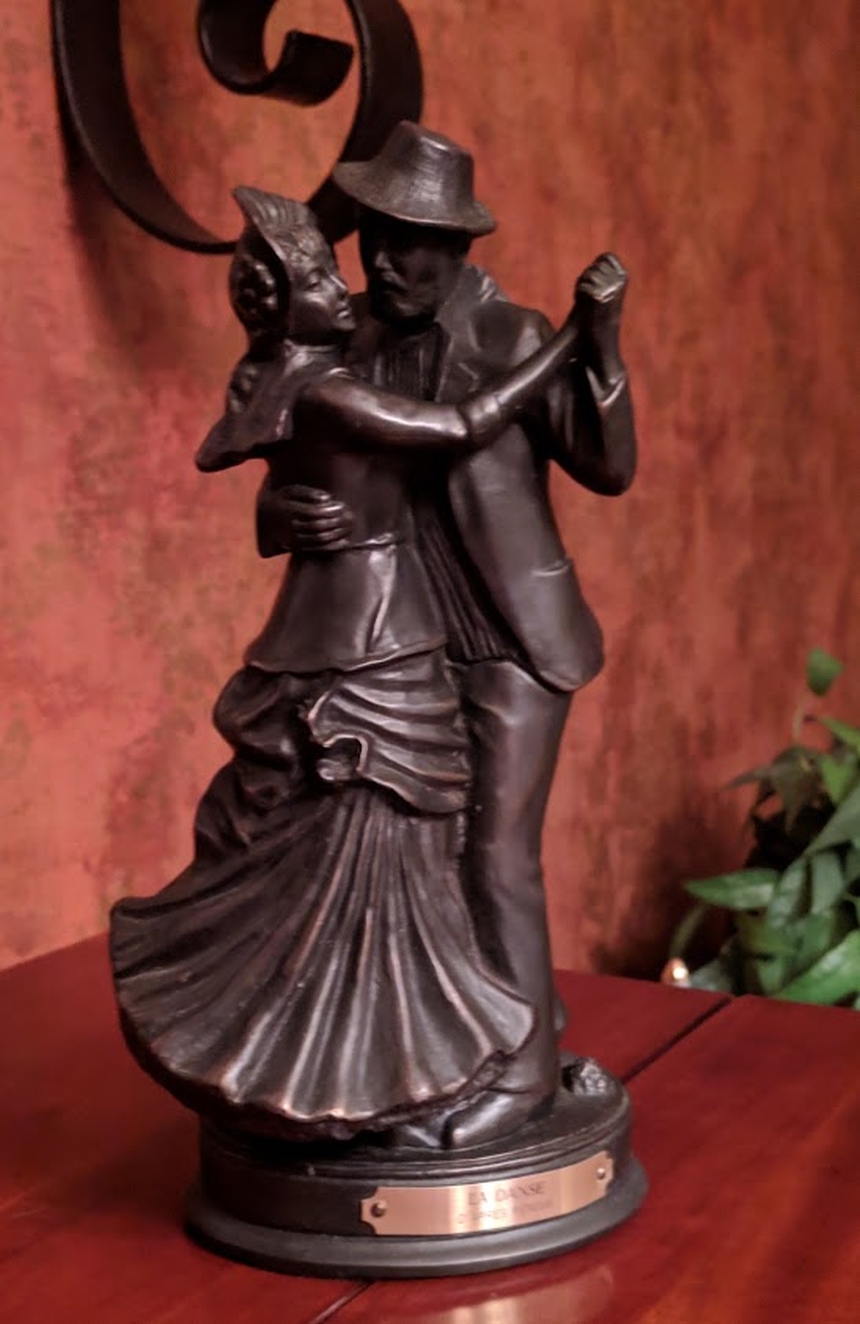 H. Kalish 9" Statue Realism Signed Bronze Men & Women "LA DANSE" D'apres Renoir.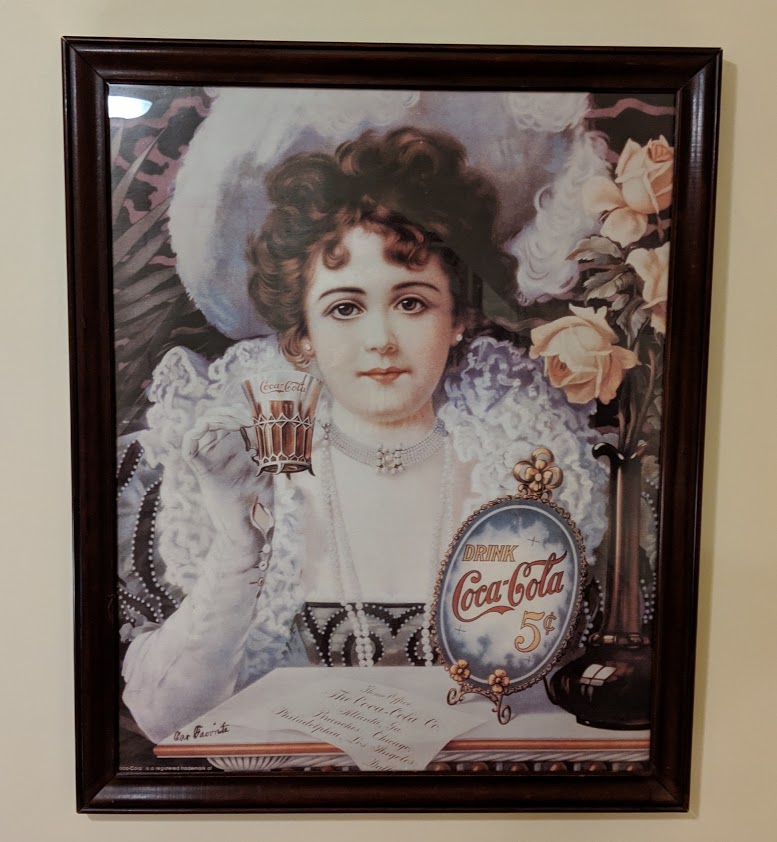 Older wood frame with Coca-Cola advertisement print.


Refinished oak pediment.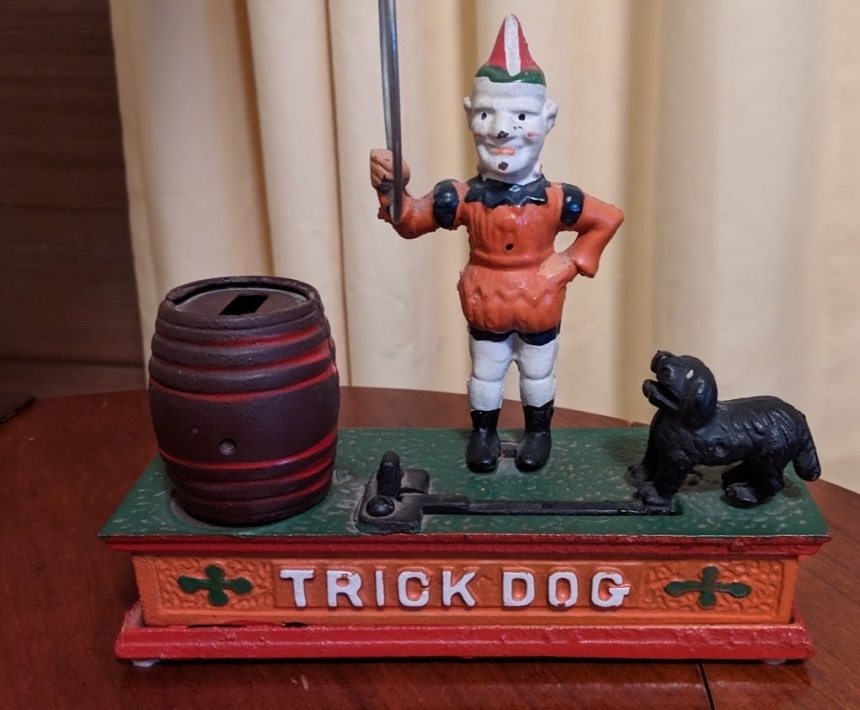 Child's bank (reproduction)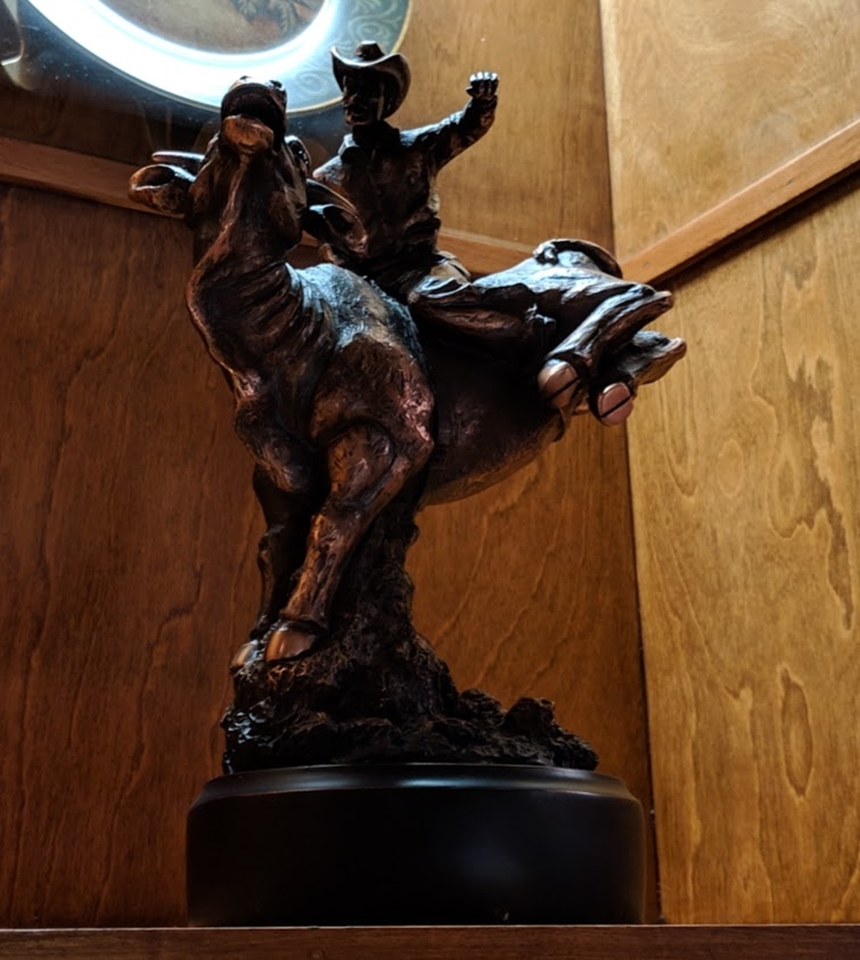 Cast bronze "Bucking Bronco".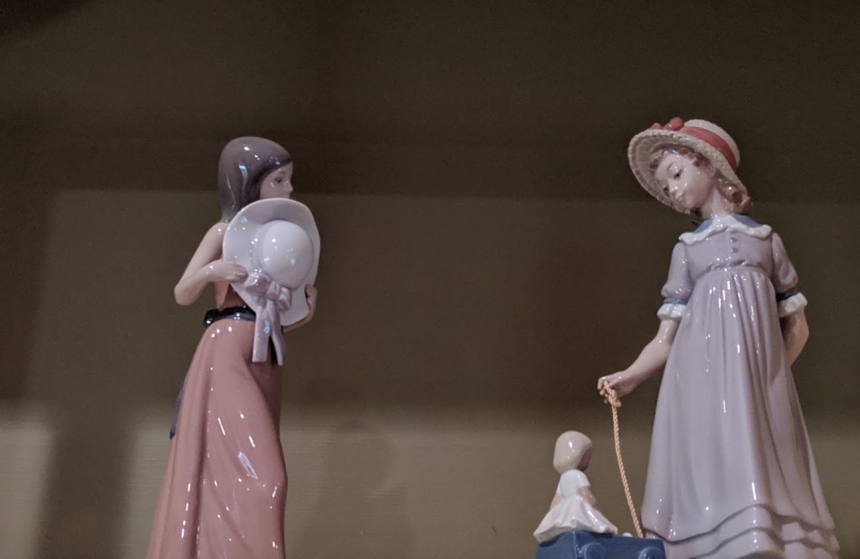 Two Fine Handcrafted Porcelain Lladró® figurines.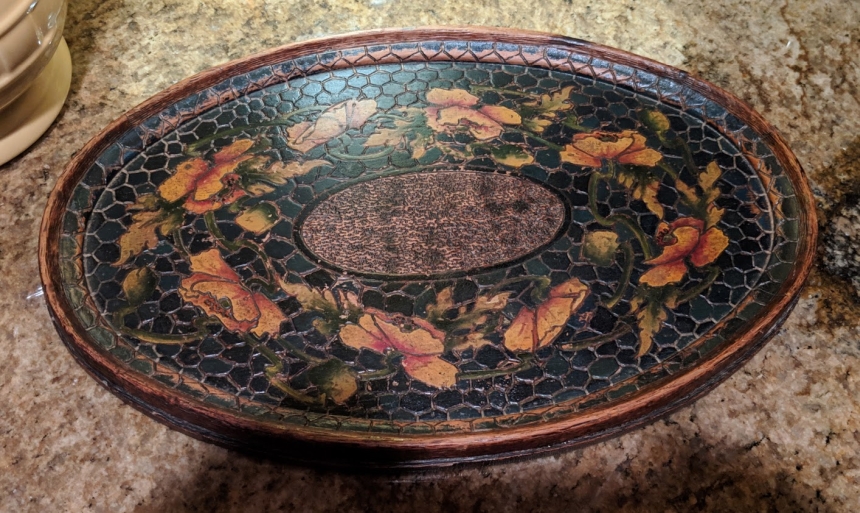 Antique Pyrography Wooden Oval Tray • Signed Hand-Painted Art • Floral 15-1/2 inch.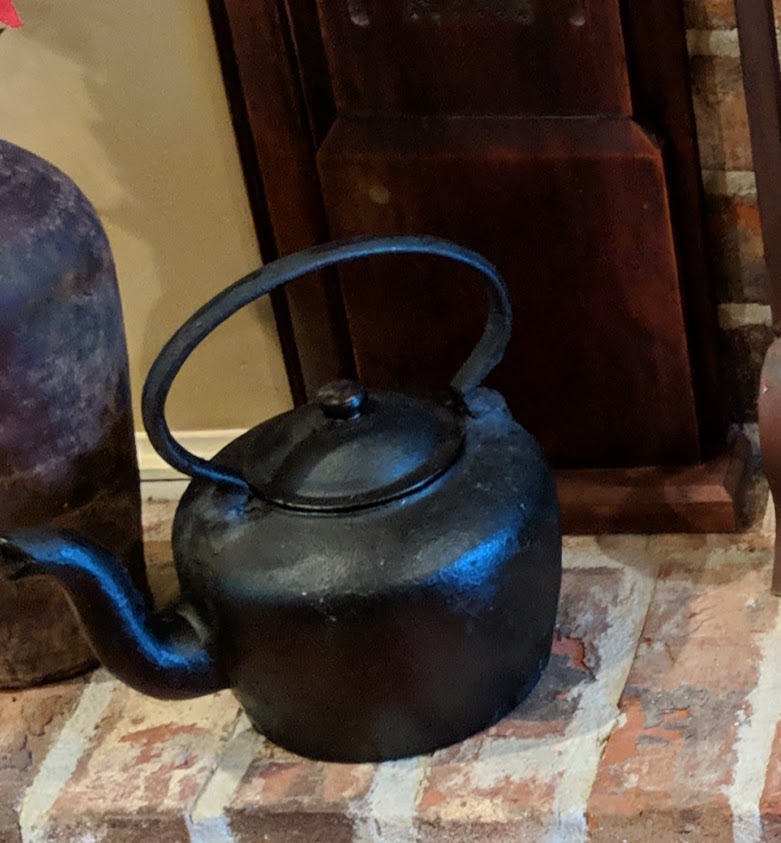 Black cast iron tea kettle.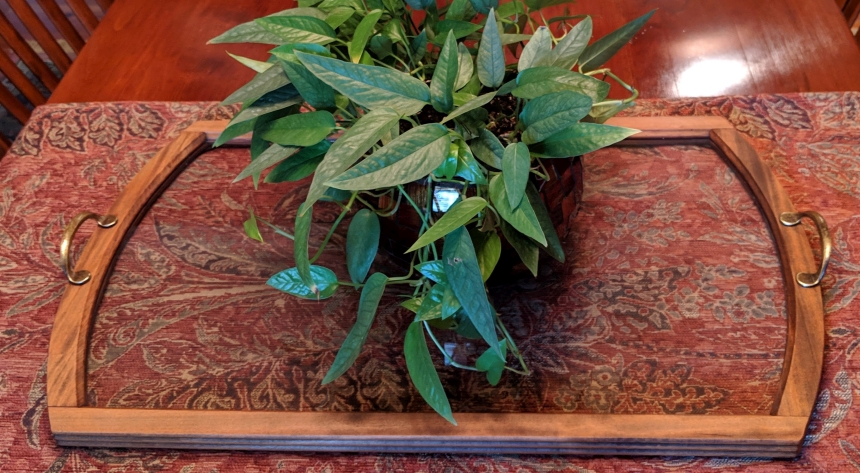 Walnut and glass serving tray.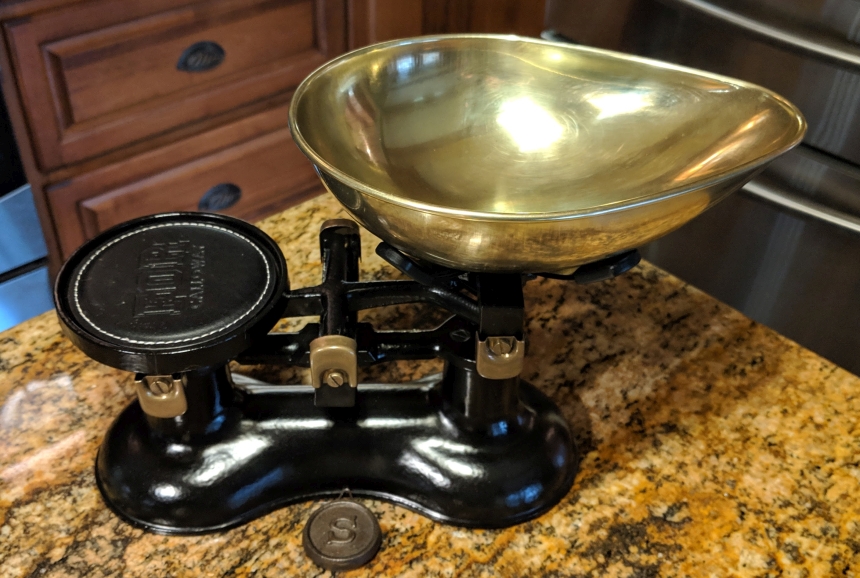 Store scale (reproduction).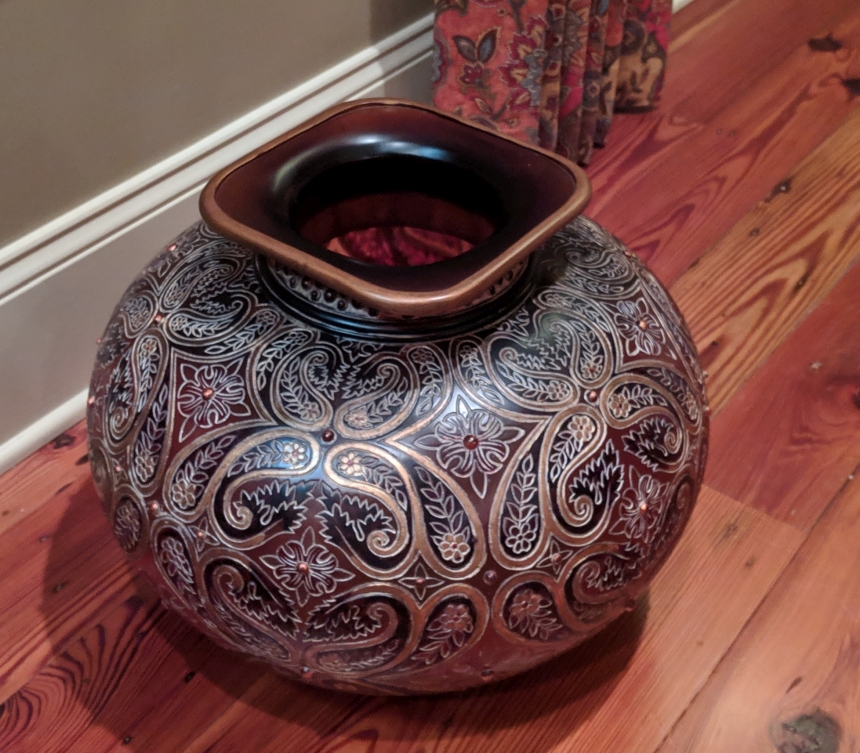 Large and heavy ceramic candlelit urn (not an antique but a very special piece)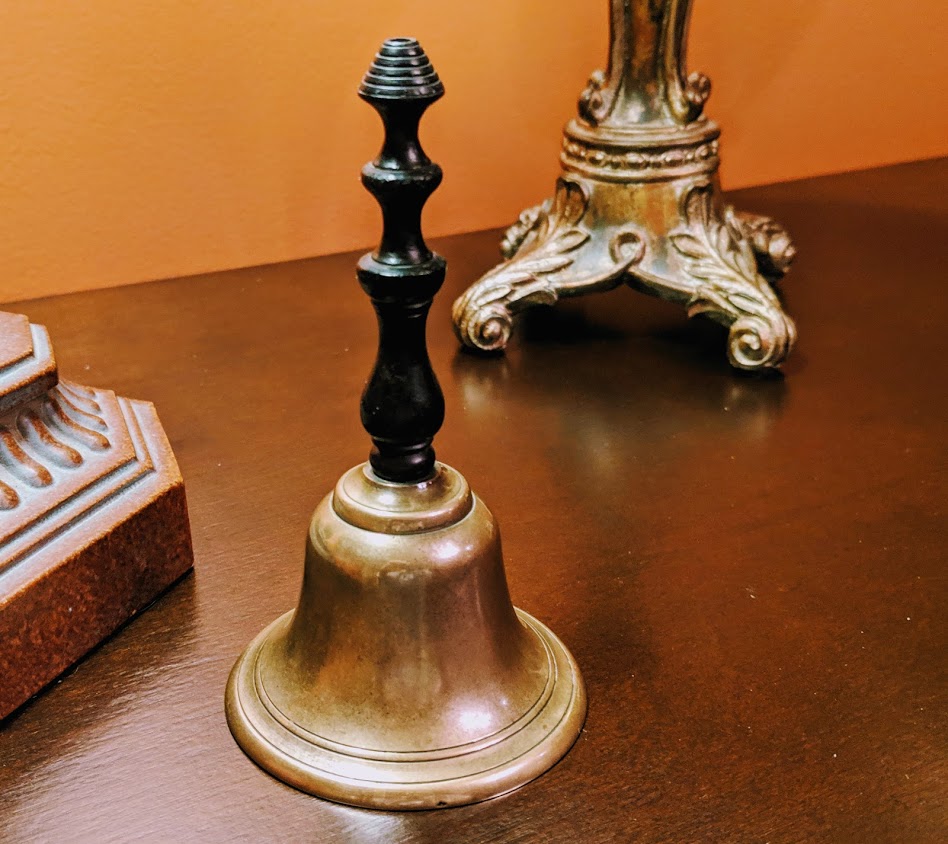 Revolutionary War 18th Century brass Georgian dinner Servant bell with wood Handle.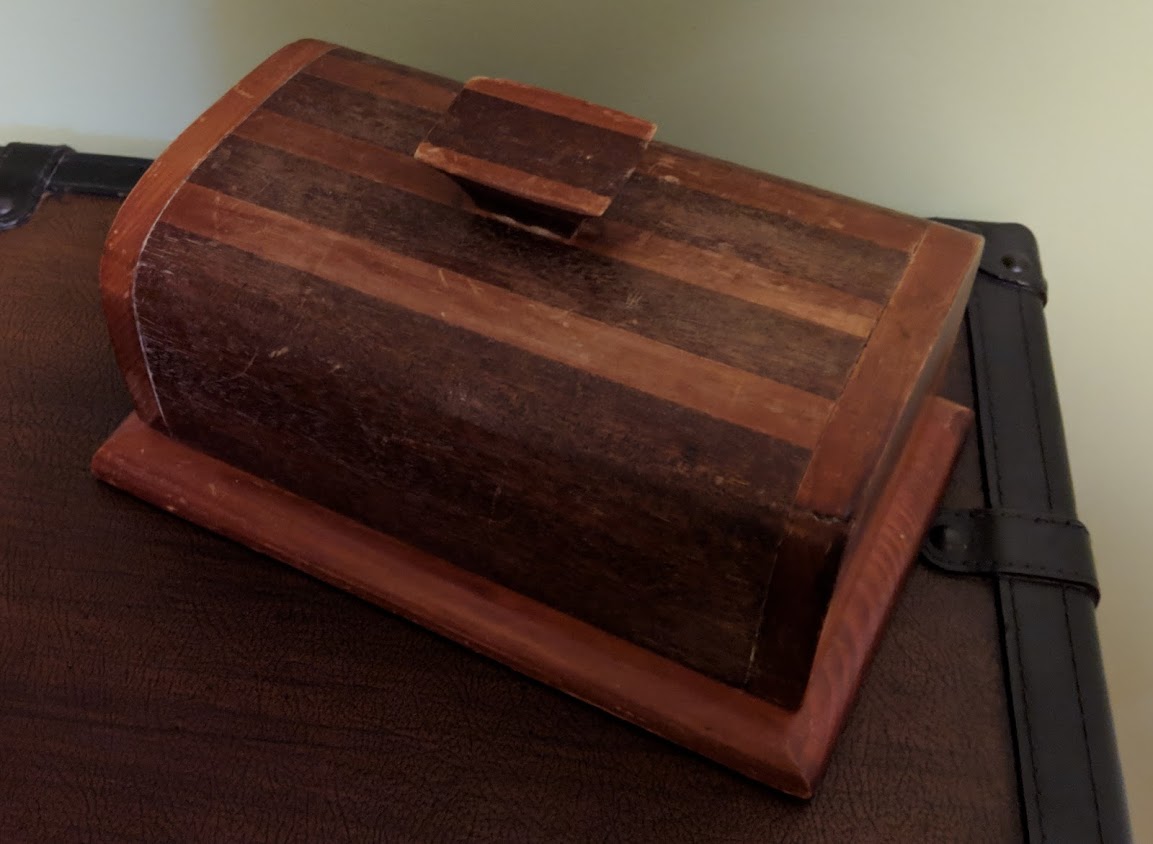 A
a handmade wooden box which is now serving as a resting place for the ashes of our departed Golden Retriever "Pfeil".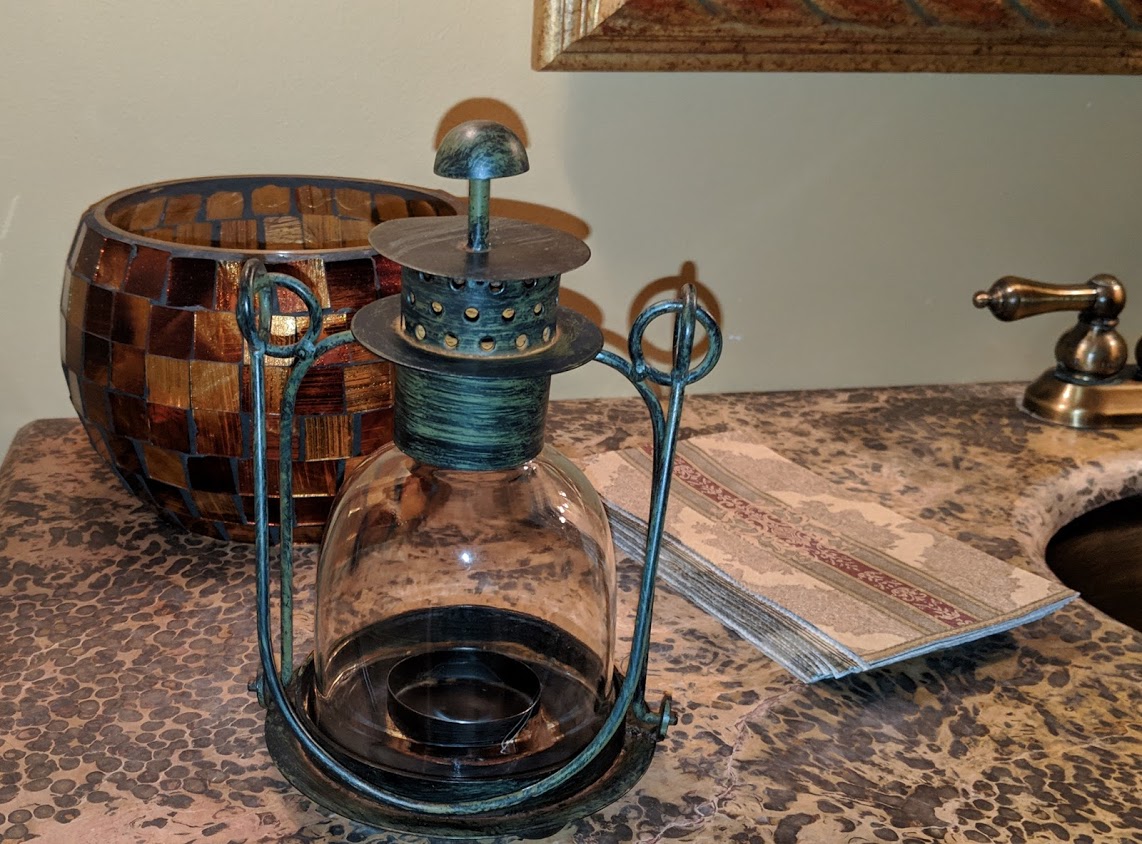 Collectible candle holder which was given to Don from his Mom.


Hammered copper pans.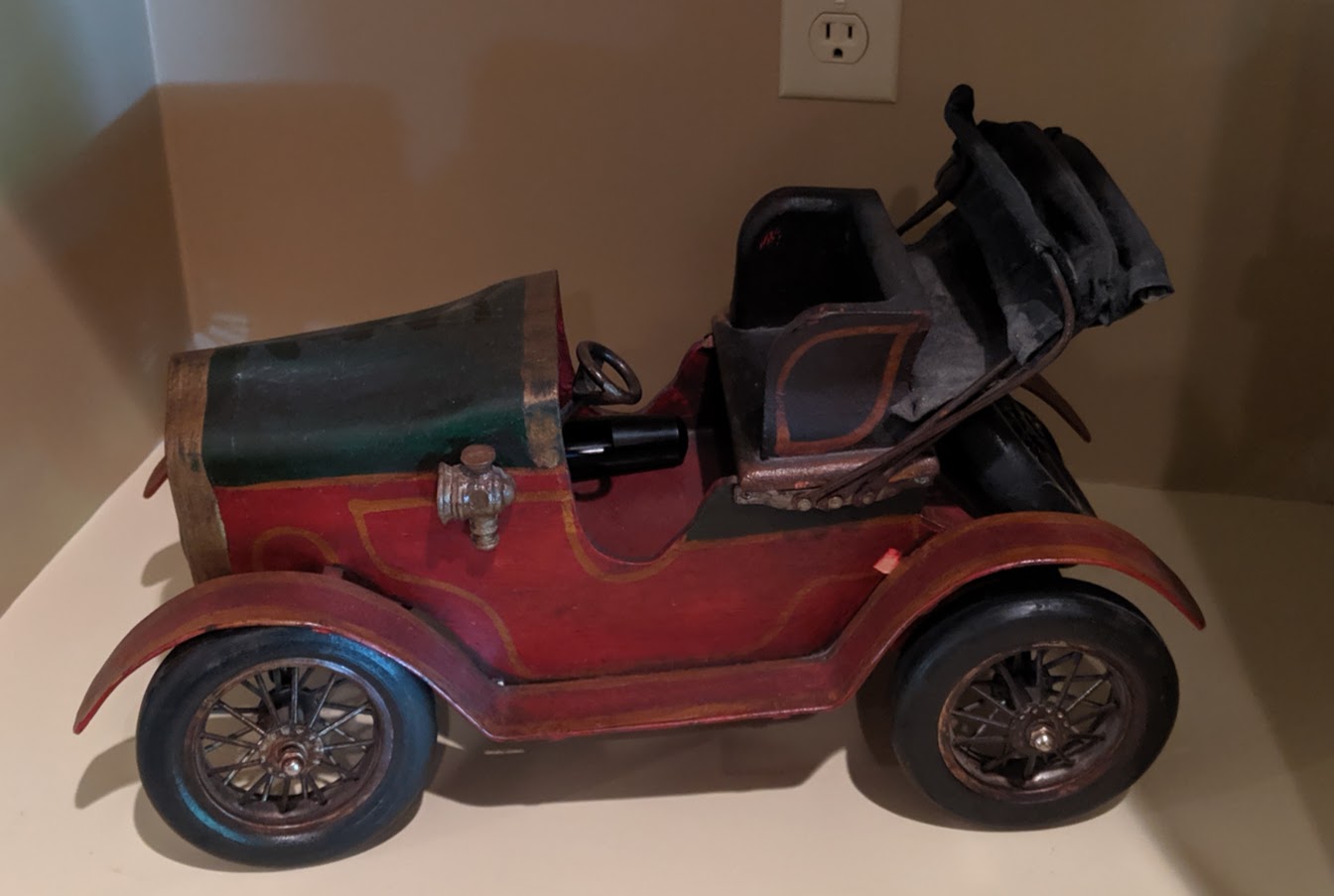 Replica car including functional steering system.


Rare wooden mouth harmonica tuning pipe.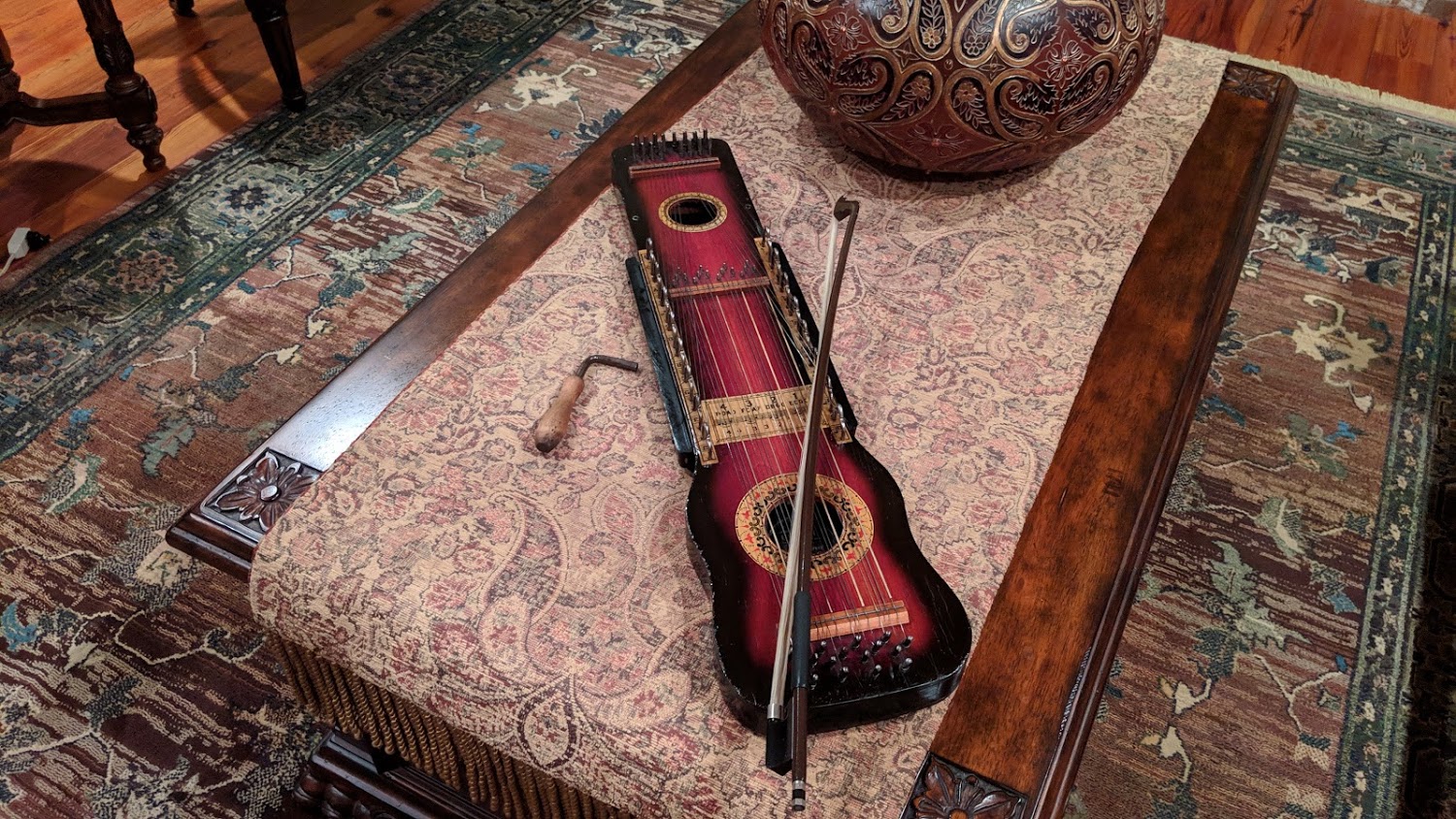 Antique Ukelin instrument 1923 manufactures Advertising Co, serial # 5714.


A restored "Silvertone" clarinet with the original case.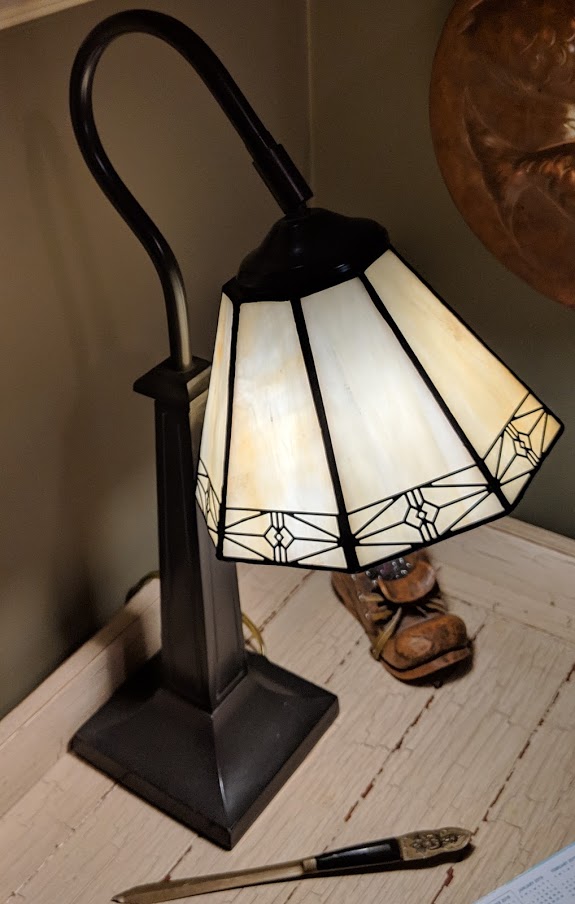 Slag glass desk lamp.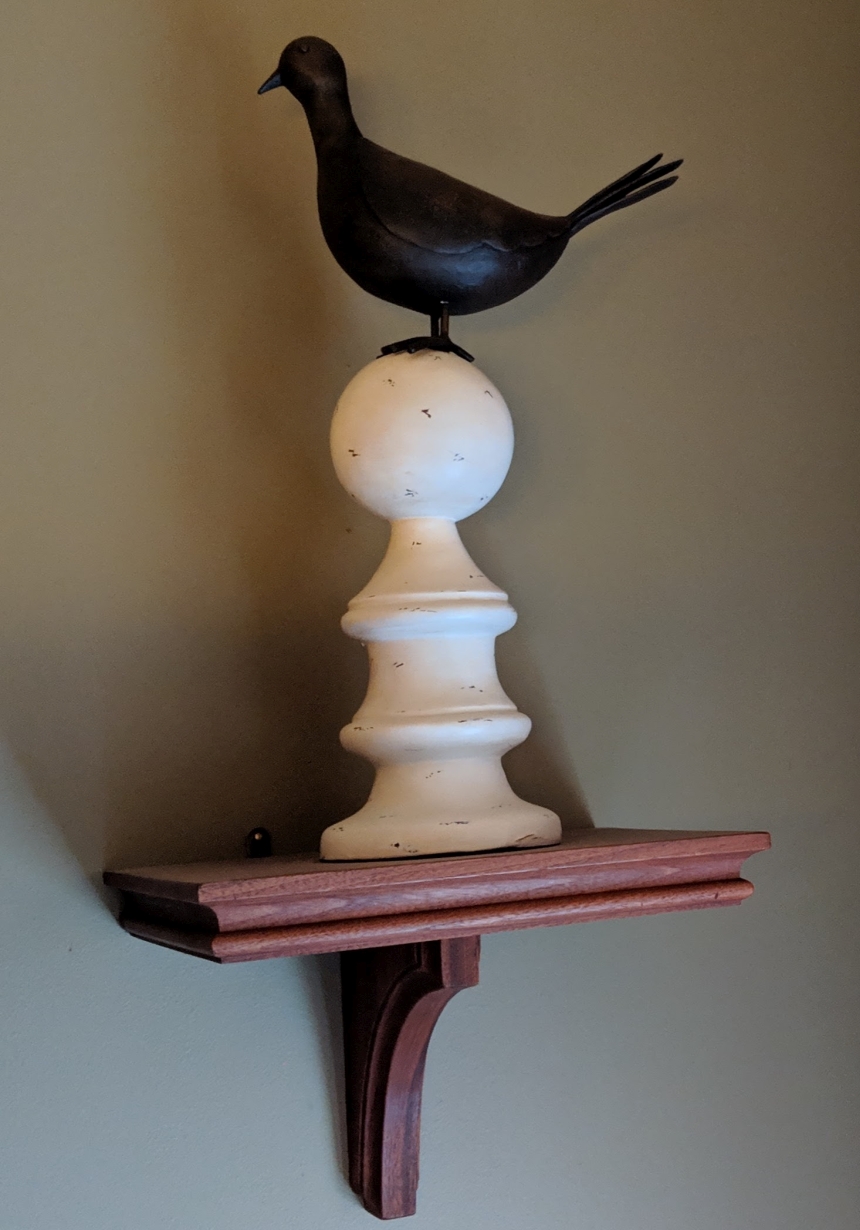 Reproduction finial on walnut wall mounted shelf.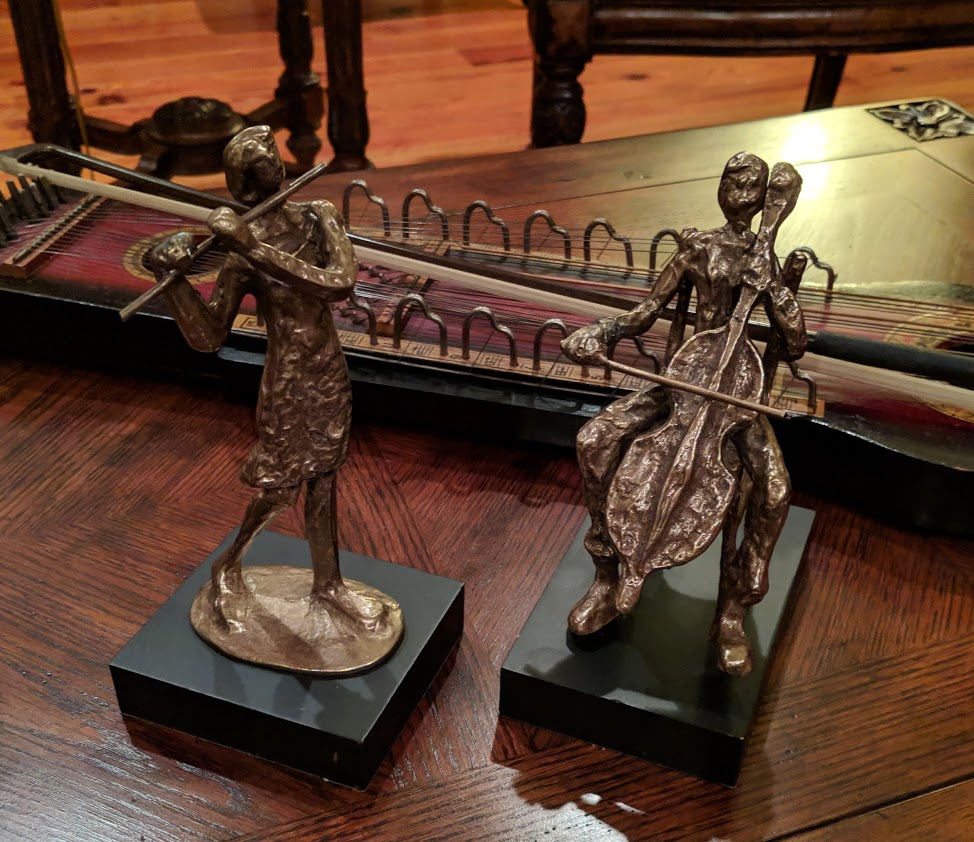 Pair of 9 inches tall cast metal "Brutalist style" sculptures... one of a woman playing the flute and the other of a man playing the cello.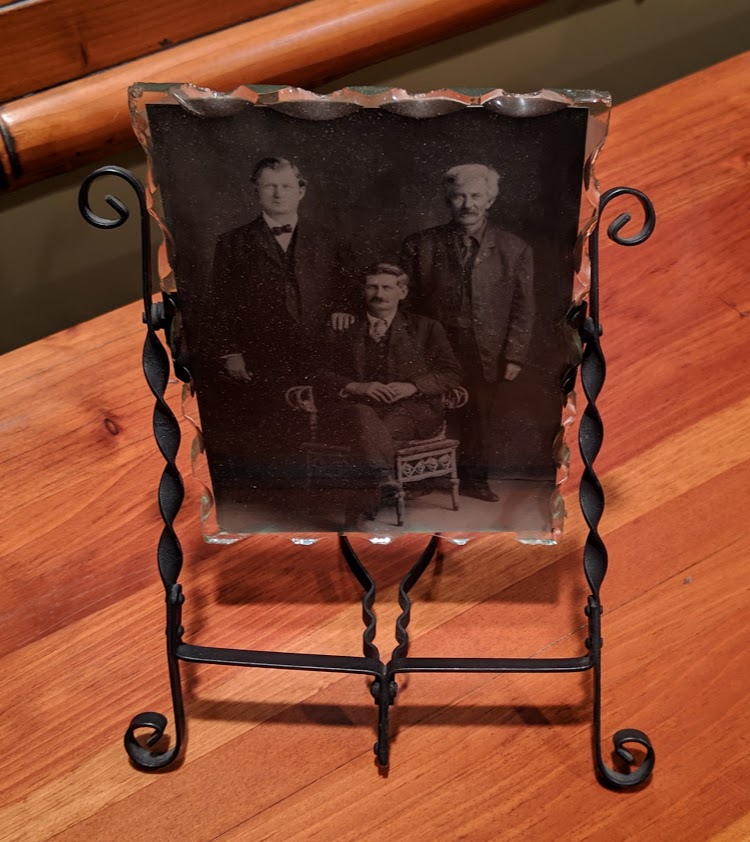 Rare antique metal "stand-up" picture frame with frameless scalloped glass insert. note: the photo is of Don's ancestors.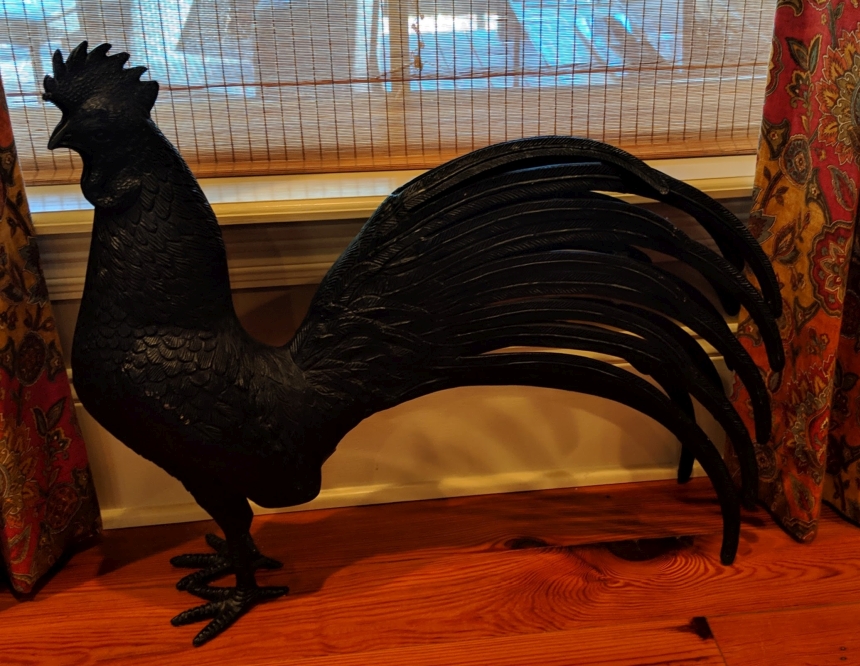 Reproduction cast iron rooster.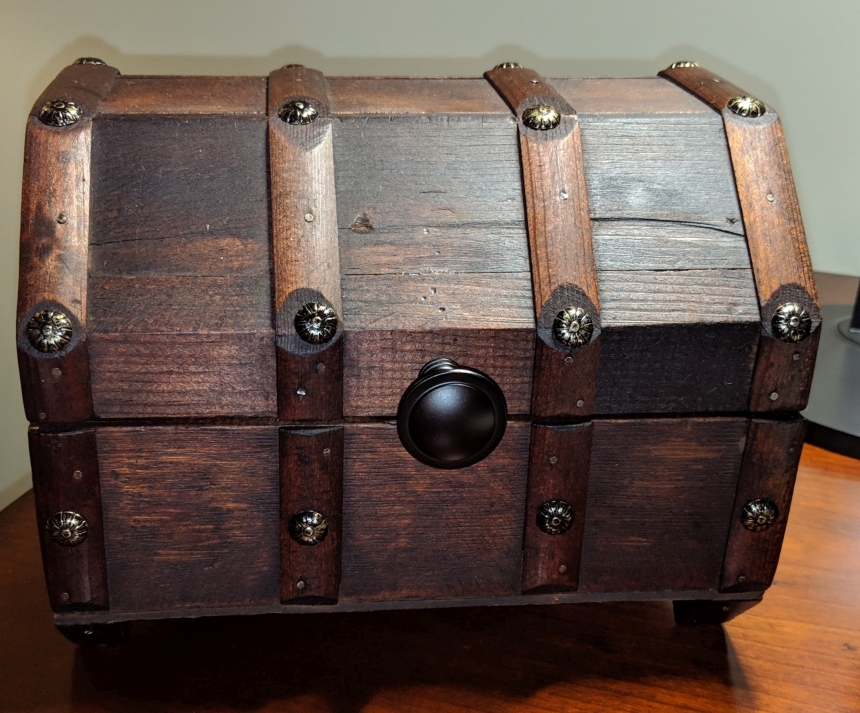 A repurposed vintage wood box.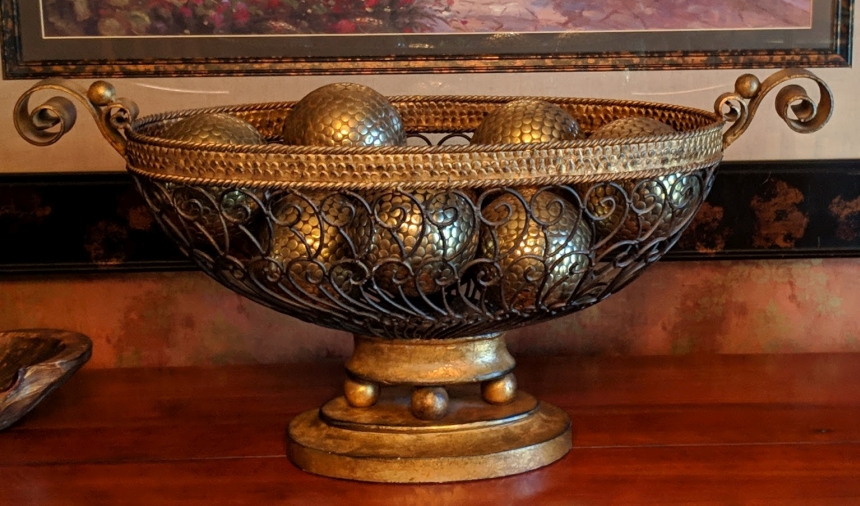 Reproduction brass centerpiece.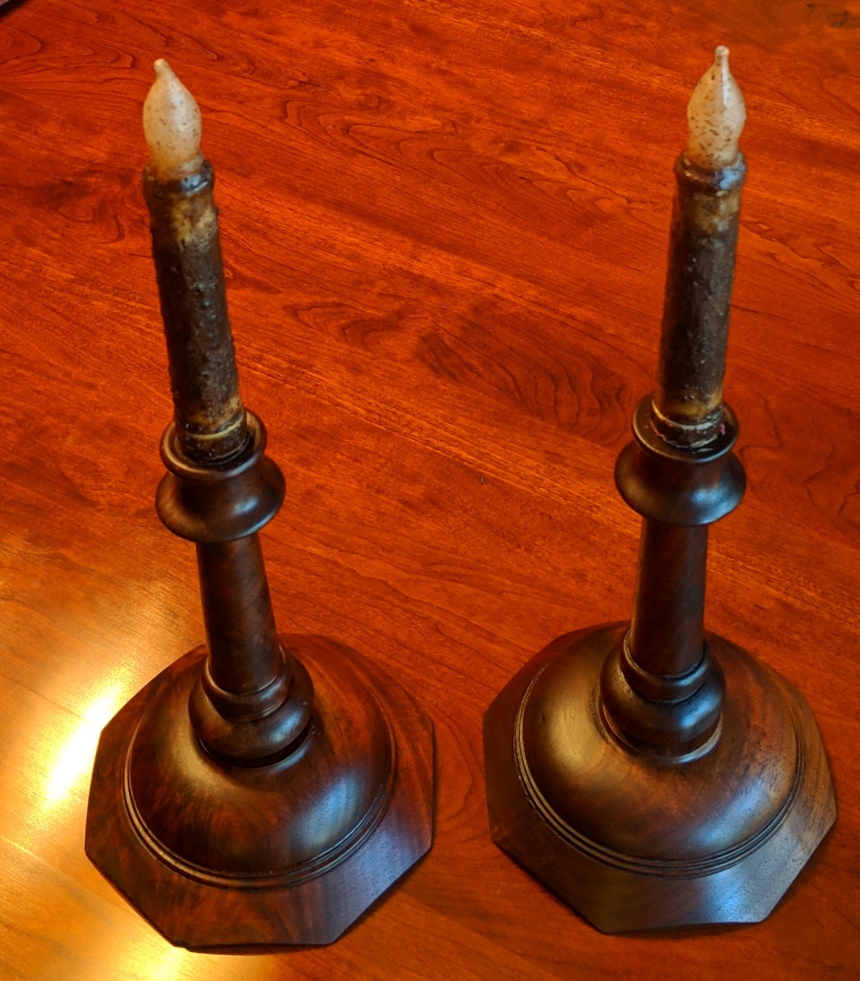 Pair Vintage Arts & Crafts Turned Wood Candle Holder Candlesticks with battery-operated LED candles.